THE FIGHT FOR RENT CONTROLS
In Scotland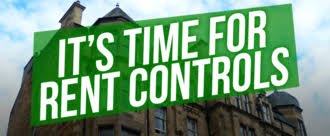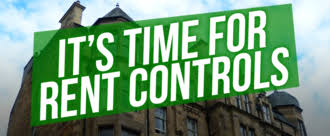 From European Action Coalition Bullettin n. 4 01/2020
BACKGROUND
In 1915, a wave of rent strikes – starting in Glasgow and spreading across Scotland and the rest of the UK – forced the Government to introduce limits and freezes on rent prices across the country. These stayed in place until the late 80s, when Margaret Thatcher's government scrapped them.
During the 70-odd years rent controls existed in the UK, the proportion of people renting privately plummeted. That's often pointed to by opponents of rent controls as proof that the policy was a disaster but, by any measure, the opposite is the case. The number of people renting privately fell because slums were cleared and replaced by millions of good quality, publicly-owned homes through enormous programs of council house building. At the same time, trade unions successfully won pay increases that brought home ownership within reach of people in ways it had never been before.
But since rent controls were scrapped, the number of people renting privately has more than tripled. Again, opponents of rent controls point to this as a success story but, again, the opposite is the case. There have been three main causes for the increase in the proportion of people renting privately:
At the same time as scrapping rent controls, Thatcher's government brought in the 'Right-to-buy' – a scheme through which council tenants could buy their council home at massively reduced rates. This scheme gutted social housing across the UK, and is often pointed to as one of the greatest transfers of public wealth into private hands in the UK's history. Although the homes could only be bought by their sitting tenants, huge numbers very quickly made their way into the hands of private landlords. As just one example of countless – Charles Gow, the son of Thatcher's housing minister who implemented right-to-buy, now owns dozens of ex-council homes. This has meant millions of people who in the past would've rented affordable council housing now without any other option but private renting.
Since the 80s, wages have stagnated and house prices have sky-rocketed. This means buying homes has become all but unaffordable for huge numbers of people.
Buy-to-let mortgages – specific schemes to allow existing homeowners to buy homes specifically to rent them out – have led to huge numbers of new people become landlords. This has had a massive inflationary impact on house prices, further pricing renters out.
The consequences of a wildly unregulated private rental system are well-rehearsed. Tenants in poverty, slum-like conditions making people sick, exacerbating social inequalities, as well schewing the entire country's economy towards financialisation and unproductive capital investment.

THE 2016 ACT
Fast forward to 2014, and the Scottish Government announced plans for a new private housing bill. Living Rent launched and ran a massive campaign calling for this bill to include the re-introduction of rent controls in Scotland; this campaign involved tens of thousands of people backing our submissions to the government, a coalition of organisations representing over a million people (out of a population of just 5 million) formally supporting the campaign, and rallies and protests and days of action around the country.
The campaign had three demands:
Give tenants greater security by scrapping the "no-fault ground for eviction," which landlords could previously use to evict a tenant without needing to give any reason.
Give tenants greater flexibility by scrapping 'fixed term' tenancies and instead making them open-ended and indefinite.
Reintroduce rent controls (more on our specific proposal below)
We won the first two demands, and although we didn't win the kind of rent controls we were calling for, the government did introduce measures that – while they don't and won't help tenants – did amount to a political recognition that the 'free market' approach to rents had failed.
It is worth noting that the SNP, the governing party in Scotland, voted unanimously at their party conference in support of a motion tabled by a Living Rent supporter for a proper system of rent controls, but this was never reflected in their MSPs' votes in the Scottish Parliament, or in the party's manifestos.

RENT PRESSURE ZONES
What the government introduced instead of the kind of proper rent controls we were calling for was something called "Rent Pressure Zones (RPZs)".The idea was to provide local authorities with an emergencymeasure to limit rent increases in small, local hotspots. But there were a number of key problems:
The burden of proof on local authorities is unreasonable and creates unnecessary barriers in making successful applications. No council has successfully been able to use these powers.
RPZs only create rental limits within tenancies and do not prevent rent hikes between tenancies—doing little to stabilise rents in the long term and creating dangerous side-effects.
RPZs only limit increases in rent, so do not address the fact that rents in much of Scotland are already too high.
RPZs do nothing to improve the quality of Scotland's PRS housing stock. As detailed below, we believe this is a significant missed opportunity and that proper rent controls represent a powerful tool to improve the quality of Scotland's PRS stock.
The 2016 Act sought to provide greater tenant security, but without workable controls on rent, landlords can easily force out tenants through rent increases.
RPZs can only be applied to small, localised areas, so cannot address the scale and degree of the rent problem in Scotland.
They are therefore unworkable anyway, but even if a council was able to bring them in, it's unclear that they'd make much of a difference anyway. We are therefore calling for a different approach.
OUR PROPOSAL
The rent controls we are proposing take aspects from models across Europe and to learn from the challenges these models have faced, to build a model specific for Scotland's needs:
We want a points-based system that links the maximum rent a landlord can charge to the quality of the flat; this would act as a carrot for them to make improvements, and a stick for landlords who refuse to do so.
This would also be attached to the property, not the lease – meaning that tenants moving out wouldn't have any impact on the rent.
We also want rents limited to a specific Rent Affordability Index to ensure that they are affordable for tenants in any given area
To oversee this all, we want a new Scottish Living Rent Commission to act as an umbrella body and a centre of expertise and regulation in the private rented sector.
A policy paper outlining the full proposal can be read here: https://www.scottishhousingnews.com/uploads/document/Rent%20Controls%20%282%29.pdf
THE CAMPAIGN
Over the last year, we have relaunched our campaign for a proper system of rent controls in Scotland, and have been working hard to build support for the Living Rent proposal across the country. Polling consistently shows overwhelming support for rent controls – and, in theory, all of the major parties in Scotland now support the principle of it. But the details are important, and a major focus of the campaign has shifted to ensuring that any model of rent controls that comes in has the radical impact we believe it needs to.
But Living Rent is not a think-tank, nor are we a small group of 'experts' in an office, divorced from the struggle of tenants. We are clear that 100 years ago, it was the militant action of tenants that forced the government to introduce rent controls – not glossy, persuasive policy papers. And we are clear that this is what it will take to win again.
by Living Rent
[email protected]
https://www.livingrent.org/