Airbnb and Co. drive us out of our neighborhood and cities. Tourists in hotel, families in houses!
From European Action Coalition Bullettin n. 4 01/2020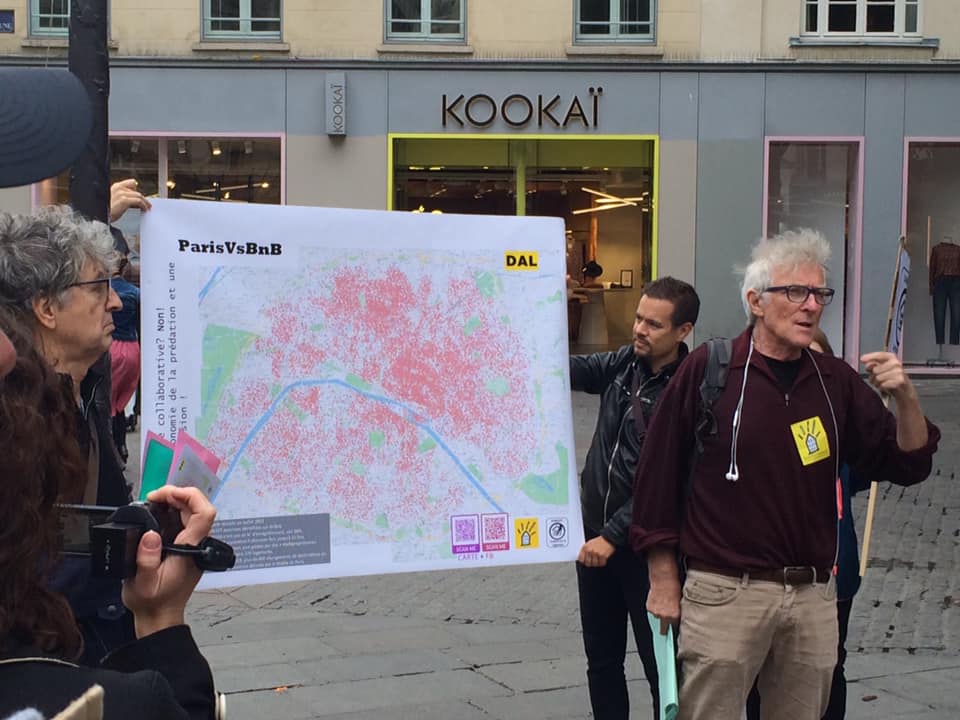 In France, tourist rentals like Airbnb and Co. capture an increasing share of rental housing to the detriment of employees and seasonal workers in the tourism sector, in the mountains, on the coast lines, in Paris / suburbs and in most other big cities…
In the tourism sectors, companies face difficulties in recruiting employees in the high season because of the lack of available housing, while many seasonal workers are forced to live in their car, or in tents. In working-class suburbs, more and more Airbnb homes are rented to people who have no alternative for housing.
In Paris, almost 60 000 homes are put up for tourist rental, i.e. 15% of the private rental stock, at the expense of evicted tenants, of owners chased away by "overtourism" and of households in search of housing: students, low-income employees, families in search of a stable rental … Year after year, Paris thus loses its inhabitants despite the increasing number of housing units1. Meanwhile, the State shelters thousands of homeless families in hotels! It's absurd ! Families must live in houses and tourists in hotels!
Big and small investors, attracted from all over the world by the prospect of lucrative profits are rushing towards this new Eldorado. They rent at full price (up to 300 € per night for a studio flat) and disregard the existing prohibitive legislation: they rent all year long, sign "professional leases", change their name on the ads, transform shops and offices in rentals for tourists…
Even businesses and offices, thanks to the authorization delivered by the services of the City Council, are transformed into speculative rentals. Condominiums are powerless to fight the invasion for lack of sufficient legal means.
The consequences are: noise pollution, comings and goings at any time, disappearance of local shops replaced by night bars, luxury shops… schools are closing, tenants face evictions… The central districts are being emptied of their inhabitants. Even the outer districts are under attack! The price per square meter now exceeds 10 000 €. How far will we go? The center of Paris is loosing its life!
The measures taken, particularly in a law passed in December 2018 (the ELAN Act), and those such as implemented in Paris, are inoperative and the control services are ineffective because they are insufficient to enforce the ban on renting other than a main home and for more than 4 months, the obligation of having a registration number, and to issue fines… Criminal practices become commonplace!
Yet cities like New York, Berlin, Amsterdam, San Francisco, … have taken radical steps to get rid of this plague and have succeeded thanks to the mobilizationof the inhabitants! Why not us?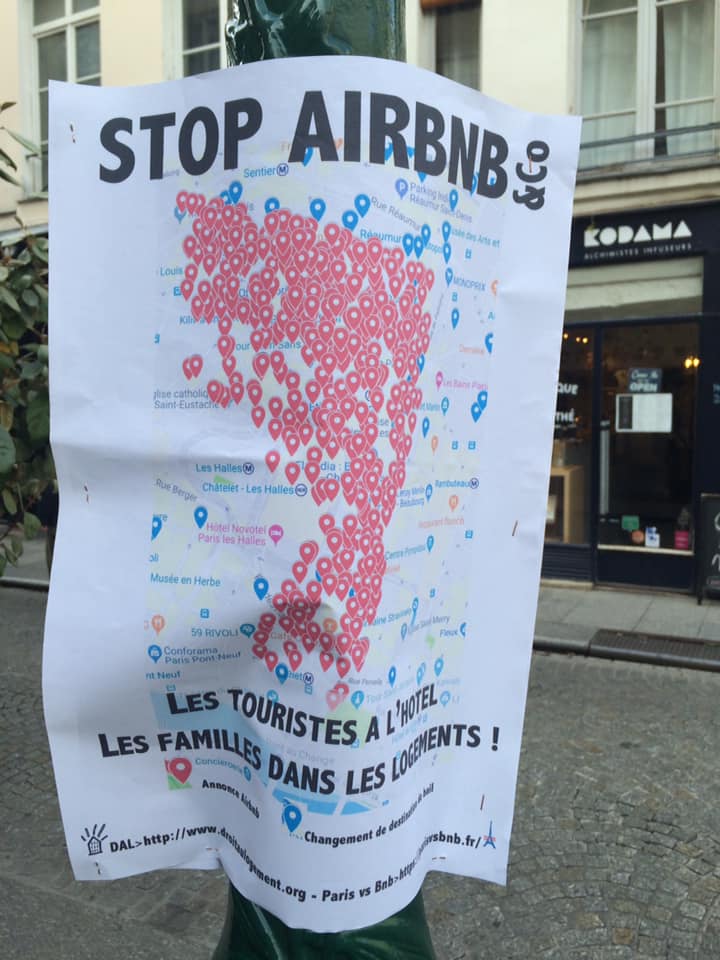 On the occasion of the World Tourism Day, we walked around the center of Paris with homeless families housed in hotels and inhabitants of the neighborhood exasperated by the degradation of their living environment. We ended up in front of a school that is closing due to the departure from the neigborhood of families with children. Children hit a Airbnb-logo-shaped piñata…
At the same time inhabitants of Douardenez, a Breton city impacted by the rental via internet platforms, also demonstrated their anger.
Since then, it has been decided to create a national coordination Versus Airbnb & Co, with a Facebook account and a website.
The best way to end this plundering without borders, is to dry up the sources of profits: control rents of tourist accommodation as for private rentals, enable public authorities to prohibit totally or partially tourist rentals, tax the profits of the hosts and the platforms and compel them to open their databases.
And it is also necessary to regularize the situation of undocumented migrants who work for the tourism platform industry, often under brutal exploitation condition, and to requisition illegal tourist lodgings to accomodate homeless families there rather than in hotels!
To be continued …