Our cities are not for sale! Elected representatives out of the MIPIM!
Tuesday, March 14, 2:30 pm in front of MIPIM (1 Bd de la Croisette)
Mardi 14 mars à 14h30 devant le MIPIM (1 Bd de la Croisette)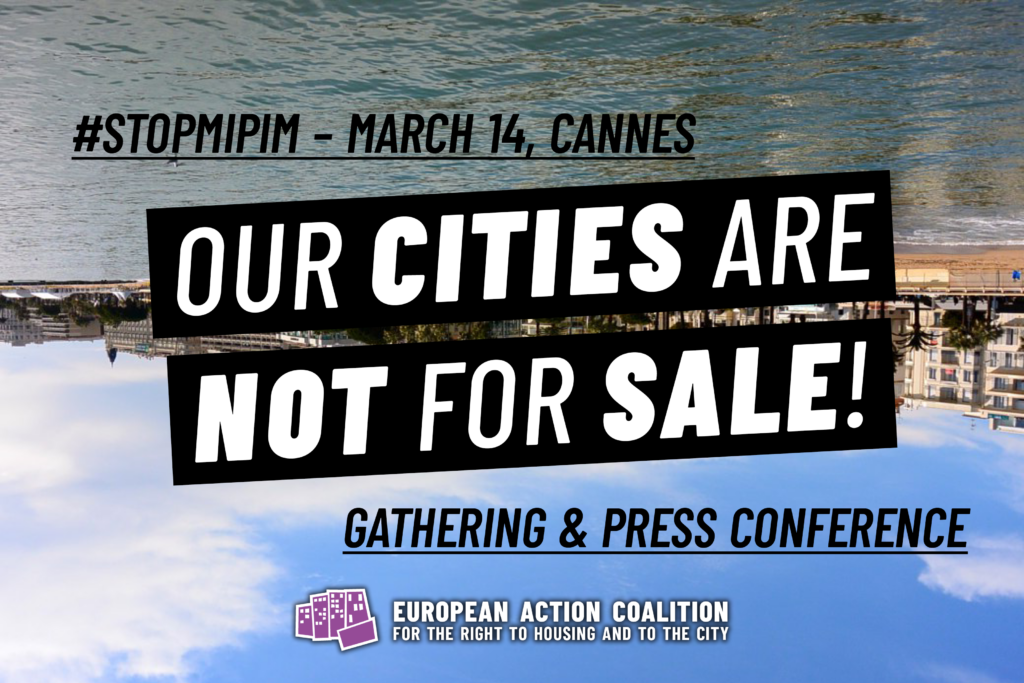 Invitation to a press conference and gathering in CANNES – Tuesday, March 14, 2:30 pm in front of MIPIM (1 Bd de la Croisette)

We stand against financialisation and commodification of housing and for that reason we stand against the MIPIM, the self-proclaimed world largest real estate fair worlwide. 
Each year, Reed Midem organises the MIPIM – the International Market for Real Estate Professionals (le Marché International des Professionnels de l'Immobilier) – where real estate professionals, investors, funds, architects, constructors and local authorities meet to sell off our land, our cities, our homes and make good deals for their wallets. They diversify their portfolio, while they homogenise our cities. 
Since 1990, the MIPIM has evolved : housing, as an attractive and not-so-risky asset, has taken a very important part of the discussions and deals that occur during and because of the MIPIM. More and more conferences, events and discussions are taking place for housing, until it became in 2016, one of the main topics. Co-living, affordable housing and "green" construction labels, are the main trends of the 2023 edition but only because they provide guarantees of product flexibility for the former and of fixing the value of fixed assets for the latter. 
What we also observe with consternation is that our local authorities are more and more keen to participate to the MIPIM. It is said that if you don't go there, your reputation in the global real estate market is damaged. Local authorities go there to meet private companies and funds seeking for investments : they are selling our spaces, private and public spaces to investors and companies. Our elected representatives and politicians turned out to be real estate agents! 
MIPIM is not just an event, it is one of the elements that lead to the commodification and financialization of our homes and cities, it plays a role that has long-term effects on our lives. While almost 30.000 participants pay 3.000€ to enter this event, we are millions to fight out there to pay our rents and credits for houses that are less and less affordable, and more and more unsuitable, to fight against our evictions from our neighbourhoods, the touristification and violent genrification of our cities and even villages. 
But democracy is not for sale… our democracies are not for sale. The basic needs of the people are not investment possiblities. 
For all these reasons, the members of the European Action Coalition for the Right to Housing and the Right to the City denounce the participation of local elected officials and public sector agents in this event. They demand an end to the financialisation and commodification of housing and spaces and clear measures to stop the effect of financial investments on the right to housing and the right to the city. They also demand the application of a tax on profitable real estate developments for the development of social housing accessible to all people, without discrimination.
The European Action Coalition is a network of 35 grassroots collectives from 20 countries. Further reading on our campaign against the MIPIM:
👉 housingnotprofit.org/against-the-mipim-and-its-world/
👉 housingnotprofit.org/stopmipim2023/
The gathering is organised in collaboration with the DAL federation, DAL 06, HALEM and LDH
Invitation à une conférence de presse et à un rassemblement à CANNES – Mardi 14 mars à 14h30 devant le MIPIM (1 Bd de la Croisette)
Nous nous opposons à la financiarisation et à la marchandisation du logement et, pour cette raison, nous nous opposons au MIPIM, le salon immobilier autoproclamé le plus grand au monde. 
Chaque année, Reed Midem organise le MIPIM – le Marché International des Professionnels de l'Immobilier – où les professionnels de l'immobilier, les investisseurs, les fonds d'investissement, les architectes, les constructeurs et les autorités locales se réunissent pour vendre nos terres, nos villes, nos maisons et faire de bonnes affaires pour leurs portefeuilles. Ils diversifient leur portefeuille, tandis qu'ils homogénéisent nos villes. 
Depuis 1990, le MIPIM a évolué : le logement, en tant qu'actif attractif et pas si risqué, a pris une part très importante dans les discussions et les transactions qui ont lieu pendant et à cause du MIPIM. De plus en plus de conférences, d'événements et de discussions ont lieu sur le logement, jusqu'à ce qu'il devienne, en 2016, l'un des principaux sujets. La cohabitation et les labels de construction "verts" sont les principales tendances de l'édition 2023, mais uniquement parce qu'ils offrent des garanties de flexibilité des produits pour les premiers et de fixation de la valeur des actifs fixes pour les seconds. 
Ce que nous constatons également avec désolation, c'est que nos collectivités locales sont de plus en plus nombreuses à vouloir participer au MIPIM. On dit que si vous n'y allez pas, votre réputation sur le marché mondial de l'immobilier est entachée. Les collectivités locales y vont pour rencontrer des entreprises et des fonds privés à la recherche d'investissements : elles vendent nos espaces, privés et publics, à des investisseurs et des entreprises. Nos élus et nos hommes politiques se sont révélés être des agents immobiliers ! 
Le MIPIM n'est pas seulement un événement, c'est l'un des éléments qui conduisent à la marchandisation et à la financiarisation de nos logements et de nos villes, il joue un rôle qui a des effets à long terme sur nos vies. Alors que près de 30.000 participant.es paient 3000 € pour y entrer, nous sommes des millions à nous battre pour payer nos loyers et nos crédits pour des logements de moins en moins abordables, et de plus en plus inadaptés, pour lutter contre nos expulsions de nos quartiers, la touristification et la gentrification violente de nos villes et même de nos villages. 
Mais la démocratie n'est pas à vendre, nos démocraties ne sont pas à vendre. Les besoins humains fondamentaux ne peuvent pas devenir des possibilités d'investissement. 
Pour toutes ces raisons, les membres de la Coalition européenne d'action pour le droit au logement et le droit à la ville dénoncent la participation des élus locaux et des agents du secteurs publics à cet évènement. Ils exigent la fin de la financiarisation et de la marchandisation du logement et des espaces et des mesures claires pour stopper l'effet des investissements financiers sur le droit au logement et le droit à la ville. Ils exigent également l'application d'une taxe sur les développements immobiliers lucratifs pour le développement de logement sociaux accessibles à toute personne, sans discrimination.
La Coalition européenne d'action est un réseau de 35 collectifs de base issus de 20 pays. Pour en savoir plus sur notre campagne contre le MIPIM :
👉 housingnotprofit.org/against-the-mipim-and-its-world/
👉 housingnotprofit.org/stopmipim2023/
Le rassemblement est organisée en collaboration avec la féderation DAL, DAL 06, HALEM et la LDH