#stopMIPIM Action!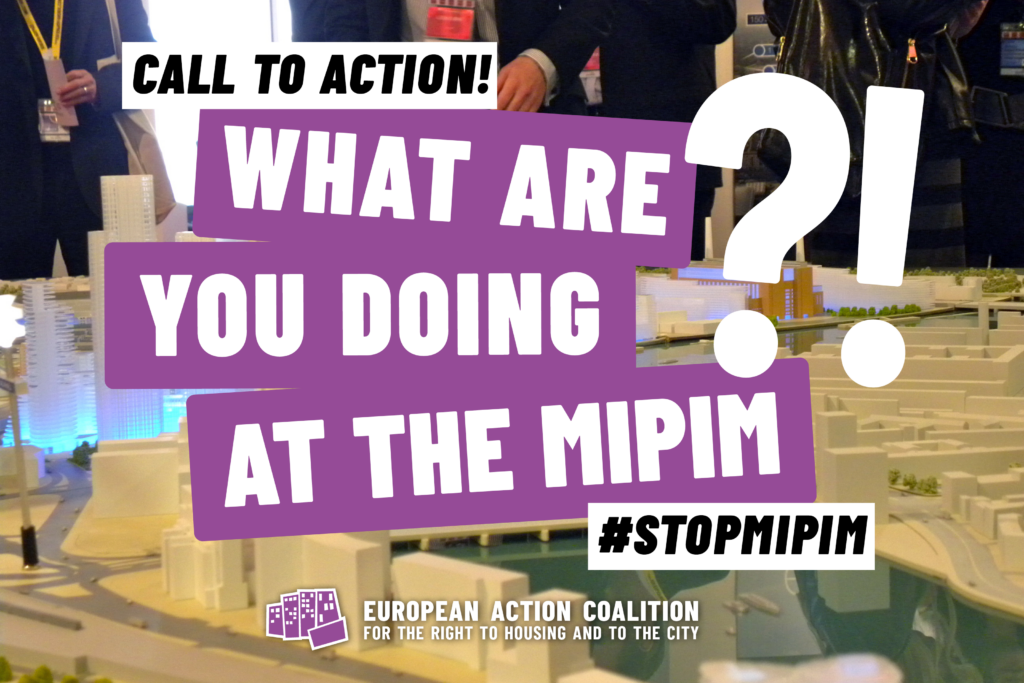 From the 14th to the 16th of March the biggest real estate fair of the world is happening in Cannes. (➡ See our text about the MIPIM and why the EAC1The European Action Coalition for the right to housing and to the city (EAC) is a network of 36 grassroots collectives from 21 countries. is taking action). This year, the European Action Coalition for the right to housing and to the city (EAC) is calling for decentralized actions to expose democratically elected authorities who participate in the sell-out of our cities in the MIPIM. 
"The MIPIM, the international market for real estate professionals held in Cannes (France) every year in mid-March since 1990, is an essential cog in the overexploitation of the essential need to have a roof over one's head, a stable, decent, affordable, ecological home.  

It brings together this small milieu of 25 to 30,000 people who decide, without even consulting us, to change our cities, destroy our neighbourhoods, our local solidarity… our lives, in order to build offices, luxury or tourist accommodation to make money." (DAL)
Agents of the capital like representatives of banks, real estate agencies, insurance and construction companies, investment funds, architects… meet to celebrate their business. We denounce the participation of democratically elected municipal and regional representatives to this party and to the sell out of our towns and cities. This business behind close doors has to end and that's why the EAC launches the 'What are you doing in the MIPIM?' campaign.
Below you can find ➡ a list of participants in the fair as well as ➡ the 2023 MIPIM program. The cities of Prague, Copenhagen, Tallinn, Helsinki, Montpelier, Berlin, Riga, Warsaw, Barcelona and Porto and many more are all concerned. The focus of the campaign is on local authorities but it can also be adressed to the companies that participate.
What actions can you do against the MIPIM : 
Du 14 au 16 mars, le plus grand salon de l'immobilier du monde se déroule à Cannes (➡ Voir notre texte sur le MIPIM et les raisons de l'action de la CEA2La Coalition européenne d'action pour le droit au logement et à la ville (CEA) est un réseau de 36 collectifs de base de 21 pays.). Cette année, la Coalition Européenne d'Action pour le droit au logement et à la ville (CEA)  appelle à des actions décentralisées pour dénoncer la participation des autorités démocratiquement élues à la braderie de nos villes qui a lieu au MIPIM. 
"Le MIPIM, marché international des professionnels de l'immobilier qui se tient à Cannes (France) tous les ans à la mi-mars depuis 1990 est un rouage essentiel de la surexploitation de ce besoin  essentiel d'avoir un toit, un logement stable, décent, abordable, écologique.  

Il réunit ce que compte ce petit milieu de 25 à 30 000 personnes qui décident sans même nous consulter, de changer nos villes, détruire nos quartiers, nos solidarités locales… nos vies,  pour construire des bureaux, des logements de luxe ou à touristes pour faire de l'argent." (DAL)
Les agents du capital comme les représentant.es des banques, des agences immobilières, des compagnies d'assurance et de construction, des fonds d'investissement, des architectes… se réunissent pour arranger leurs affaires. Nous dénonçons la participation des représentant·es municipaux et régionaux démocratiquement élu·es à cette fête et au bradage de nos villes. Ce commerce à huis clos doit cesser et c'est pourquoi la CEA lance la campagne "Que faites-vous au MIPIM?".
Vous trouverez ici ➡ une liste des participants, des stands ainsi que ➡ le programme de l'édition 2023. Les villes de Prague, Copenhague, Tallinn, Helsinki, Montpellier, Berlin, Riga, Varsovie, Barcelone et Porto et bien d'autres sont toutes concernées. La campagne est axée sur les autorités locales, mais elle peut également s'adresser aux entreprises qui participent à la foire.
Quelles actions pouvez-vous entreprendre contre le MIPIM ? 
Flyer for the #stopMIPIM2023 'WHAT ARE YOU DOING AT THE MIPIM?' decentralized action campaign: