EAC Meeting / Paris / 9 > 12.11.2023 — SAVE THE DATE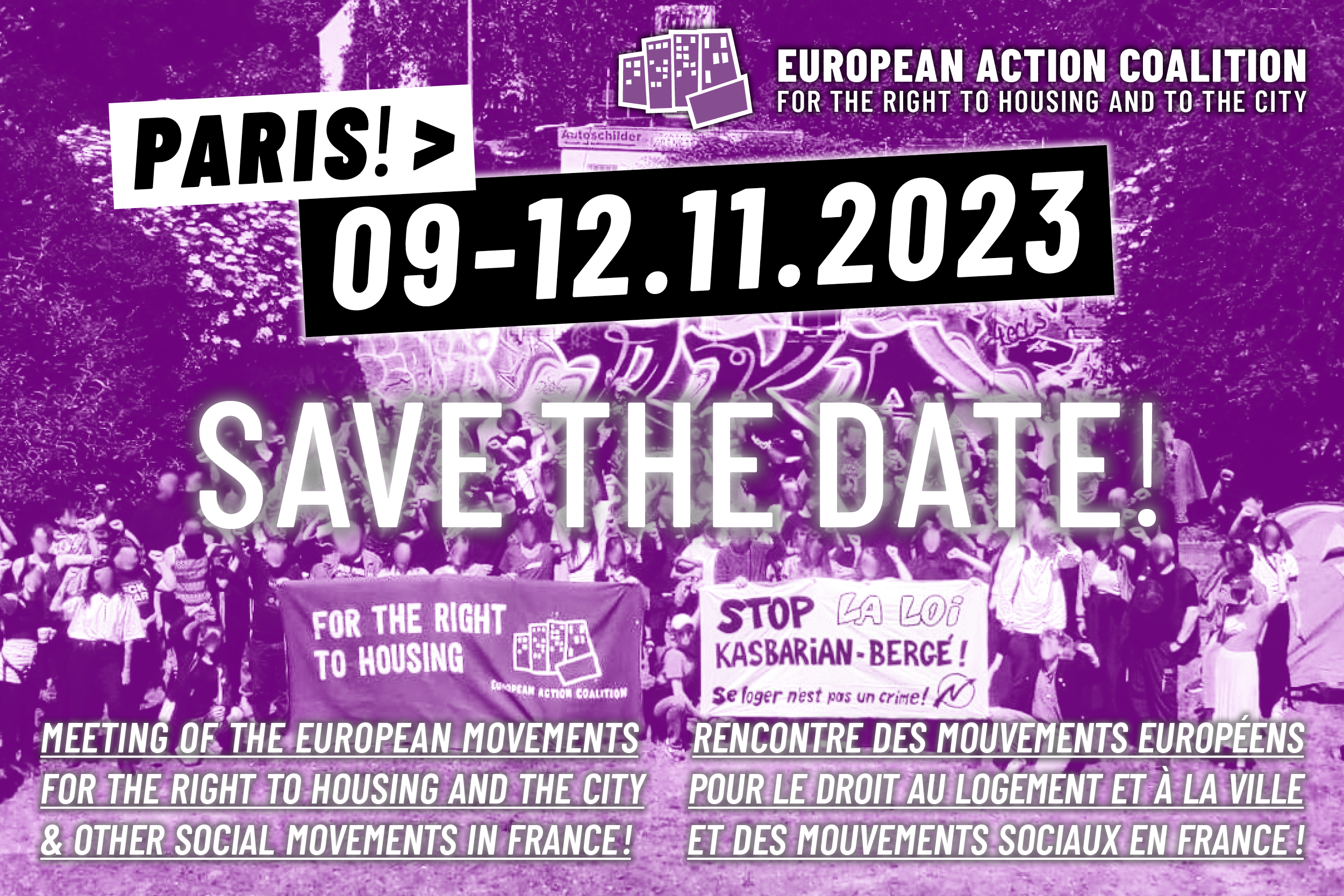 [Français 👇👇👇] European movements for the right to housing and the city meet in PARIS from 9 to 12 November 2023 
📌 SAVE THE DATE!
From November 9th to 12th the European Action Coalition for the right to Housing and to the City (EAC) will hold its next meeting in Paris. During 4 days, grassroots collectives from 20 European countries will discuss strategies, exchange skills and prepare future campaigns and actions reclaiming housing and social justice for all!
We invite workers unions as well as climate, antiracist and feminist movements to join our meeting. We believe that building a common front of action is the only way to resist the persisting attacks against our political and social rights and the systemic exploitation of both people and nature.
During the last decade, mobilisations for the right to housing and other social rights have intensified all over Europe and worldwide.
While the majority of us is exposed to unprecedented levels of precariousness the ruling classes continue to maximize their profits. Most of our governments responded to the crises by cutting social aids, escalating repression against social movements and attacking individual and political rights. In the last years, the number of evictions has rose drastically as well as rent debts, energy debts and displacement of poor people.
In the meantime, the rise of the far right and authoritarianism has become either a reality or a threat to most European countries.
For all these reasons we consider that organising and bringing our movements together, beyond borders, is becoming an urgent necessity!
JOIN THE STRUGGLE!
Join us for 4 days of workshops, public meetings and actions!
[FR 👉] Rencontre des Mouvements Européens pour le droit au Logement et à la Ville à Paris du 9 au 12 novembre 2023
📌 RESERVEZ LA DATE!
Alors que la crise du logement bat son plein, les luttes pour le droit au logement et à la ville s'intensifient partout en Europe et dans le monde. Des milliers de personnes ont défilé dans les rues grandes villes européennes pour la Housing Action Day (Journée Européenne d'Action pour le Droit au Logement et à la Ville) en printemps dernier.
Depuis 2021, la hausse des prix de l'immobilier et des loyers accompagnée de la hausse drastique du prix de l'énergie et de l'inflation sur les produits de première nécessité n'a fait que renforcer les inégalités et aggraver la crise du logement. Partout en Europe, le nombre d'expulsions a explosé, de même que les dettes locatives, les dettes liées aux charges de l'électricité, la saisies des biens immobiliers pour non-remboursement des prêts bancaires. En parallèle, la répression contre les sans-logis, les mal-logés, les locataires pauvres, les personnes sans-papier, migrantes, les gens du voyage n'a cessé de s'aggraver.
Alors que la plupart d'entre nous subit les effets néfastes de la crise, les propriétaires immobiliers et terriens, les grands investisseurs privés, les agences immobilières, les banques et fonds de pensions continuent à s'en mettre plein dans les poches. Le nombre de logements vacants, source de profits et de spéculation immobilière pour les plus riches n'a jamais été aussi important, alors que le nombre de logements sociaux et de logements de qualité et accessibles à tou·tes se voit réduit chaque année.
Face au rouleau compresseur des politiques néolibérales du logement, de la ville et du territoire appliquées par nos gouvernements et les attaques permanentes contre nos droits et libertés fondamentales, il devient urgent d'agir !
Du 9 au 12 novembre des collectifs et des mouvements de base venant de 20 différents pays d'Europe se réuniront à Paris pour discuter de la crise du logement, ses manifestations, ses conséquences et élaborer des stratégies d'action et des campagnes de mobilisation communes.
🗣️ Nous invitons tous les collectifs et organisations qui luttent pour le droit au logement et à la ville, pour un aménagement juste et écologique du territoire, contre la spéculation foncière et immobilière ainsi que tou·tes celles et ceux qui luttent contre les discriminations de tout ordre et pour la justice sociale, de participer à cet événement !
Rejoignez-nous pour 4 jours d'ateliers, de réunions publiques et d'actions collectives !