Lisbon: Demonstration for a "Just Life"
[EN] On Saturday 25 February, thousands of people of Lisbon took to the streets for a just life. Our member group 👉 Habita wrote to tell us about that day and the spring of struggles that is coming! Read more below 👇

—
[FR] À Lisbonne, le samedi 25 février, des milliers de personnes sont descendues dans la rue pour une vie juste. Notre groupe membre 👉 Habita nous a écrit pour nous parler de cette journée et du printemps des luttes qui s'annonce ! Lisez la suite ci-dessous 👇
—
[ES] El sábado 25 de febrero, miles de lisboetas salieron a la calle por una vida justa. ¡Nuestro grupo miembro 👉 Habita nos escribió para hablarnos de ese día y de la primavera de luchas que se avecina! Lee más abajo 👇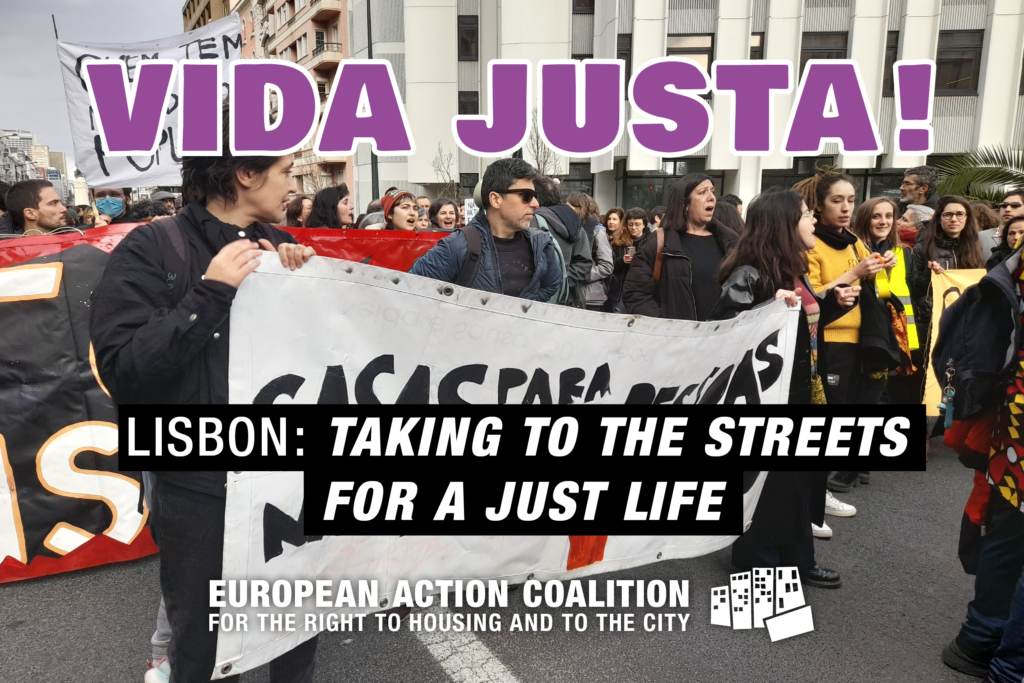 Lisbon: Demonstration for a "Just Life". Neighbourhoods united against high living costs
On Saturday 25 February we took to the streets for a just life. We immersed ourselves and mingled in the midst of the bodies of the thousands of people who decided to take their lives into their own hands to fight the crisis that increasingly grips those who work, those who have always been pushed to the margins of society, of political power.
We cannot continue to accept that the prices of essential goods such as food, transport, housing grow disproportionately according to the wishes of those who make money, according to the pleasures of those who speculate. People cannot continue to be evicted and put on the streets without any alternative from the places they consider home. We no longer want to be stuck in the labour and existential precariousness promoted for decades by neo-liberal policies that focus on the profits of those who already own so much at the expense of those who own little or nothing. For all this we took to the streets. Because united we are strong, because organised and determined we are even stronger. Only in this way can we make ourselves respected, only together can we stop the war against the poor that has been going on for decades.
It was wonderful to take back the city for a few hours. To see comrades we hadn't seen for a long time, but above all to meet new ones. To feel for once that even the peripheries, physical and mental, can converge towards the centre by demonstrating to solve their needs, by beginning to put their collective desires into practice. Last Saturday's demonstration is only the beginning of a journey. In March we will be in the streets alongside the Greve Climática Estudanti, together with women, migrants, and as often as necessary.
On 1 April we will take back the city for the right to housing, at the "Casa Para Viver" demonstration, on the occasion of the Housing Action Days promoted by the European Action Coalition for the Right to Housing and to the City.
The springtime of struggles already begun.
For this, for more, for everything!
Lisbonne, manifestation pour une Vie Juste. Les quartiers unis contre la cherté de la vie
Samedi 25 février, nous sommes descendus dans la rue pour une vie juste. Nous nous sommes immergés et mêlés au milieu des corps des milliers de personnes qui ont décidé de prendre leur vie en main pour lutter contre la crise qui frappe de plus en plus ceux qui travaillent, ceux qui ont toujours été poussés en marge de la société, du pouvoir politique.
Nous ne pouvons pas continuer à accepter que les prix des biens essentiels comme la nourriture, les transports, le logement augmentent de manière disproportionnée selon les désirs de ceux qui font de l'argent, selon les plaisirs de ceux qui spéculent. Les gens ne peuvent pas continuer à être expulsés et mis à la rue sans aucune alternative des lieux qu'ils considèrent comme leur maison. Nous ne voulons plus être coincés dans la précarité du travail et la précarité existentielle promues depuis des décennies par les politiques néolibérales qui se concentrent sur les profits de ceux qui possèdent déjà tant au détriment de ceux qui ne possèdent rien ou presque. C'est pour tout cela que nous sommes descendus dans la rue. Parce qu'unis nous sommes forts, parce qu'organisés et déterminés nous sommes encore plus forts. C'est seulement ainsi que nous pourrons nous faire respecter, c'est seulement ensemble que nous pourrons arrêter la guerre contre les pauvres qui dure depuis des décennies.
C'était merveilleux de se réapproprier la ville pendant quelques heures. De revoir des camarades que nous n'avions pas vus depuis longtemps, mais surtout d'en rencontrer de nouveaux. De sentir pour une fois que même les périphéries, physiques et mentales, peuvent converger vers le centre en manifestant pour résoudre leurs besoins, en commençant à mettre en pratique leurs désirs collectifs. La manifestation de samedi dernier n'est que le début d'un voyage. En mars, nous serons dans les rues aux côtés des Estudanti Greve Climática, avec les femmes, les migrants, et aussi souvent que nécessaire.
Le 1er avril, nous reprendrons la ville pour le droit au logement, lors des journées d'action pour le logement promues par la the European Action Coalition for the Right to Housing and to the City, na manifestação Casa para Viver.
La première saison des luttes est arrivée !
pour ceci, pour cela, pour tout !
Lisboa, manifestación por una Vida Justa. Los barrios unidos contra la carestía de la vida
El sábado 25 de febrero salimos a la calle por una vida justa. Nos sumergimos y mezclamos en medio de los cuerpos de las miles de personas que decidieron tomar su vida en sus propias manos para luchar contra la crisis que atenaza cada vez más a los que trabajan, a los que siempre han sido empujados a los márgenes de la sociedad, del poder político.
No podemos seguir aceptando que los precios de bienes esenciales como la alimentación, el transporte, la vivienda crezcan desproporcionadamente según los deseos de los que ganan dinero, según los placeres de los que especulan. Las personas no pueden seguir siendo desahuciadas y puestas en la calle sin ninguna alternativa desde los lugares que consideran su hogar. No queremos seguir atrapados en la precariedad laboral y existencial promovida durante décadas por las políticas neoliberales centradas en los beneficios de los que ya poseen mucho a costa de los que poseen poco o nada. Por todo esto salimos a la calle. Porque unidos somos fuertes, porque organizados y decididos somos aún más fuertes. Sólo así podremos hacernos respetar, sólo unidos podremos detener la guerra contra los pobres que dura desde hace décadas.
Fue maravilloso recuperar la ciudad durante unas horas. Ver a compañeros que hacía tiempo que no veíamos, pero sobre todo conocer a otros nuevos. Sentir por una vez que incluso las periferias, físicas y mentales, pueden converger hacia el centro manifestándose para resolver sus necesidades, empezando a poner en práctica sus deseos colectivos. La manifestación del pasado sábado es sólo el principio de un viaje. En marzo estaremos en las calles junto a los Greve Climática Estudanti, junto a las mujeres, los migrantes, y tantas veces como sea necesario.
El primero de abril recuperaremos la ciudad por el derecho a la vivienda, en las Jornadas de Acción por la Vivienda promovidas por la the European Action Coalition for the Right to Housing and to the City, en la manifestaciòn "Casa para Viver".
¡La primavera de las luchas ya ha llegado!
Por esto, por más, por todo.