Freedom for the convicts of Gezi Park uprising! We will keep on chapulling*! Call for actions on Saturday 28.05.2022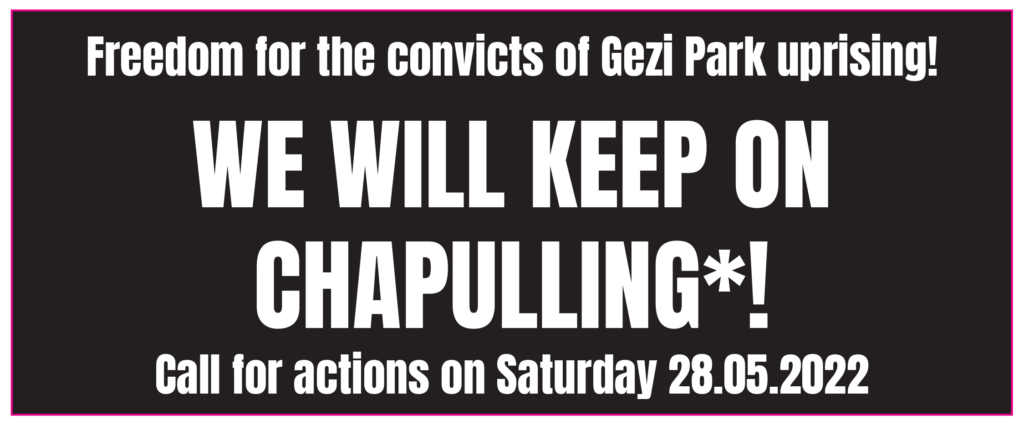 +++ French, Spanish, Turkish, Kurmanji, Greek, German, Turkish below +++ Français, espagnol, turc, kurde, grec, allemand, turc ci-dessous +++ Francés, español, turco, kurdo, griego, alemán, turco abajo +++ Fransızca, İspanyolca, Türkçe, Kürtçe, Yunanca, Almanca, Türkçe aşağıda +++ Fransî, spanî, tirkî, kurmancî, yûnanî û almanî jêre +++ Γαλλικά, ισπανικά, τουρκικά, κουρδικά, ελληνικά, γερμανικά, τουρκικά παρακάτω +++ Französisch, Spanisch, Türkisch, Kurdisch, Griechisch, Deutsch, Türkisch unten +++
At the end of April 2022, the Turkish state's political trial around the Gezi Park uprising ended with a life sentence for Osman Kavala, while Mücella Yapıcı, Can Atalay, Hakan Altınay, Çiğdem Mater, Tayfun Kahraman, Mine Özerden and Yigit Ali Ekmekçi were each sentenced to 18 years in prison and jailed. During the Gezi uprising in 2013, at least 10 people were killed by the police (some sources say 22) and 16 persecuted. This protest movement was not just the work of a few people, as the Erdogan government would have us believe, it was launched and supported by millions of people and resulted in thousands of actions across Turkey and beyond.

In 2019, we, the European Action Coalition for the Right to Housing and to the City, a network of over 30 grassroots initiatives from 20 countries, launched a petition against this attack on fundamental human rights in Turkey and collected over 28,000 signatures. Today, we continue to firmly condemn human rights violations in this country and demand the immediate release of the convicted persons. The Gezi uprising remains an exceptional example in our recent history of social movements, a protest initially against the destruction of public space, ultimately attacking the capitalist transformation and the totalitarian regime behind it.

In solidarity with the condemned comrades, to commemorate those we lost there, to actively remember the uprising but also to express our demand for immediate release of the political prisoners associated with the Gezi Park uprising, we call for actions to take place on the 28th of May 2022 on the occasion of its 9th anniversary. The freedom of association of the inhabitants is a fundamental right, and with this call we wish to defend it. We are reaching out to networks, collectives and people beyond our Coalition that wish to join us and address the Turkish government as well as its collaborators who are in many cases the governments in our own countries.

*Chapulling (Turkish: Çapuling) is a neologism originating in the Gezi Park protests, coined from Prime Minister Erdoğan's use of the term çapulcu (roughly translated to "marauders") to describe the protesters. Pronnounced /t͡ʃapuɫd͡ʒu/ in Turksih, çapulcu was rapidly reappropriated by the protesters, both in its original form and as the anglicized chapuller and additionally verbified chapulling, given the meaning of "fighting for your rights". [wikipedia]

#freethegeziparkconvicted #keeponchapulling #downwitherdogan #solidarity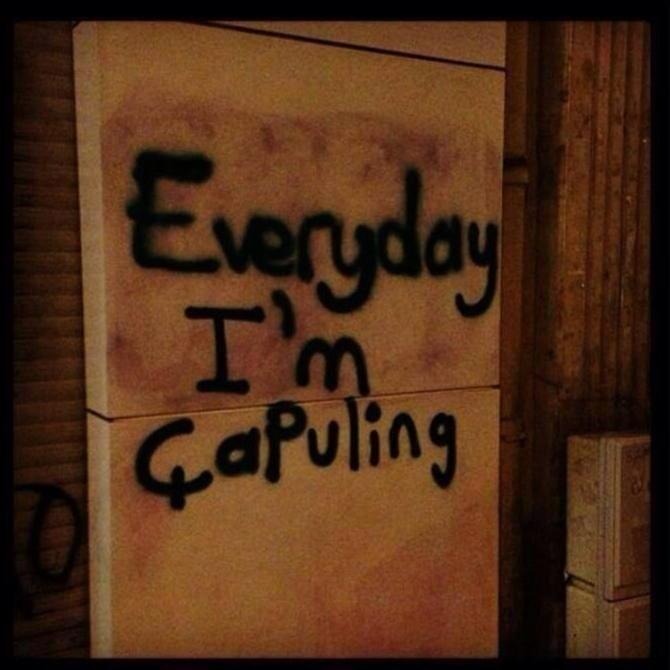 FR
Liberté pour les condamné.es du soulèvement du parc Gezi !
We will keep on chapulling*!
Appel à actions le samedi 28.05.2022

Fin avril 2022, le procès politique de l'État turc autour du soulèvement du parc Gezi s'est terminé par une condamnation à la prison à vie pour Osman Kavala, alors que Mücella Yapıcı, Can Atalay, Hakan Altınay, Çiğdem Mater, Tayfun Kahraman, Mine Özerden et Yigit Ali Ekmekçi ont été condamné.es à 18 ans de prison chacun.e et emprisonné.es. Lors du soulèvement de Gezi en 2013, au moins 10 personnes ont été tuées par la police (certaines sources parlent de 22) et 16 persécuté.es. Ce mouvement de protestation n'était pas uniquement l'affaire d'une poignée de personnes, comme voudrait le faire croire le gouvernement Erdogan, il a été lancé et soutenu par des millions et a suscité plusieurs milliers d'actions à travers la Turquie et au-delà.

En 2019, nous, la Coalition Européenne d'Action pour le droit au logement et le droit à la ville, un réseau de plus de 30 initiatives de base de 20 pays, avions lancé une pétition pour dénoncer cette attaque contre les droits humains fondamentaux en Turquie et avions recueilli plus de 28 000 signatures. Aujourd'hui, nous continuons à condamner fermement les violations des droits humains dans ce pays et exigeons la libération immédiate des personnes condamné.es. Le soulèvement de Gezi reste un exemple exceptionnel dans notre histoire récente des mouvements sociaux, une protestation initialement contre la destruction de l'espace public, attaquant finalement la transformation capitaliste et le régime totalitaire qui la soutient.

En solidarité avec les camarades condamné.es, pour commémorer celleux que nous avons perdu.es là-bas, pour se souvenir activement du soulèvement mais aussi pour exprimer notre exigeance de libération immédiate des prisonniers et prisonnières politiques associé.es au soulèvement du parc Gezi, nous appelons à une journée d'action le 28 mai 2022 à l'occasion de son 9ième anniversaire. La liberté d'associations des habitant.es est un droit fondamental, par cet appel à action, nous souhaitons le défendre. Nous appelons les réseaux, collectifs et personnes au-delà de notre Coalition qui souhaitent se joindre à nous et s'adresser au gouvernement turc ainsi qu'à ses collaborateurs qui sont dans de nombreux cas les gouvernements de nos propres pays.

*Chapulling (en turc: Çapuling) est un néologisme issu des manifestations du parc Gezi, inventé à partir de l'utilisation par le Premier ministre Erdoğan du terme çapulcu (traduit approximativement par "maraudeurs") pour décrire les manifestant.es. Prononcé /t͡ʃapuɫd͡ʒu/ en turc, çapulcu a rapidement été réapproprié par les manifestant.es, à la fois sous sa forme originale et sous la forme anglicisée "chapuller" et en plus verbalisée "chapulling", à laquelle on a donné le sens de "se battre pour ses droits". [wikipedia en anglais]

#freethegeziparkconvicted #keeponchapulling #downwitherdogan #solidarity
ES
¡Libertad para los presos de la revuelta del Parque Gezi!
¡Seguiremos chapulineando*!
Convocatoria de acciones para el sábado 28.05.2022
A finales de abril de 2022, el juicio político del Estado turco en torno a la revuelta del Parque Gezi terminó con una condena a cadena perpetua para Osman Kavala, mientras que Mücella Yapıcı, Can Atalay, Hakan Altınay, Çiğdem Mater, Tayfun Kahraman, Mine Özerden y Yigit Ali Ekmekçi fueron condenadxs a 18 años de prisión cada unx y encarceladxs. Durante el levantamiento de Gezi en 2013, al menos 10 personas fueron asesinadas por la policía (algunas fuentes dicen que 22) y 16 perseguidas. Este movimiento de protesta no fue sólo cosa de un puñado de personas, como quiere hacernos creer el gobierno de Erdogan, sino que fue lanzado y apoyado por millones y desencadenó varios miles de acciones en toda Turquía y fuera de ella.

En 2019, nosotrxs, la Coalición de Acción Europea por el Derecho a la Vivienda y el Derecho a la Ciudad, una red de más de 30 iniciativas de base de 20 países, lanzamos una petición para denunciar este ataque a los derechos humanos básicos en Turquía y recogimos más de 28.000 firmas. Hoy seguimos condenando enérgicamente las violaciones de derechos humanos en este país y exigimos la liberación inmediata de lxs condenadxs. El levantamiento de Gezi sigue siendo un ejemplo destacado en nuestra historia reciente de los movimientos sociales, una protesta inicialmente contra la destrucción del espacio público, atacando en última instancia la transformación capitalista y el régimen totalitario que la apoya.

En solidaridad con lxs compañerxs condenadxs, para conmemorar a lxs que perdimos allí, para recordar activamente el levantamiento pero también para expresar nuestra exigencia de liberación inmediata de lxs presxs políticos relacionadxs con el levantamiento del Parque Gezi, convocamos una jornada de acción el 28 de mayo de 2022 con motivo de su 9º aniversario. La libertad de asociación de lxs habitantes es un derecho fundamental, y con esta convocatoria queremos defenderlo. Hacemos un llamamiento a las redes, colectivos e individuos más allá de nuestra Coalición que deseen unirse a nosotrxs para dirigirse al gobierno turco y a sus colaboradores, que en muchos casos son los gobiernos de nuestros propios países.

*Chapulling (en turco: Çapuling) es un neologismo originado por las protestas del Parque Gezi, acuñado a partir del uso que hizo el primer ministro Erdoğan del término çapulcu (traducido aproximadamente como "merodeadores") para describir a los manifestantes. Pronunciado /t͡ʃapuɫd͡ʒu/ en turco, çapulcu fue rápidamente reapropiado por los manifestantes, tanto en su forma original como en la forma anglicista chapuller y verbalizada adicionalmente chapulling, a la que se le dio el significado de "luchar por los propios derechos". [wikipedia en inglés]

#freethegeziparkconvicted #keeponchapulling #downwitherdogan #solidarity
TR
Gezi Parkı ayaklanması hükümlülerine özgürlük!
Çapulculuğa devam edeceğiz!
28 Mayıs 2022 Cumartesi günü eylem çağrısı
2022 Nisan ayının sonunda Türk devletinin Gezi Parkı ayaklanmasına yönelik yürüttüğü siyasi dava Osman Kavala'nın müebbet hapis; Mücella Yapıcı, Can Atalay, Hakan Altınay, Çiğdem Mater, Tayfun Kahraman, Mine Özerden ve Yiğit Ali Ekmekçi'nin 18'er yıl hapis cezası almasıyla sonuçlandı. 2013 yılındaki Gezi ayaklanması sırasında en azından (kimi kaynaklara göre 22) 10 kişi polis tarafından öldürüldü ve 16 kişi tutuklandı. Bu protesto hareketi, Erdoğan hükûmetinin bizi inandırmaya çalıştığı gibi yalnızca birkaç kişinin eyleminden ibaret değil, milyonlarca insanın katıldığı ve desteklediği, Türkiye çapında ve ötesinde binlerce eylemin gerçekleştiği bir süreçti.
2019 yılında, 20 farklı ülkeden 30'un üzerinde taban örgütlenmesinin bulunduğu bir inisiyatif olarak, biz Avrupa Kent ve Barınma Hakkı Koalisyonu, Türkiye'de insan haklarına yönelik bu saldırıya karşı bir imza kampanyası başlatmış ve 28 binin üzerinde imza toplamıştık. Bugün de bu ülkedeki insan hakları ihlallerini kınamaya ve hükümlülerin derhâl serbest bırakılmasını talep etmeye devam ediyoruz. Gezi ayaklanması ilk elden kamusal alanların tahribatına karşı bir protesto, sonrasında ise bu tahribatın arkasındaki kapitalist dönüşüm ve totaliter rejime bir saldırı olarak toplumsal hareketlerin yakın tarihimizdeki ender ve özel bir örnek olarak durmaya devam etmektedir.
Hükümlü yoldaşlarımızla dayanışma içerisinde, kayıplarımızın anılarını yaşatırken, etkin bir şekilde ayaklanmayı anımsayarak ve Gezi parkı ayaklanmasıyla ilişkili olan siyasi tutsakların derhal serbest bırakılmaları talebiyle 28 Mayıs 2022 günü, Gezi'nin 9'uncu yıldönümü vesilesiyle eylem çağrısında bulunuyoruz. Örgütlenme özgürlüğü temel bir haktır ve bu çağrıyla beraber bu hakkı koruma niyetindeyiz. Bizlere katılmak ve koalisyonumuzun dışında kalan, Türk hükûmeti ve çoğu durumda onunla işbirliği yapan kendi ülkelerimizin hükûmetlerini hedefe oturtmak isteyen ağlara, kolektiflere ve insanlara çağrı yapıyoruz.
KU
Ji girtîyên Serhildana Parka Gezî re azadî!
Em ê Çapulîyê Bidomînin!
Banga çalakiyê roja Şemiyê, 28 Gulan, 2022
Di dawiya Nîsana 2022'an de doza siyasî ya dewleta Tirk a li dijî serhildana Parka Gezî'ye, bi cezayê muebetê ji Osman Kavala; Mucella Yapıcı, Can Atalay, Hakan Altınay, Çigdem Mater, Tayfun Kahraman, Mine Özerden û Yîgît Alî Ekmekçî her yek ji wan bi cezayê18 sal girtîgehê hat encamkirin. Di serhildana Geziyê ya sala 2013'an de herî kêm 10 kes (li gorî hin çavkaniyan 22) ji aliyê polîsan ve hatin qetilkirin û 16 kes jî hatin girtin. Ev bizava protestoyî ne tenê çalakiya çend kesan bû, wek hukûmeta Erdogan dixwaze me jê bawer dike, pêvajoyek bû ku li seranserê Tirkiyê û derveyî wê bi hezaran çalakî pêk hatin û bi mîlyonan kes beşdar bûn û piştgirî kirin.
Di sala 2019'an de bi însiyatîfa zêdetirî 30 rêxistinên bingehîn ên ji 20 welatên cuda, me weke Koalîsyona Mafên Bajar û Xaniyê ya Ewropayê, li dijî vê êrîşa li ser mafên mirovan a li Tirkiyeyê kampanyayek da destpêkirin û zêdetirî 28 hezar îmze kom kir. Îro jî em binpêkirinên mafên mirovan li vî welatî şermezar dikin û daxwaza azadîa girtîyan dikin. Serhildana Geziyê di dîroka me ya nêz de weke mînakeke awarte a tevgerên civakî, di destpêkê de weke protestokirina rûxandina qadên giştî û piştre jî weke êrîşeke li dijî veguherîna kapîtalîst û rejîma totalîter a li pişt vê wêrankirinê, berdewam dike.
Ji bo xwedîderketina li rêhevalên mehkûmkirî, ji bo bîranîna kesên me li wir winda kirine, ji bo bîranîna serhildanê bi awayekî çalak û her wiha ji bo azadiya girtiyên siyasî yên têkildarî berxwedana Parqa Gezî, em banga çalakiya 28'ê Gulan 2022 dikin. Azadiya rêxistinbûnê mafekî bingehîn e û em bi vê bangê dixwazin vî mafî biparêzin. Em bang li kolektîf û kesên li derveyî koalîsyona me ku dixwazin bi me re bibin yek û yên hikûmeta Tirkiyeyê û di gelek rewşan de jî hikûmetên welatên me yê hevkar hedef digrin dikin.
GR
Ελευθερία για τους κατάδικους της εξέγερσης του πάρκου Γκεζί!
We will keep on chapulling*!
Κάλεσμα για δράσης το Σάββατο 28.05.2022
Στα τέλη Απριλίου του 2022, η πολιτική δίκη του τουρκικού κράτους γύρω από την εξέγερση του πάρκου Γκεζί έληξε με την καταδίκη του Οσμάν Καβάλα σε ισόβια κάθειρξη, ενώ οι Mücella Yapıcı, Can Atalay, Hakan Altınay, Çiğdem Mater, Tayfun Kahraman, Mine Özerden και Yigit Ali Ekmekçi καταδικάστηκαν ο καθένας και η καθεμιά σε 18 χρόνια φυλάκισης και φυλακίστηκαν. Κατά τη διάρκεια της εξέγερσης του Γκεζί το 2013, τουλάχιστον 10 άνθρωποι σκοτώθηκαν από την αστυνομία (ορισμένες πηγές αναφέρουν 22) και 16 διώχθηκαν. Αυτό το κίνημα διαμαρτυρίας δεν ήταν απλώς υπόθεση μιας χούφτας ανθρώπων, όπως θα ήθελε να μας κάνει να πιστέψουμε η κυβέρνηση Ερντογάν, αλλά ξεκίνησε και υποστηρίχθηκε από εκατομμύρια ανθρώπους και προκάλεσε αρκετές χιλιάδες δράσεις σε όλη την Τουρκία και όχι μόνο.
Το 2019, εμείς, ο Ευρωπαϊκός Συνασπισμός Δράσης για το Δικαίωμα στη Στέγη και στην Πόλη, ένα δίκτυο περισσότερων από 30 πρωτοβουλιών βάσης από 20 χώρες, ξεκινήσαμε μια συλλογή υπογραφών για να καταγγείλουμε αυτή την επίθεση στα βασικά ανθρώπινα δικαιώματα στην Τουρκία και συγκεντρώσαμε πάνω από 28.000 υπογραφές. Σήμερα, συνεχίζουμε να καταδικάζουμε έντονα τις παραβιάσεις των ανθρωπίνων δικαιωμάτων στην Τουρκία και απαιτούμε την άμεση απελευθέρωση των καταδικασθέντων. Η εξέγερση του Γκεζί παραμένει ένα εξαιρετικό παράδειγμα στην πρόσφατη ιστορία των κοινωνικών κινημάτων, μια διαμαρτυρία αρχικά ενάντια στην καταστροφή του δημόσιου χώρου, που τελικά επιτίθεται στον καπιταλιστικό μετασχηματισμό και στο ολοκληρωτικό καθεστώς που τον υποστηρίζει.
Σε αλληλεγγύη με τους καταδικασθέντες συντρόφους και συντρόφισσες, για να τιμήσουμε όσους χάσαμε εκεί, για να θυμηθούμε ενεργά την εξέγερση αλλά και για να εκφράσουμε το αίτημά μας για την άμεση απελευθέρωση των πολιτικών κρατουμένων που συνδέονται με την εξέγερση του πάρκου Γκεζί, καλούμε σε διαπραγμάτευση δράσης στις 28 Μαΐου 2022 με αφορμή την 9η επέτειό της. Η ελευθερία του συνεταιρίζεσθαι των κατοίκων είναι θεμελιώδες δικαίωμα και με αυτή την έκκληση για δράση θέλουμε να το υπερασπιστούμε. Καλούμε τα δίκτυα, τις συλλογικότητες και τα άτομα πέραν του Συνασπισμού μας, που επιθυμούν να ενωθούν μαζί μας για να απευθυνθούν στην τουρκική κυβέρνηση και τους συνεργάτες της, που σε πολλές περιπτώσεις είναι οι κυβερνήσεις των χωρών μας.
*Chapulling (στα τουρκικά: Çapuling) είναι ένας νεολογισμός που προήλθε από τις διαδηλώσεις στο πάρκο Γκεζί και επινοήθηκε από τη χρήση του όρου çapulcu (που μεταφράζεται περίπου ως "επιδρομείς") από τον πρωθυπουργό Ερντογάν για να περιγράψει τους διαδηλωτές. Προφερόμενο /t͡ʃapuɫd͡ʒu/ στα τουρκικά, το çapulcu επαναπροσλήφθηκε γρήγορα από τους διαδηλωτές, τόσο στην αρχική του μορφή όσο και στην αγγλική μορφή "chapuller" και περαιτέρω προφορικά "chapulling", στην οποία δόθηκε η έννοια του "αγωνίζομαι για τα δικαιώματά μου". [wikipedia στα αγγλικά]
DE

Freiheit für die Verurteilten des Gezi-Park-Aufstandes!
We will keep on chapulling*!
Call for actions am Samstag 28.05.2022
Ende April 2022 endete der politische Prozess des türkischen Staates um den Gezi-Park-Aufstand mit einer lebenslangen Haftstrafe für Osman Kavala, während Mücella Yapıcı, Can Atalay, Hakan Altınay, Çiğdem Mater, Tayfun Kahraman, Mine Özerden und Yigit Ali Ekmekçi zu jeweils 18 Jahren Haft verurteilt wurden und im Gefängnis sitzen. Während des Gezi-Aufstands im Jahr 2013 wurden mindestens 10 Menschen von der Polizei getötet (manche Quellen sprechen von 22) und 16 der Prozess gemacht. Diese Protestbewegung war nicht nur das Werk einiger weniger Menschen, wie uns die Regierung Erdogan glauben machen will, sondern wurde von Millionen von Menschen initiiert und unterstützt und führte zu Tausenden von Aktionen in der gesamten Türkei und darüber hinaus.
2019 haben wir, die European Action Coalition for the Right to Housing and to the City, ein Netzwerk von über 30 Basisinitiativen aus 20 Ländern, eine Petition gegen diesen Angriff auf die grundlegenden Menschenrechte in der Türkei gestartet und über 28.000 Unterschriften gesammelt. Auch heute verurteilen wir die Menschenrechtsverletzungen in diesem Land aufs Schärfste und fordern die sofortige Freilassung der Verurteilten. Der Gezi-Aufstand bleibt ein außergewöhnliches Beispiel in der jüngeren Geschichte der sozialen Bewegungen, ein Protest, der sich zunächst gegen die Zerstörung des öffentlichen Raums richtete und schließlich die kapitalistische Transformation und das dahinter stehende totalitäre Regime attackierte.
In Solidarität mit den verurteilten Genossen, um derer zu gedenken, die dort ihr Leben gelassen haben, um aktiv an den Aufstand zu erinnern, aber auch um unsere Forderung nach sofortiger Freilassung der politischen Gefangenen, die mit dem Gezi-Park-Aufstand in Verbindung stehen, zum Ausdruck zu bringen, rufen wir zu Aktionen am 28. Mai 2022 anlässlich des 9. Jahrestages auf. Die Versammlungsfreiheit der Bewohner ist ein Grundrecht, das wir mit diesem Aufruf verteidigen wollen. Wir wenden uns an Netzwerke, Kollektive und Menschen auch außerhalb unserer Coalition, die sich anschließen und ihren Protest richten an die türkische Regierung sowie ihre Kollaborateure, die in vielen Fällen die Regierungen in unseren eigenen Ländern sind.
*Chapulling (türkisch: Çapuling) ist ein Neologismus, der aus den Gezi-Park-Protesten hervorgegangen ist und sich aus der Verwendung des Begriffs çapulcu (grob übersetzt "Plünderer") durch Premierminister Erdoğan zur Beschreibung der Demonstrierenden ableitete. In der türkischen Sprache als /t͡ʃapuɫd͡ʒu/ ausgesprochen, haben sich die Demonstrierenden çapulcu schnell wieder angeeignet, sowohl in seiner ursprünglichen Form als auch in der anglisierten Form chapuller und der zusätzlichen Verbform chapulling, die die Bedeutung "für seine Rechte kämpfen" trägt. [wikipedia englisch]