[Report] Cluj / 27.4 > 2.5.2023 / Transnational Meeting of Grassroots Collectives for Housing Justice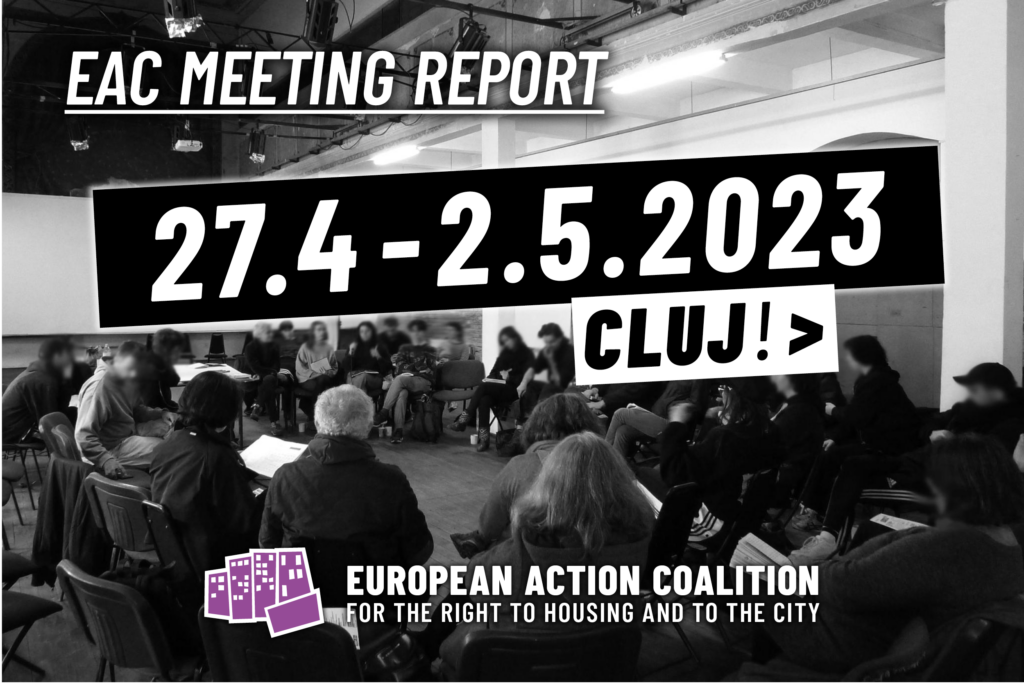 TRANSNATIONAL MEETING OF GRASSROOTS COLLECTIVES FOR HOUSING JUSTICE CLUJ, 27 APRIL – 2 MAY 2023
The European Action Coalition for the Right to Housing and to the City (EAC) organised its first meeting in 2023 between 27 April and 2 May. More than 22 collectives from 14 different countries were present. They reported on Housing Action Days organised every year at the end of March in many European cities, as well as on other actions and projects carried out following the meetings in Athens in November 2022. 
Because the meeting took place in Cluj, we call it the "Cluj meeting". It was hosted by Tranzit House, a social and cultural centre located in a former synagogue in the centre of the city. The members of the EAC wanted to support this centre, which is threatened by a growing lack of resources. The Cluj meeting would not have been possible without the help of various local groups: Tranzit House, A'Casa and Coop, and the many people who helped. Thanks to them and to Căși sociale ACUM! (Social Housing NOW!), the local EAC member group for the organisation. Thanks also to the members of RomaJust who came to Cluj to take part in the meeting and share their struggle for the right to housing.  
This report includes: 
the list of participants,

projects up to November 2023,

a brief report on the workshops,

a brief report on activities (public event, demonstration, debates and discussions, open meeting),

some details about the locations and collaborations.
1/ LIST OF PARTICIPANTS
Habita ! from Lisbon, Portugal / Habitação Hoje from Porto, Portugal / PAH from Spain / Sindicat de llogaters from Barcelona / Halem from France / DAL from France / AITEC from Paris, France / Bond Precaire Woonvormen from the Netherlands / Stop evictions from Berlin, Germany / Stop evictions from Vienna, Austria / Aslido from Prague, Czech Republic / INN from Prague, Czech Republic / The Common Front for Housing Rights from Bucharest, Romania / Social Housing NOW from Cluj, Romania / United initiative against foresclosures from Athens, Greece / Action Network for Housing and the City from Cyprus / The Roof from Belgrade, Serbia / Right to the city from Zagreb, Croatia / Ort Til Ort from Stockholm, Sweden / Action Logement Bruxelles, Belgium / A group working on cooperative housing in Leipzig, Germany / LevFem from Sofia, Bulgaria
2/ EAC PROJECTS FROM MAY TO OCTOBER 2023
On 28 and 29 April, more than sixty comrades active in various EAC member-groups took part in the plenary session of the European Action Coalition in Cluj. Some people who could not attend in person were able to follow the plenary online. Structural and strategic decisions were taken during the two days of discussions.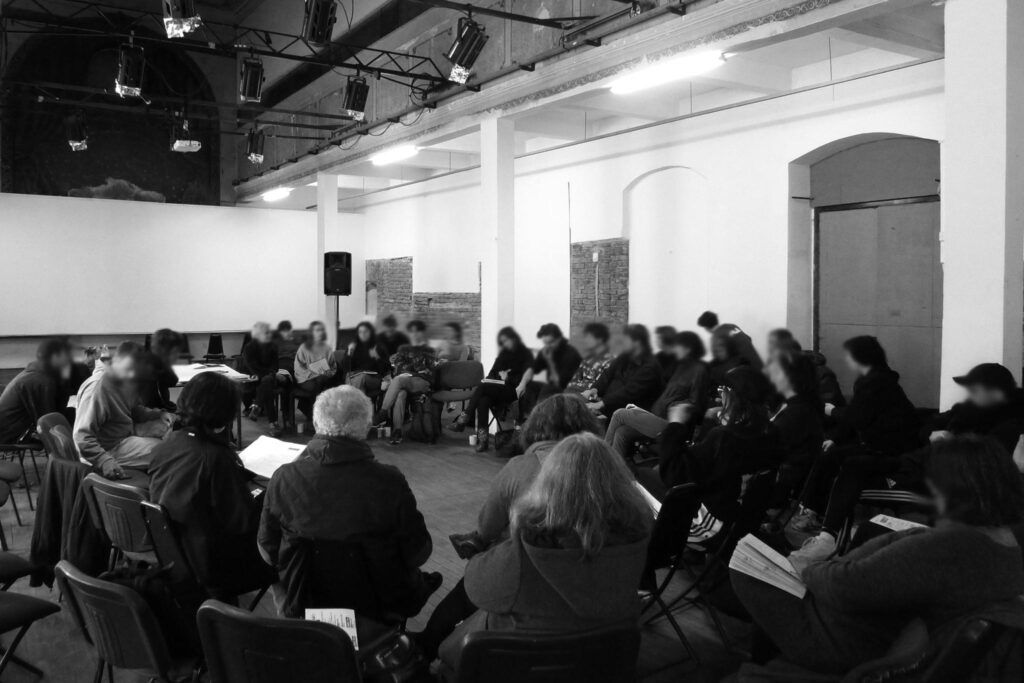 Here is a summary of the decisions taken: 
a) New member group:
The EAC is pleased to welcome a new group from Prague, INN, a tenants' union. 
b)Working groups: 
In Cluj, it was decided that the "social and public housing" group, which existed before but had been on hiatus for some time, should resume its research and advocacy activities.
It was also decided to double the efforts for future actions against MIPIM and Housing Action Days with specific dedicated groups. 
Secondly, the need of the EAC to position itself for the 2024 elections was raised. The research group will make a proposal.
Finally, a group was set up to continue writing the manifesto.  
c)Housing Action Days (HAD) :
The HADs were a great success in March-April 2023, and the meeting in Cluj gave the groups an opportunity to look back on their respective experiences. The story told by the Portuguese groups caught everyone's attention, as more than 40,000 people mobilised there to demand the right to housing and the right to a city – a historic success. The Portuguese comrades explained their "decentralisation" tactics, i.e. how they had organised meetings and/or assemblies with various feminist, anti-racist, climate and other groups in different neighbourhoods. Thanks to these efforts, they have managed to have an unprecedented political and media impact. Across Europe, the momentum generated by the HADs was significant. A Filipino group even sent messages of solidarity during the HADs. Several EAC members took advantage of the Cluj meeting to respond to the Philippine group.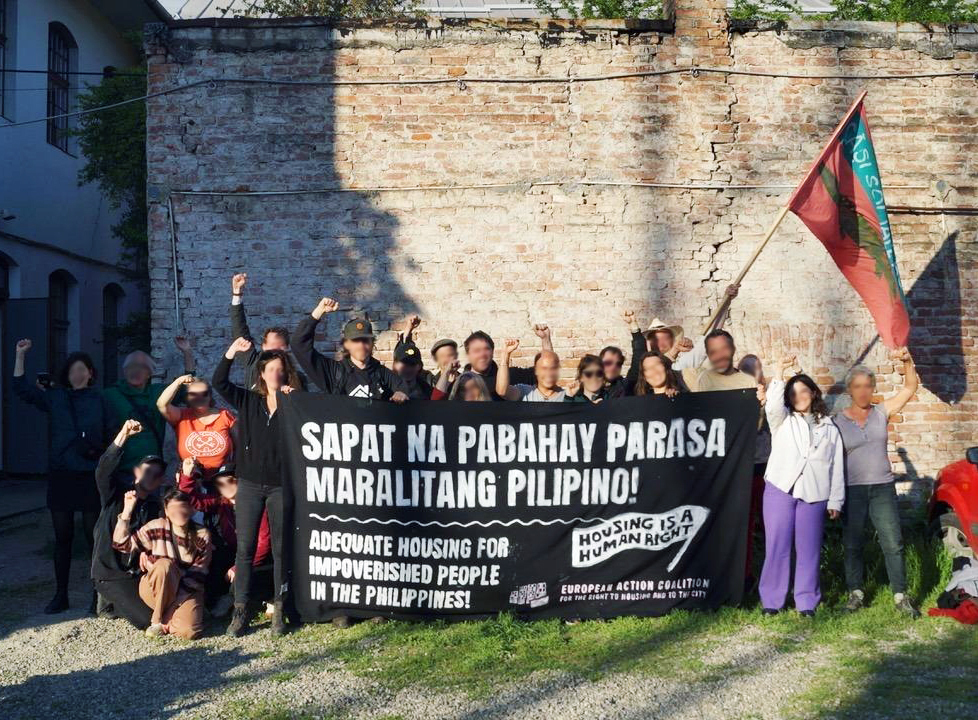 d)Next meeting of the EAC members in Paris: 
The DAL, AITEC and HALEM will be organising the next EAC meetings at the beginning of November in Paris. It will be an opportunity to talk about the MIPIM, gentrification reinforced in part by the organisation of the Olympic Games, the criminalisation of precarious residents introduced by the Kasbarian-Bergé law (passed on 14 June 2023), and many other struggles led by comrades in France. The European Action Coalition for the Right to Housing and to the City will also be celebrating its tenth anniversary in the city where it was founded. 
3/ BRIEF REPORT ON THE WORKSHOPS
On Saturday 29 April and Sunday 30 April, over 60 people gathered at Tranzit House to take part in a number of workshops put on by EAC member groups. The workshops were open to the public and free of charge. As at other EAC meetings, these workshops enabled people not necessarily familiar with the struggles for the right to housing and the right to the city across Europe to find out more about them, and also to take part in the discussions of the EAC's transnational thematic working groups. The conclusions of the workshops were formulated at the open assembly on the morning of 1er May, prior to the action led by the collectives in the centre of Cluj. 
Workshop 1: Housing Action Days (HAD)
It was decided to set up a specific HAD 2024 group. The primary aim of this working group is to prepare the HAD 2024 call in advance, so as to have an almost final version at the next meeting, which will take place in November in Paris. This will enable the groups to use the call and adapt it to their local context, as well as having a mobilising element early on. As the actions against MIPIM are very close to those of the HADs, the possibility of moving the dates of the HADs has been considered, but no decision has been taken on this. Online meetings will be organised until the Paris meetings to prepare the call and choose the dates for the 2024 HAD. 
Workshop 2: Alternative/cooperative housing
A discussion on practices that attempt to develop cooperative housing models as a direct solution to escaping, or trying to escape, the logic and pressures of the property market. This discussion focused on the situation in Romania. Comrades from abroad explained the models in their countries and the locals figured out what could be transferred to the Romanian framework. 
Workshop 3: Public and social housing
New trends have been observed: social housing is declining, while the private sector is taking an increasing interest in it, thanks to public subsidies. The members of the EAC's "public and social housing" group would like to understand in more detail the reasons for this decline in the number of social housing units, and to find arguments in favour of an increase. 
Workshop 4: Research group (closed to the public)
The research group has continued to explore the possible links between the energy crisis and the crisis in access to housing
Workshop 5: Anti-eviction group (closed to the public)
At this workshop, the project to archive the European groups' anti-eviction guides online was discussed. This was followed by an exchange on the methodologies, strategies, and tactics of each group.
Workshop 6: Tenants' union group
The participants in this workshop exchanged views on their mode of action and working methods. They also discussed the landlords they are fighting against. It was decided that each group would try to identify the biggest property company in their neighbourhood, town or country, and share their knowledge at the next meeting in Paris. An intermediate meeting on "community organizing" could be held in Belgrade in the meantime.
Workshop 7: Group against homelessness
There was an exchange of experiences between the different groups in different cities, particularly in Vienna and Prague. Other groups are invited to share their experiences next time. The idea of linking this topic to other issues such as social and public housing emerged during the discussion. Additionally, it was discussed how to make the meeting more accessible for persons who are or were affected of direct experiences with homelessness. 
Workshop 8: Working group on the EAC feminist manifesto
The members of the EAC wrote a manifesto for 8 March for the first time this year. The idea was to discuss it in person, but also to see how it could be used for the rest of the year. The development of the awareness group was also discussed. Finally, the discussion focused on the need to learn from each other, our struggles, and the perceived and experienced links between feminist and queer struggles and those for housing rights. The idea of self-training was also raised. 
Workshop 9: Climate justice, fair access to housing
The discussion focused on alternative sources of energy to escape the logic of the market. The relationship between the cost of land, speculation, and the crisis in access to housing was also discussed. All this led us to think in terms of collective ownership of land and resources. Alliances need to be forged with the climate movement. This will be one of the focuses during the Paris' meeting in November.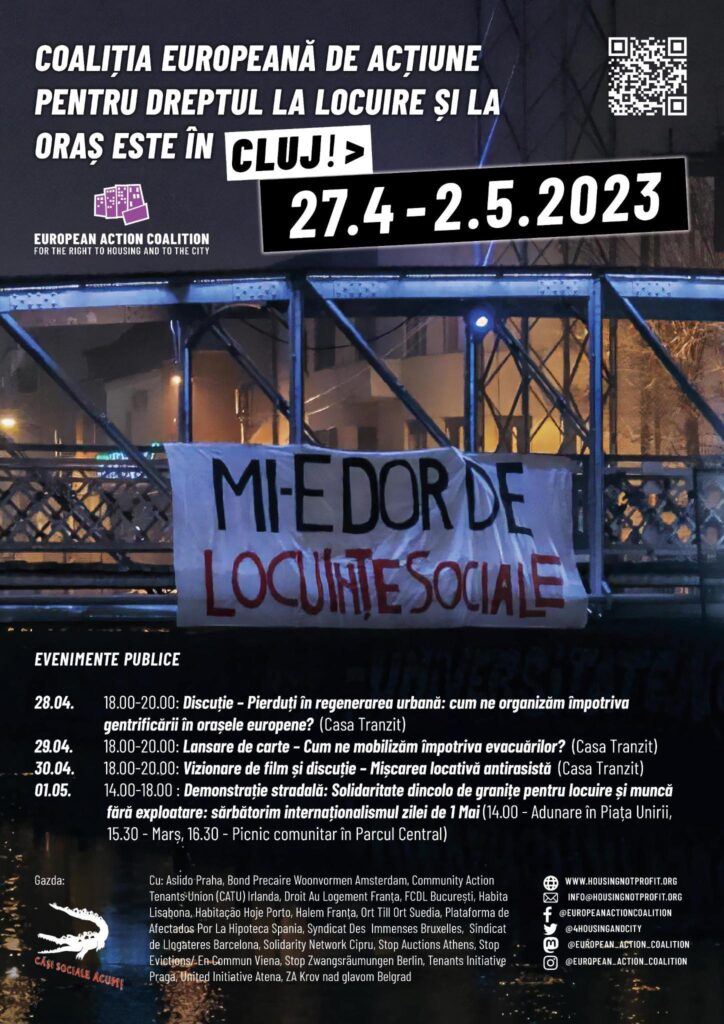 Public event 1: Lost in urban regeneration: how can we organise against gentrification in European cities?
Speakers: Căși sociale ACUM/Social Housing NOW (Cluj), Bond Precaire Woonvormen (Netherlands), Stop Evictions Vienna, DAL (France), Habita (Lisbon), Habitaçao Hoje (Porto), Ort till Ort (Sweden), United Initiative against Auctions (Athens), Moderator: Oana Pop
The phenomenon of the capitalist restructuring of cities and the commodification of housing is problematic throughout Europe. Although local conditions are very different, struggles are linked across borders. At this event, comrades from several cities explained how gentrification or so-called "urban regeneration" affects housing affordability in their cities, what is lost as a result of these processes and who benefits, how the built environment is changed along with the social structure of the inhabitants, how public authorities collaborate with (property market) capital in these processes, and how activist groups respond to these phenomena. They also presented their approaches to organisation and response, which reflect the social and political conditions of their geographical areas. Resistance has an impact on current politics and makes it possible to move from the current dystopia to another world.
Public event (2) Book launch - How can we combat evictions? (Translated from Romanian into English under the title: "Handbook of Resistance Tactics Against Evictions")
Speakers: the authors involved in the production of the book: The United Bloc for Housing in Romania (Social Housing NOW, FCDL, Droit à la ville, ERomnja, RomaJust), Anti-eviction Berlin, Sindicat de Llogaretes (Barcelona), Habita (Lisbon), The Roof (Belgrade), A Város Mindenkié (Budapest), moderator: Nóra Ugron 
In May and June 2022, Social Housing NOW, the Cluj group, organised a series of workshops on the fight against evictions. Different collectives from Romania and all over Europe were invited and a booklet was created from these 12 events. This public event was the launch party for the handbook.
Public event (3): Film screening and discussion - Extracts from the film "Dislocations - Eviction routes to Cantonului street (1996-2016)".
Speakers: Maria Stoica, Linda Greta, Enikő Vincze (Social Housing NOW!), Nicoleta Vișan (FCDL), Eugen Ghiță (RomaJust) – moderator: George Zamfir 
"Dislocations" is a documentary that illustrates how post-socialist policies have led to the dispossession of the right to housing of impoverished people in Cluj, including the Roma. Before 1990, Roma people belonged to the working class and, in the context of the formation of capitalism in Romania, they were affected by a process of precarisation in both the world of work and that of housing. Ionica, Leontina, Babi, Sandu, Ligia, Katalin and Gelu have attempted to map their successive dislocations by inscribing them in time and space between 1996 and 2016. In the end, they found themselves in Cantonului Street, without a number. 
After the screening of the film, there was a discussion on anti-racist struggles and struggles for the right to housing and to the city. Romanian policies on the right to housing were presented as policies that exclude Roma from cities and tolerate them in areas that are not currently of interest to the market. Pata Rat, for example, is an area close to the city embankment that is now home to around 1,500 people living in ghettoised conditions. 
OPEN ASSEMBLY FOR HOUSING JUSTICE 2023
At the final meeting, one or more participants from each workshop gave a summary of what had been discussed, followed by a time for sharing impressions. Overall, the meeting generated a great deal of enthusiasm. The public events were interesting, the subjects were discussed in greater depth than at the Athens meetings, and the food and organisation also made a good impression. The fact that we were able to discuss each group's problems, failures and solutions helped several participants to reflect on their own practices and consider other courses of action. There was also some critical feedback, such as the fact that there were too many public events organised, not enough informal moments or visits to the city, and the plenary sessions were considered long. 
Action: Cross-border solidarity for housing and work without exploitation: celebrating internationalism on 1 May
Date and venue: 1er May, 2.00 pm – 3.30 pm: Assembly on Place Unirii, 3.30 pm – 4.30 pm: Demonstration through the city to Central Park 
Call: "We believe in the power of transnational solidarity! We affirm that labour and housing rights must be won together to guarantee an adequate standard of living for all. Because precarious and poorly paid work limits our access to adequate housing. Because the lack of adequate housing puts our workforce at risk. The exploitation of working-class labour must stop, as must the extraction of profits from their need for housing. International Labour Day reminds us that our local struggles must unite in an international struggle for a society free from exploitation and dispossession."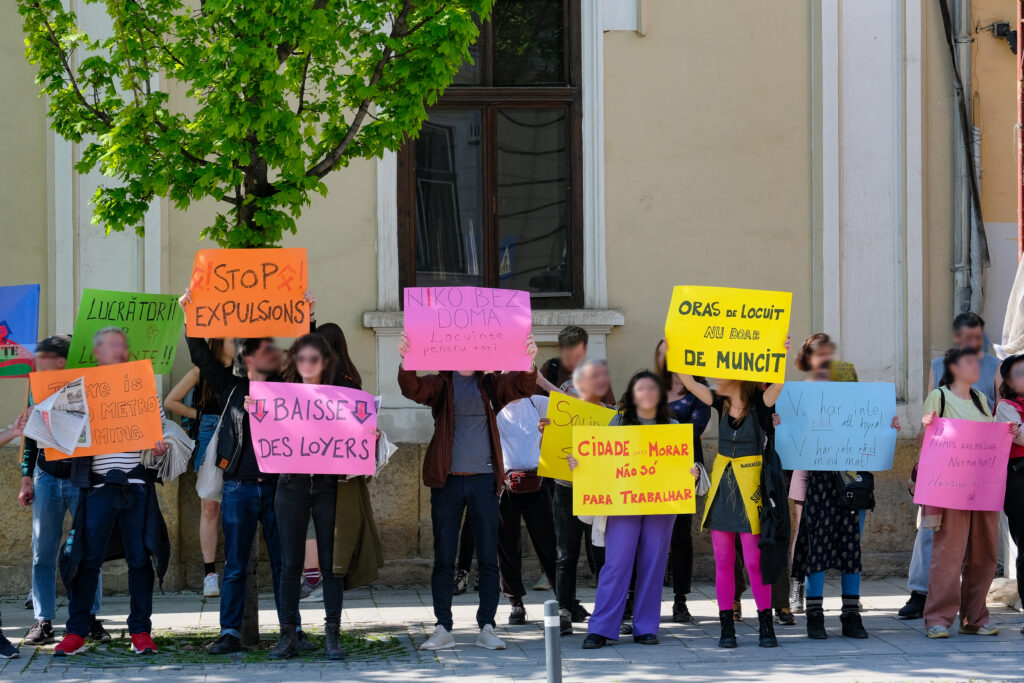 5/ A FEW DETAILS ABOUT THE LOCATIONS AND COLLABORATIONS 
Casa Tranzit    
https://www.tranzithouse.ro/en 
Address: rue Barițiu 16
Workshops, public events, and the open meeting were held at Casa Tranzit. 
"The Tranzit project was born in 1997 out of the need to fill the city's socio-cultural void. From this point of view, the project may have had a slightly utopian start. The former Poalei Tzedek synagogue in Cluj was leased to the Federation of Jewish Communities. Until 1974, it functioned as a craftsmen's synagogue, after which it was used as a warehouse. Without proper care, the building gradually fell into disrepair in a short space of time. The strategy of the Tranzit project is to restore the synagogue building and fill it with artistic and social content.
Coop
Address: rue Someșului 45 
At the meeting in Cluj, the Coop team did the cooking. They prepared an extremely tasty and varied vegan menu, always with fresh bread, several types of pastries and they also cooked pizzas for us.
ACASA
Address: rue Războieni 60
"The A-casa collective is an anti-authoritarian group that, through non-hierarchical organisation, seeks to find sustainable ways of escaping the tyranny of the capitalist system. Through self-organisation and mutual support, its members aim to lead the fight for social change according to anti-capitalist and feminist principles, respecting the environment, animals, and people regardless of gender, race, class, ability, religion, or sexuality.
The A-casa collective imagines a different social order, based on the free exchange of ideas, goods, and services, where individuals and communities support each other and where money is not the driving force behind everything. It's a safer space born out of the need for a friendly environment, conducive to free discussion of political issues, where people can exchange ideas and skills."
Note from the EAC team : 
We would like to thank the members of the EAC who travelled to Cluj from all over Europe to take part in the meeting and share their thoughts and experiences. Thank you to Tranzit House, A'Casa, Coop, Căși sociale ACUM! (Social Housing NOW!) and the members of RomaJust.  This event was supported by the Rosa Luxemburg Foundation (Belgrade office) and FPH (Fondation pour le Progrès de l'Homme Charles Léopold Meyer) to whom we are also very grateful. Without you, none of this would have been possible!
RENCONTRE TRANSNATIONALE DES COLLECTIFS DE BASE  POUR UNE JUSTICE EN MATIÈRE DE LOGEMENT – CLUJ, 27 AVRIL – 2 MAI 2023
La Coalition européenne d'action pour le droit au logement et à la ville (CEA) a organisé sa première rencontre en 2023 entre le 27 avril et le 2 mai. Plus de 22 collectifs venus de 14 pays différents étaient présents. Ils ont fait le point sur les Housing Action Days, les journées d'actions pour le droit au logement organisées chaque année à la fin du mois de mars dans de nombreuses villes européennes, mais aussi sur d'autres actions et projets mené.es à la suite des rencontres d'Athènes en novembre 2022. 
Parce que la réunion a eu lieu à Cluj, nous l'appelons la "réunion de Cluj". Elle a été accueillie à la Tranzit House, un centre social et culturel situé dans une ancienne synagogue au centre de la ville. Les membres de la CEA ont voulu soutenir ce lieu menacé par un manque croissant de moyens. La réunion de Cluj n'aurait pas été possible sans l'aide des différents collectifs locaux : la Tranzit House, A'Casa et Coop, et des nombreuses personnes qui ont aidé. Merci à elleux et aussi à Căși sociale ACUM! (Logement social MAINTENANT !), le groupe local membre de la CEA pour l'organisation. Merci également aux membres de RomaJust qui se sont déplacé.es pour participer à la rencontre de Cluj et partager leur lutte pour le droit au logement.  
Ce rapport comprend : 
la liste des participant.es;

les projets jusque novembre 2023 ;

un bref rapport des ateliers:

un bref rapport des activités (événement public, manifestation, débats et discussions, assemblée ouverte);

quelques détails sur les lieux et les collaborations.
1/ LISTE DES PARTICIPANT.ES
Habita ! de Lisbonne, Portugal / Habitação Hoje de Porto, Portugal / PAH d'Espagne / Sindicat de llogaters de Barcelone / Halem de France / DAL de France / AITEC de Paris, France / Bond Precaire Woonvormen des Pays-Bas / Stop evictions de Berlin, Allemagne / Stop evictions de Vienne, Autriche / Aslido de Prague, République Tchèque / INN de Prague, République Tchèque / The Common Front for Housing Rights de Bucarest, Roumanie / Social Housing NOW de Cluj, Roumanie / Initiative unie contre les ventes aux enchères d'Athènes, Grèce / Action Network for Housing and the City de Chypre / The Roof de Belgrade, Serbie / Right to the city de Zagreb, Croatie / Ort Til Ort de Stockholm, Suède / Action Logement Bruxelles, Belgique / Un groupe travaillant sur le logement coopératif à Leipzig, Allemagne / LevFem de Sofia, Bulgarie
2/ LES PROJETS DE LA CEA DU MOIS DE MAI AU MOIS D'OCTOBRE 2023
Les 28 et 29 avril, plus d'une soixantaine de camarades actifs et actives dans différents collectifs membres de la CEA ont participé à la plénière de la Coalition Européenne d'Action à Cluj. Certaines personnes, qui ne pouvaient pas être là physiquement, ont pu la suivre en ligne. Des décisions structurelles et stratégiques ont été prises durant ces deux journées de discussions.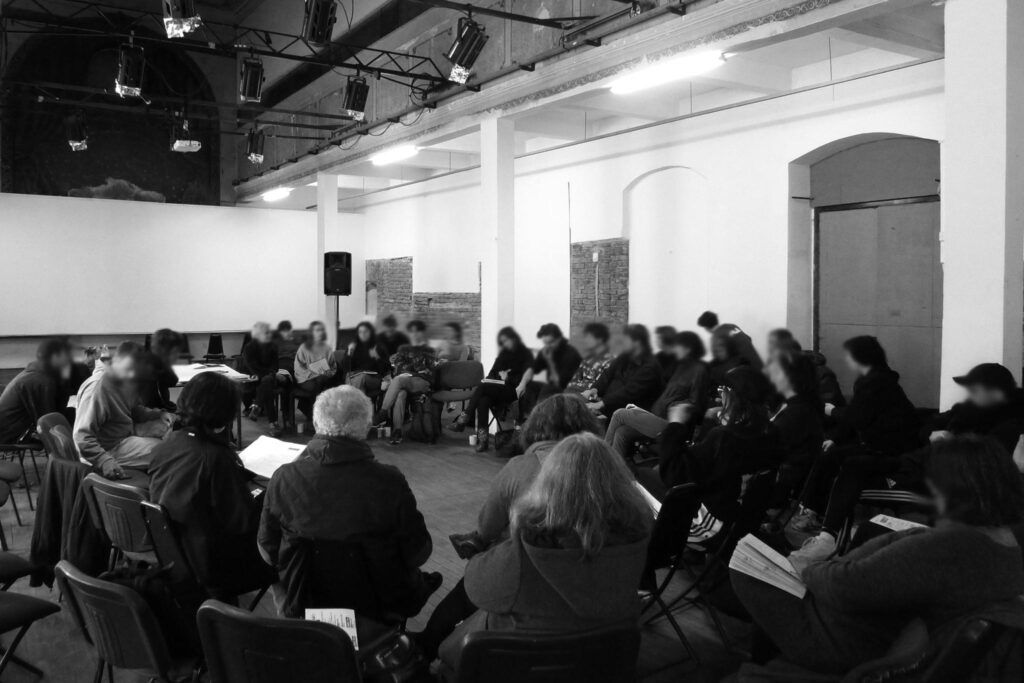 Voici un résumé des décisions prises : 
a)Nouveau groupe-membre :
La CEA est heureuse d'accueillir un nouveau groupe de Prague, INN, un syndicat des locataires. 
b)Groupes de travail : 
A Cluj, il a été décidé que le groupe « logement social et public », qui existait avant mais qui étaient en pause depuis quelque temps, devait reprendre ses activités de recherche et de plaidoyer.
Il a également été décidé de mettre les bouchées doubles pour les prochaines actions contre le MIPIM et des Housing Action Days avec des groupes spécifiques dédiés. 
Ensuite, la nécessité de se positionner lors des élections 2024 a été évoquée. Le groupe de recherche se chargera de faire une proposition.
Finalement, un groupe a été créé pour poursuivre l'écriture du manifeste.  
c)Housing Action Days (HAD) :
Les HAD ont été un grand succès en mars-avril 2023 et la rencontre de Cluj a permis aux groupes de faire un retour sur leurs expériences respectives. Le récit des groupes portugais a attiré toutes les oreilles puisque plus de 40.000 personnes s'étaient mobilisées là-bas pour revendiquer les droits au logement et à la ville, un succès historique. Les camarades du Portugal nous ont expliqué leur tactique de « décentralisation », c'est-à-dire comment ils et elles ont organisé des rencontres et/ou assemblées avec différents groupes féministes, antiracistes, pour le climat, etc…, dans différents quartiers. Ils et elles ont réussi à avoir un impact politique et médiatique sans précédent grâce à ces efforts. Partout en Europe la dynamique insufflée par les HAD étaient importantes. Un groupe philippin a même envoyé des messages de solidarité à l'occasion des HAD. Plusieurs membres de la CEA ont profité de la rencontre de Cluj pour répondre au groupe des Philippines.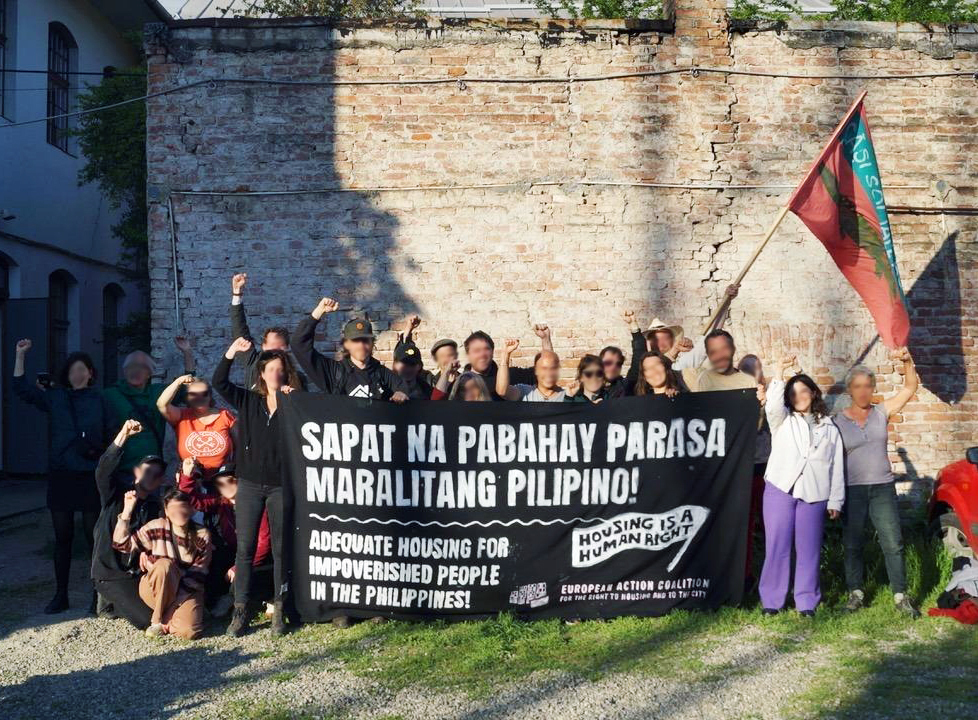 d)Prochaine réunion des membres de la CEA à Paris : 
Le DAL, AITEC et HALEM organiseront les prochaines rencontres de la CEA au début du mois de novembre à Paris. Une occasion de parler du MIPIM, de la gentrification renforcée en partie par l'organisation des JO, de la criminalisation des habitant.es précaires introduite par la loi Kasbarian-Bergé (votée le 14 juin 2023), et de bien d'autres luttes menées par les camarades en France. La Coalition européenne d'action pour le droit au logement et à la ville fêtera également son dixième anniversaire dans cette ville où elle a été créée.
3/ BREF RAPPORT DES ATELIERS
Les samedi 29 avril et dimanche 30 avril, plus de 60 personnes se sont réunies à la Tranzit House pour participer à plusieurs ateliers proposés par les groupes-membres de la CEA. Ils étaient ouverts au public et accessibles gratuitement. Comme lors d'autres rencontres de la CEA, ces ateliers ont permis à des personnes pas forcément familières avec les luttes pour le droit au logement et à la ville à travers l'Europe, de les découvrir, mais aussi de prendre part à des discussions des groupes de travail thématiques transnationaux de la CEA. Les conclusions des ateliers ont été formulés lors de l'assemblée ouverte, le matin du 1er mai, avant l'action menée par les collectifs dans le centre de Cluj. 
Atelier 1 : Housing Action Days (HAD)
Il a été décidé de créer un groupe spécifique HAD 2024. Le but premier de ce groupe de travail est de préparer l'appel des HAD 2024 en amont, afin d'en avoir une version presque finale lors de la prochaine rencontre qui aura lieu en novembre à Paris. Cela permettra aux groupes d'utiliser l'appel et de l'adapter à leur contexte local, ainsi que d'avoir un élément mobilisateur assez tôt. Les actions contre le MIPIM étant très proches de celles des HAD, l'éventualité de déplacer les dates des HAD a été envisagée, mais aucune décision n'a été prise à ce sujet. Des réunions en lignes seront organisées jusqu'aux rencontres de Paris pour la préparation de l'appel et le choix des dates des HAD 2024.
Atelier 2 : Logement alternatif/coopératif
Une discussion sur les pratiques qui tentent de développer des modèles coopératifs d'habitats comme solution directe pour échapper, ou tenter d'échapper aux logiques et aux pressions du marché immobilier. Cet échange s'est concentré sur la situation en Roumanie. Aucune conclusion n'a été formulée. Les camarades venu.es de l'étranger ont partagé leurs modèles aux personnes de Cluj qui ont pu réfléchir à des manières de les transférer au cadre roumain.
Atelier 3 : Logement public et social
De nouvelles tendances ont été observées : le logement social diminue, alors que le secteur privé s'y intéresse de plus en plus en particulier grâce à l'octroi de subventions publiques. Les membres du groupe « logement public et social » de la CEA voudraient comprendre plus en détails les raisons de cette diminution du nombre de logements sociaux, et trouver des arguments pour plaider en faveur d'une augmentation. 
Atelier 4 : Groupe recherche (fermé au public)
Le groupe de recherche a poursuivi sa réflexion sur les liens possibles qui peuvent exister entre la crise de l'énergie et la crise de l'accès au logement. 
Atelier 5 : Groupe anti-expulsion (fermé au public)
Lors de cet atelier, le projet d'archivage en ligne des guides anti-expulsion des groupes européens a été discuté. Ensuite, un échange sur les méthodologies, stratégies et tactiques de chaque groupe a eu lieu. 
Atelier 6 : Groupe de syndicats des locataires
Les personnes participant à cet atelier ont échangé sur leur mode d'action et leurs méthodes de travail. Elles ont également discuté des propriétaires contre lesquelles elles se battent. Il a été décidé que chaque groupe tentera de repérer la compagnie immobilière la plus importante de son quartier, sa ville ou son pays, et partagera ses connaissances lors de la prochaine rencontre à Paris. Une rencontre intermédiaire sur le « community organizing » pourrait avoir lieu entretemps à Belgrade.
Atelier 7 : Groupe contre le sans-abrisme
Il y a eu un échange d'expériences des différents groupes dans différentes villes, en particulier à Vienne et à Prague. D'autres groupes sont invités à partager leurs expériences la prochaine fois. L'idée de lier ce sujet à d'autres questions telles que le logement social et public est apparu au fil de la discussion. Par ailleurs, la question de savoir comment amener plus de personnes touchées par le sans-abrisme a été posée.
Atelier 8 : Groupe de travail sur le manifeste féministe de la CEA
Les membres de la CEA ont écrit un manifeste pour le 8 mars pour la première fois cette année. Il s'agissait d'en discuter de vive voix mais aussi de voir comment l'utiliser le reste du temps. Le développement du groupe « awareness » a également été discuté. Enfin, la discussion a porté sur la nécessité d'apprendre les un.es des autres, sur nos combats, les liens perçus et vécus entre les luttes féministes et queer et celles pour le droit au logement. Une perspective d'auto-formation a été évoquée. 
Atelier 9 : Justice climatique, justice d'accès au logement
La discussion a porté sur les sources d'énergie alternatives afin d'échapper aux logiques du marché. La relation du coût foncier, de la spéculation et de la crise d'accès au logement a égéalement été discutée. Tout cela a mené la réflexion vers la propriété collective des terres et des ressources. Des alliances doivent être créées avec le mouvement climat. Ce sera un focus de la réunion de Paris.
4/ RAPPORT SUCCINCT DES ACTIVITÉS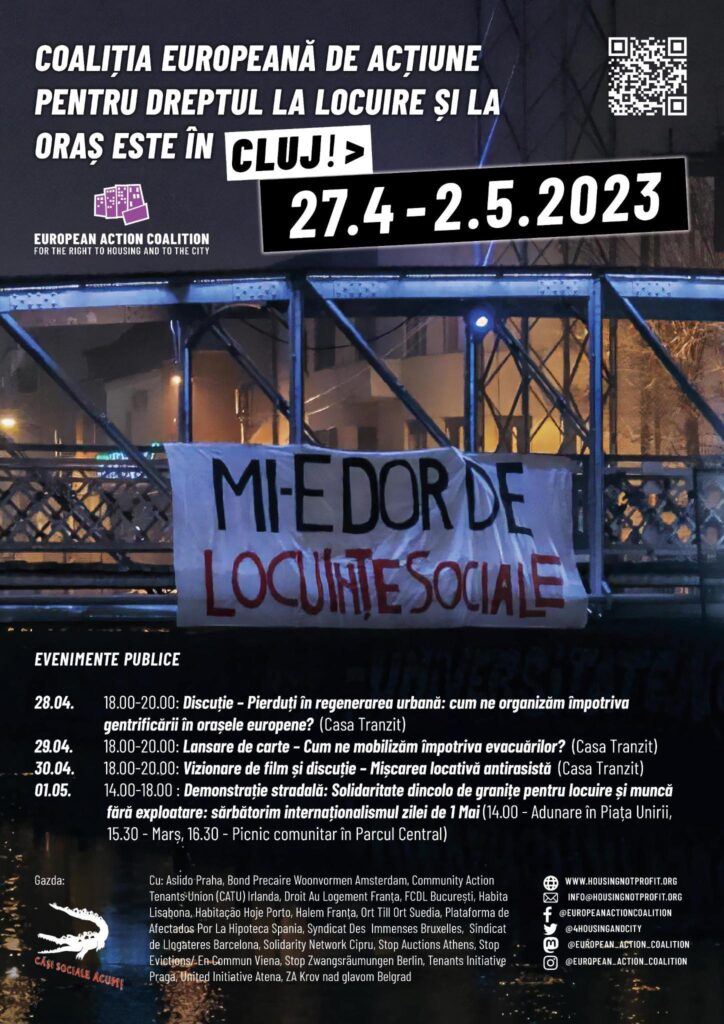 Evénement public 1 : Lost in urban regeneration : comment s'organiser contre la gentrification dans les villes européennes ?
Intervenant.es : Căși sociale ACUM/Social Housing NOW (Cluj), Bond Precaire Woonvormen (Pays-Bas), Stop Evictions Vienna, DAL (France), Habita (Lisbonne), Habitaçao Hoje (Porto), Ort till Ort (Suède), United Initiative against Auctions (Athènes, Modératrice : Oana Pop
Le phénomène de la restructuration capitaliste des villes et de la marchandisation du logement est problématique dans toute l'Europe. Bien que les conditions locales soient très différentes, les luttes sont liées au-delà des frontières. Lors de cet événement, des camarades de plusieurs villes ont expliqué comment la gentrification ou la soi-disant « régénération urbaine » affecte l'accessibilité au logement dans leurs villes, ce qui est perdu à la suite de ces processus et qui en bénéficie, comment l'environnement bâti est modifié en même temps que la structure sociale des habitant.es, comment les autorités publiques collaborent avec le capital (du marché l'immobilier) dans ces processus, et comment les groupes militants répondent à ces phénomènes. Iels ont également présenté leurs approches de l'organisation et de la riposte, qui reflètent les conditions sociales et politiques de leurs zones géographiques. La résistance a un impact sur la politique actuelle et permet de passer de la dystopie actuelle à un autre monde.
Evénement public (2) Lancement du livre - Comment lutter contre les expulsions ? (Traduit du roumain vers l'anglais sous le titre : « Handbook of Resistance Tactics Against Evictions »)
Intervenant.es : les auteur.ices impliqué.es dans la production du livre : Le Bloc Uni pour le Logement en Roumanie (Social Housing NOW, FCDL, Droit à la ville, ERomnja, RomaJust), Anti-eviction Berlin, Sindicat de Llogaretes (Barcelone), Habita (Lisbonne), The Roof (Belgrade), A Város Mindenkié (Budapest), modératrice : Nóra Ugron 
En mai et juin 2022, Social Housing NOW, le groupe de Cluj, a organisé une série d'ateliers sur les luttes contre les expulsions. Différents collectifs de Roumanie et de toute l'Europe ont été invité et une brochure a été créée à partir de ces 12 événements. Cet évènement public était la soirée de lancement du manuel. 
Événement public (3) : Projection de film et discussion - Extraits du film « Dislocations - Eviction routes to Cantonului street (1996-2016) »
ntervenant.es : Maria Stoica, Linda Greta, Enikő Vincze (Social Housing NOW !), Nicoleta Vișan (FCDL), Eugen Ghiță (RomaJust) – modérateur : George Zamfir 
"Dislocations" est un documentaire qui illustre la manière dont les politiques post-socialistes ont abouti à la dépossession du droit au logement des personnes appauvries de Cluj, y compris des Roms. Avant 1990, les personnes roms appartenaient à la classe ouvrière et, dans le contexte de la formation du capitalisme en Roumanie, elles ont été touchées par un processus de précarisation tant dans le monde du travail que dans celui du logement. Ionica, Leontina, Babi, Sandu, Ligia, Katalin et Gelu ont tenté de cartographier leurs dislocations successives en les inscrivant dans le temps et dans l'espace entre 1996 et 2016. Iels se sont finalement retrouvé.es dans la rue Cantonului, sans numéro. 
Après la projection du film, une discussion sur les luttes anti-racistes et les luttes pour le droit au logement et à la ville a eu lieu. Les politiques roumaines du droit au logement ont été présentées comme des politiques qui excluent les Roms des villes pour les tolérer dans des zones qui pour l'instant n'intéressent pas le marché. Pata Rat est par exemple un territoire proche du remblai de la ville qui accueille aujourd'hui environ 1500 personnes soumises à la ghettoïsation. 
ASSEMBLÉE OUVERTE POUR LA JUSTICE EN MATIÈRE DE LOGEMENT 2023
Lors de cette assemblée finale, un.e ou plusieurs participant.es de chaque atelier a fait un bref retour de ce qui a été discuté. Il y a eu ensuite un temps pour partager les impressions de chacun.e. Globalement, cette rencontre a suscité de l'enthousiasme. Les évènements publics étaient intéressants, les sujets ont été abordés plus en profondeur que lors des rencontres d'Athènes, la nourriture et l'organisation ont fait bonne impression également. Le fait de pouvoir échanger sur les problèmes de chaque groupe, les échecs, mais aussi les solutions apportées, a aidé plusieurs participant.es à refléter sur leur propre pratique et à envisager d'autres pistes d'actions. Il y a eu aussi quelques retours critiques, comme le fait qu'il y a eu trop d'évènements publics organisés, pas assez de moments informels ou de visites dans la ville, et les plénières ont été jugées longues. 
MANIFESTATION: Solidarité transfrontalière pour le logement et le travail sans exploitation : célébration de l'internationalisme du 1er mai
Date et lieu : 1er mai, 14h00 – 15h30 : Assemblée sur la place Unirii, 15h30-16h30 : Manifestation dans la ville jusqu'au parc central 
Appel : « Nous croyons au pouvoir de la solidarité transnationale ! Nous affirmons que les droits du travail et du logement doivent être gagnés ensemble afin de garantir un niveau de vie adéquat pour tous.tes. Parce que le travail précaire et mal rémunéré, il limite notre accès à un logement adéquat. Parce que l'absence de logement adéquat met notre main-d'œuvre en danger. L'exploitation de la main-d'œuvre de la classe ouvrière doit cesser, de même que l'extraction de profits à partir de son besoin de logement. La fête internationale du travail nous rappelle que nos luttes locales doivent s'unir dans une lutte internationale pour une société libérée de l'exploitation et de la dépossession. »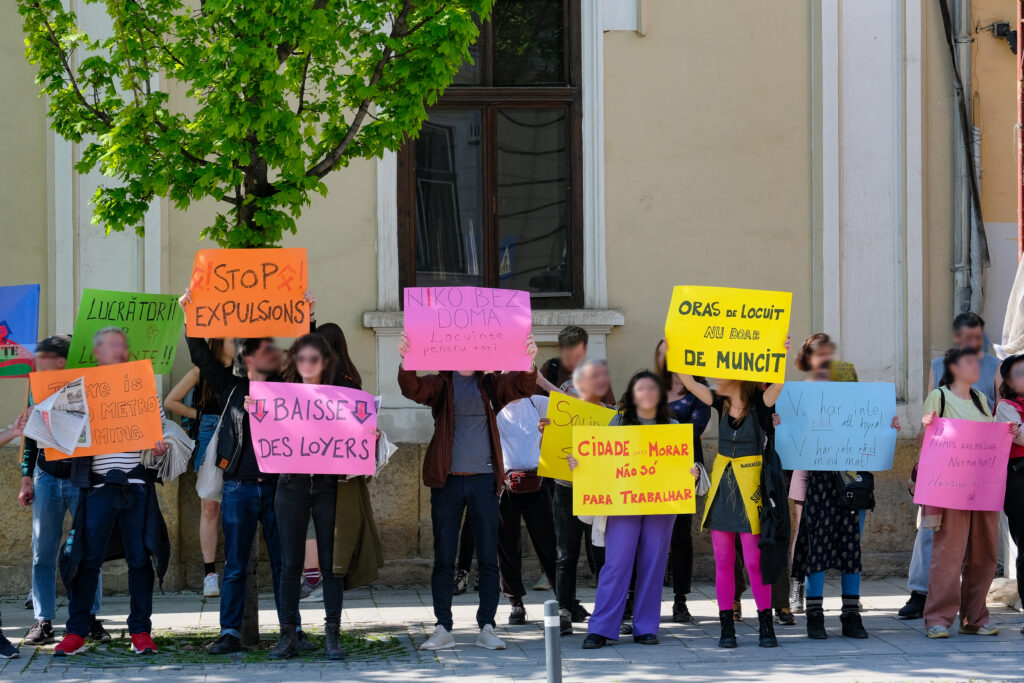 5/ QUELQUES DÉTAILS SUR LES LIEUX ET LES COLLABORATIONS 
Casa Tranzit    
https://www.tranzithouse.ro/en 
Adresse : rue Barițiu 16
Les ateliers, évènements publics et l'assemblée ouverte ont eu lieu à la Casa Tranzit. 
« Le projet Tranzit est né en 1997 de la nécessité de combler le vide socioculturel de la ville. De ce point de vue, le projet a peut-être démarré de manière légèrement utopique. L'ancienne synagogue "Poalei Tzedek" de Cluj a été louée à la Fédération des communautés juives. Jusqu'en 1974, elle a fonctionné comme synagogue des artisans, puis elle a été utilisée comme entrepôt. Faute de soins appropriés, le bâtiment s'est progressivement dégradé en peu de temps. La stratégie du projet Tranzit vise parallèlement à restaurer le bâtiment de la synagogue et à le remplir d'un contenu artistique et social. »
Coop
Adresse : rue Someșului 45 
Lors de la réunion à Cluj, c'est l'équipe de la Coop qui a cuisiné. Iels ont préparé un menu végétalien extrêmement savoureux et varié, toujours avec du pain frais, plusieurs types de pâtisseries et iels ont également cuit des pizzas pour nous.
ACASA
Adresse : rue Războieni 60
« Le collectif A-casa est un groupe anti-autoritaire qui, par le biais d'une organisation non hiérarchique, tente de trouver des moyens durables d'échapper à la tyrannie du système capitaliste. Grâce à l'auto-organisation et à l'entraide, ses membres veulent mener la lutte pour le changement social selon des principes anticapitalistes et féministes, dans le respect de l'environnement, des animaux et des personnes sans distinction de sexe, de race, de classe, de capacité, de religion ou de sexualité.
Le collectif A-casa imagine un ordre social différent, basé sur le libre échange d'idées, de biens et de services, où les individus et les communautés se soutiennent mutuellement et où l'argent n'est pas le moteur de tout. C'est un espace plus sûr qui est né du besoin d'un environnement convivial, propice à la libre discussion sur des questions politiques, où les gens peuvent échanger des idées et des compétences. »
Note de l'équipe de la CEA : 
Nous tenons à remercier les membres de la CEA qui ont fait le voyage jusqu'à Cluj depuis toute l'Europe pour participer à la réunion et partager leurs réflexions et expériences. Merci à la Tranzit House, à A'Casa, à Coop, à Căși sociale ACUM ! (Logement social MAINTENANT !) et aux membres de RomaJust.  Cet événement a été soutenu par le la Fondation Rosa Luxemburg (bureau de Belgrade), et la FPH (Fondation pour le Progrès de l'Homme Charles Léopold Meyer) à qui nous sommes également très reconnaissant.es. Sans vous, rien de tout cela n'aurait été possible !