EAC Meeting / Cluj / 27.4 > 2.5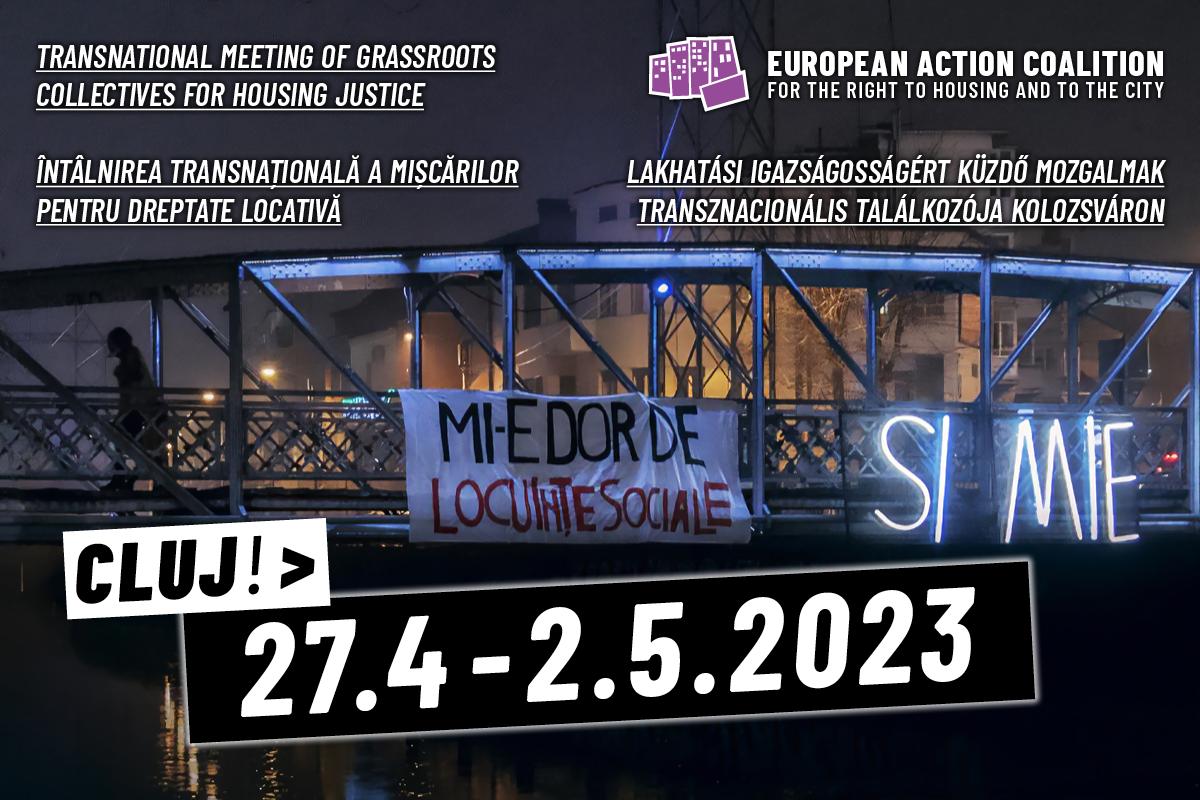 [Romana 👇👇👇] The next meeting of the European Action Coalition for the right to housing and to the city (EAC) is taking in Cluj, Romania from Thursday the 27th of April to Tuesday 2nd of May 2023 
Hope to see you there!
This is why we invite local and regional movements, and not only those struggling for the rights to housing and to the city, but all who are involved in related intersectional struggles, be it anti-racist, feminist, queer, labour, environmental etc. Let us unite our struggles beyond borders!
All events are in Romanian and English
See here the public program of the meeting:
Discussion: Lost in urban regeneration: how do we organise against gentrification in European cities?
18.00 – 20.00 Public event I / Location: Tranzit House
The phenomena of capitalist restructuring of our cities and the commodification of housing is affecting us all over Europe. While the local conditions are very different our struggles are connecting us beyond borders. In this event, comrades from multiple cities will explain how gentrification or so-called urban regeneration affects housing affordability in their cities, what is lost as a result of these processes and who benefits from them, how the built environment is altered alongside the social structure of the inhabitants, how public authorities collaborate with real estate capital in these processes, and how activist groups respond to these phenomena. They will therefore also present their approaches of organizing and fighting back, reflecting the social and political conditions in their geographies. We will learn how our resistance has an impact on actual politics and how it empowers us in our movement from the actual dystopia to another world.
Speakers: Căși sociale ACUM/Social Housing Now (Cluj), Bond Precaire Woonvormen (Netherlands), Stop Evictions Viena, DAL (France), Habita (Lisbon), Habitacao Hoje (Porto), Ort till Ort (Sweden), United Initiative against Auctions (Athens) – Moderator: Oana Pop
Open discussions
14:00 – 17:00 / Location: Tranzit House
Book launch: How do we fight against evictions? (with simultaneous translation)
18.00 – 20.00 Public event II / Location: Tranzit house
In May and June 2022 Căși sociale ACUM from Cluj organized a series of workshops on the struggle against evictions. They invited different collectives from Romania and all over Europe and out of those 12 events a brochure was created. Tonight this handbook will be launched and comrades who contributed to it, will share in dense roundups their insights. Join this world premiere.
Speakers from the authors/cities involved in the production of the book: Blocul Pentru Locuire România (Căși sociale ACUM, FCDL, Dreptul la Oraș, ERomnja, RomaJust), Anti eviction Berlin, Sindicat de Llogateres Barcelona, Habita/Lisbon, The Roof/ Belgrade, A Város Mindenkié/Budapest – Moderator: Nóra Ugron 
Workshops

10:30 – 13:00 / Location: Tranzit House
1/Tenants' unions group – workshop
The EAC working group of tenants' unions will meet to discuss the latest experiences in local organising and to define their future exchanges and collaborations. Meet comrades from all over Europe and get to know their collectives.
2/End homelessness group – workshop
In the last EAC meeting, a new working group to 'end homelessness' was created. In this workshop, we will discuss future strategies having in mind the EU's proclamation to end homelessness 2030 and the European Parliament elections next year.
Workshops
14:00 – 17:00 / Location: Tranzit House
3/ Feminist manifesto 
As EAC, we tried to illustrate the importance of feminist issues and struggles in the housing and city-rights movements in our text written in the occasion of the 8th of March this year. In this workshop we will discuss strategies how to deepen the visibility of that aspects in our daily struggles.
4/ Housing and Climate justice 
Comrades from the Climate Justice movement have invited members to many discussions on how to converge our movements. The potentials, as well as the differences, are obvious. In this workshop we will speak of local experiences and try to develop ideas for concrete future steps.
5/ Public and social housing
 In the recent past, EAC has had several initiatives regarding public and social housing as a non-profit alternative to the market-dominated housing regime subordinated to the interests of  capital accumulation. In March 2019, in Cluj, several coalition groups launched the European Manifesto for Public Housing, presented in a public meeting. In 2021, EAC produced and promoted a series of videos on the history, present and future of social housing in Europe. It is time to rethink this claim.
Film screening and discussion about the Anti-racist housing justice struggle 'Dislocations – Eviction routes to Cantonului street (1996-2016)'
18.00 – 20.00 Public event III /Location: Tranzit House
'Dislocations' illustrates how post-socialist politics resulted in the dispossession from their housing rights of the impoverished people from Cluj-Napoca, including ethnic Roma. Before 1990, they belonged to the working class. In the context of the formation of capitalism in Romania, they were affected by a process of precarization, both in the world of labor and housing.
Ionica, Leontina, Babi, Sandu, Ligia, Katalin and Gelu help us mapping how their successive dislocations happened in time and space between 1996-2016 in the city of Cluj, ending into their settlement on Cantonului street, without number. Embodied in their personal histories, the national politics of housing marked by privatization, commodification, financialization and the dramatic reduction of the social housing stock was re-enforced by the local policies of allocating public housing. As a result of the latter, the municipality selected the categories of people envisioned to deserve living in the city, while pushing impoverished ethnic Roma into housing conditions characterized by insecurity and severe material deprivation. The area where they are tolerated will not gain real estate value as it is part of Pata Rat, a territory nearby the city's landfill that nowadays hosts approximately 1500 persons subjected to ghettoization.
Speakers: Maria Stoica, Linda Greta, Enikő Vincze (Căși sociale ACUM!), Nicoleta Vișan (FCDL), Eugen Ghiță (RomaJust) – Moderator: George Zamfir
Open assembly
10:00 – 13:00 / Location: Tranzit House
In this final assemly we will gather short feedbacks from the workshops and working group sessions on Saturday and Sunday and collectively take decisions on what we will do the next 6 months. We will transfer the energy of our meeting to the online world.
❗We believe in the power of transnational solidarity! We affirm that labour and housing rights must be won together to ensure adequate living for all. Because precarious and low-paid labor limits our access to adequate housing. Because lack of adequate housing puts our workforce at risk. The exploitation of working class labour must end along with the extraction of profit from their need for housing. International Labour Day reminds us, that our local struggles must unite in an international struggle for a society free from exploitation and dispossession.❗
> 14.00-15.30 / Assembly and speeches in Piata Unirii
Speeches of EAC members + launching of a local newspaper for housing justice :  Cărămida #19
> 16.30-18.00 / Community picnic in the Central Park
(come with your food basket)
We want to thank Coop, Acasă, Casa Tranzit.
We also would like to thank Căși Sociale ACUM (Social Housing NOW) who co-organised with us.
This event is supported by Rosa Luxemburg Stiftung Belgrade office.
[RO] Întâlnirea transnațională a mișcărilor pentru dreptate locativă
Următoarea întâlnire a Coaliției Europene de Acțiune pentru Dreptul la Locuire și la Oraș (EAC) va avea loc la Cluj-Napoca, România, de joi, 27 aprilie, până luni, 1 mai 2023. Save the date!
După întâlnirea noastră super inspirantă de la Atena din noiembrie anul trecut și după Zilele de Acțiune pentru Locuire 2023, grupurile membre ale EAC se vor întâlni la Cluj pentru a discuta strategii, a face schimb de cunoștințe, a reflecta asupra acțiunilor din trecut și a face planuri pentru viitor. Ne dorim ca multe colective și persoane din mișcările locale să ni se alăture acolo. Ne-ar plăcea să deschidem un spațiu de schimb și să ne organizăm dincolo de Coaliția noastră. Mișcarea pentru locuire din România a avut întotdeauna o influență importantă în rețeaua noastră, atât prin participarea activă la activitatea de cercetare derulată în cadrul coaliției, cât și la organizarea structurii acesteia. Contextele politice și sociale din România au contribuit în mare măsură la înțelegerea crizei europene a locuirii și la definirea modalităților prin care dorim să punem capăt acesteia. Perspectiva est-europeană este esențială pentru a construi mișcări transnaționale, inclusiv datorită poziției sale în recenta criză geopolitică.
Acesta este motivul pentru care invităm mișcările locale și regionale, și nu doar cele care luptă pentru dreptul la locuință și la oraș, ci pe toți cei care sunt implicați în lupte intersecționale conexe, fie că este vorba de lupte antirasiste, feministe, queer, muncitorești, de mediu sau altele. Haideți să ne unim luptele dincolo de granițe!
Dacă sunteți interesați și interesate să vă alăturați întâlnirii noastre, vă rugăm să scrieți un e-mail la [email protected].
Pentru a vedea un rezumat al reuniunii de la Atena, vizitați pagina de internet a coaliției: https://housingnotprofit.org/transnational-meeting-of…/
Vezi aici programul public:
Discuție – Pierduți în regenerarea urbană: cum ne organizăm împotriva gentrificării în orașele europene?
18.00 – 20.00 / Eveniment public (1) / Locație: Casa Tranzit
Fenomenul restructurării capitaliste a orașelor noastre și al comodificării și financializării locuirii ne afectează în toată Europa. Deși condițiile locale sunt foarte diferite, luptele noastre ne conectează dincolo de granițe. În cadrul acestui eveniment, tovarăși din mai multe orașe vor expune modul în care gentrificarea sau așa-numita regenerare urbană afectează accesibilitatea locuințelor în orașele lor, vor discuta despre ce se pierde prin aceste procese și cine beneficiază de pe urma lor, cum se transformă mediul construit, alături de structura socială a locuitorilor, cum colaborează autoritățile publice cu capitalul imobiliar în aceste procese și cum răspund grupurile de activiști la aceste fenomene. Invitații noștri vor prezenta abordările și riposta organizațiilor din care fac parte în diverse orașe europene, reflectând asupra condițiilor sociale și politice ale capitalismului în varii geografii dar și asupra trendurilor globale ale acestuia. Vom învăța despre impactul rezistenței noastre asupra politicului și despre cum ne putem împuternici lupta pentru a depăși distopiile urbane actuale către alte lumi posibile.
Vorbitori și vorbitoare din partea: Căși sociale ACUM! Cluj, Bond Precaire Woonvormen/ Amsterdam, Stop Evictions Viena, DAL Paris, Habita Lisabona, Habitacao Hoje Porto, Community Action Tenants Union (CATU) Irlanda, Ort till Ort Suedia, United Initiative/Atena – Moderatoare: Oana Pop
DISCUȚII DE ACȚIUNE
14:00 – 17:00 / Evenimente deschise / Locație: Casa Tranzit
Zilele de Acțiune Pentru Locuire (HAD)HAD a fost inițiată de către EAC în urmă cu patru ani. În 2023, peste 120 de acțiuni au avut loc în 60 de orașe diferite în acest cadru. Vom face un feedback al ediției 2023 și vom planifica un HAD 2024 și mai mare.
Alternative: Locuințe cooperativiste / HALEM?/ …Abordările practice privind locuirea cooperativistă oferă soluții directe sau cel puțin perspectiva de a scăpa de presiunea pieței imobiliare. În cadrul acestui schimb de idei discutăm despre diferitele abordări existente și despre modul în care le putem consolida.
Alegeri UE 2024Alegerile pentru Parlamentul European din 2024 ne-ar putea oferi oportunități de a interveni ca EAC pentru a ne expune revendicările privind locuirea. În cadrul acestui atelier vom discuta pozițiile noastre ca mișcări neparlamentare și vom formula idei pentru posibile intervenții.
Discuție deschisă
Lansare de carte – Cum luptăm împotriva evacuărilor?
18.00 – 20.00 / Eveniment public (2) / Locație: Str: Casa Tranzit
În mai și iunie 2022, Căși sociale ACUM! din Cluj a organizat o serie de ateliere de lucru pe tema luptei împotriva evacuărilor. Au invitat diferite colective din România și din întreaga Europă, iar din cele 12 evenimente a rezultat Manualul de tactici de rezistență împotriva evacuărilor. În această seară vom lansa traducerea engleză a manualului, iar tovarășii care au contribuit la el, vor împărtăși cunoașterea și experiențele lor activiste cu publicul interesat. Participați la această premieră mondială.
Vor participa autori implicați în realizarea cărții sau persoane din orașele incluse în manual: Blocul Pentru Locuirea României (Căși sociale ACUM, FCDL, Dreptul la Oraș, ERomnja, RomaJust), Antieviction Berlin, Sindicat de Llogaretes Barcelona, Habita/ Lisabona, The Roof/ Belgrad, A Város Mindenkié/Budapesta – Moderatoare: Nóra Ugron.
Dimineața: ateliere de lucru deschise publicului
10:30 – 13:00 / Locație: Casa Tranzit
1. Cafeneaua de lucru a grupului de cercetare
Grupul de cercetare EAC a elaborat lunile trecute un chestionar privind legăturile dintre criza locuirii și cea a pieței energetice. În acest work-café vom încerca să răspundem la întrebările acestuia pentru a pregăti următorii pași ai acestui demers.
2. Cafeneaua de lucru a grupului anti-evacuare
EAC dorește să adune broșuri anti-evacuare și alte manuale existente care ar ajuta luptele chiriașilor din diferite zone geografice ca sursă de inspirație. Aduceți exemplele pe care le cunoașteți și vom planifica cum să le prezentăm și să le arhivăm.
3. Atelier de lucru pentru uniunea chiriașilor
Grupul de lucru EAC al uniunilor de locatari se va întâlni pentru a discuta despre cele mai recente experiențe de organizare locală și despre viitorul schimburilor și colaborărilor între grupurile activiste din diverse orașe. Întâlniți-vă cu organizatori din toată Europa și faceți cunoștință cu colectivele lor.
4. Atelier de lucru pentru a pune capăt lipsei de adăpost
În cadrul ultimei întâlniri EAC am inițiat un nou grup de lucru pentru "a pune capăt lipsei de adăpost". În cadrul acestui atelier vom discuta despre cum vom proceda în practică având în vedere proclamația UE de a pune capăt lipsei de adăpost în 2030 și alegerile pentru Parlamentul European de anul viitor.
Ateliere deschise publicului
14:00 – 17:00 / Locație: Str: Casa Tranzit
5. Manifestul feminist al EAC
Importanța fundamentală a problemelor și luptelor feministe în mișcările pentru locuire și dreptul la oraș am ilustrat-o în textul nostru de 8 martie din acest an. În acest atelier vom discuta strategii prin care vom aprofunda vizibilitatea acestor aspecte în luptele noastre zilnice.
6. Locuințe și justiție climatică
În ultima vreme, EAC a fost invitată de către tovarășii din mișcarea pentru justiție climatică la multe discuții despre cum să convergem mișcările. Similitudinile, dar și diferențele între mișcările noastre sunt evidente. În acest atelier vom vorbi despre experiențe locale și planificare strategică și vom încerca să dezvoltăm idei noi pentru pași concreți în viitor.
7. Locuințe publice și sociale
În trecut EAC a avut mai multe inițiative privind locuințele publice și sociale ca alternativă non-profit la regimul locativ dominat de piață, subordonat intereselor acumulării de capital. În martie 2019, în Cluj, mai multe grupări ale coaliției au lansat Manifestul European Pentru Locuințe Publice, prezentat într-o adunare publică. În 2021, EAC a realizat și promovat o serie de videouri privind istoria, prezentul și viitorul locuințelor sociale în Europa. Este timpul să regândim această revendicare.
Proiecție de film și discuție
18.00 – 20.00 / Eveniment public (3) / Locație: Sala de filmare și discuții – Casa Tranzit
Extras din filmul documentar "Dislocări – rutele evacuărilor spre strada Cantonului (1996-2016)": "Dislocări" ilustrează modul în care politicile post-socialiste au dus la deposedarea locativă a romilor pauperizați în Cluj-Napoca. Înainte de 1990, aceștia aparțineau clasei muncitoare, iar în contextul formării capitalismului în România au fost afectați de un proces de precarizare atât în lumea muncii, cât și în cea a locuirii. Ionică, Leontina, Babi, Sandu, Ligia, Katalin și Gelu ne ajută să cartografiem modul în care dislocările lor succesive s-au petrecut în timp și spațiu între 1996-2016 în orașul Cluj, sfârșind în așezarea lor pe strada Cantonului. Încarnată în istoriile lor personale, politica națională de locuire marcată de privatizare, comodificare, financiarizare și reducerea dramatică a stocului de locuințe sociale a fost întărită de politicile locale discriminatorii de alocare a locuințelor publice. Ca urmare a acestora din urmă, municipalitatea a selectat categoriile de persoane preconizate a merita să locuiască în oraș, împingând în același timp etnicii romi săraci în condiții de locuire caracterizate de insecuritate și privațiuni materiale severe. Zona în care aceștia sunt tolerați până când terenul nu va căpăta valoare imobiliară face parte din Pata Rât, un teritoriu din apropierea gropii de gunoi a orașului care găzduiește în prezent aproximativ 1 500 de persoane supuse ghetoizării.
Vizionarea fragmentelor din filmul documentar va fi urmată de o discuție despre lupta antirasistă pentru dreptate locativă cu Maria Stoica, Linda Greta, Enikő Vincze (Căși sociale ACUM!), Nicoleta Vișan (FCDL), Eugen Ghiță (RomaJust) – moderator: dr: George Zamfir
Adunare deschisă
10:00 – 13:00 / Locație: Casa Tranzit
În această adunare finală vom aduna scurte feedback-uri de la atelierele și sesiunile grupurilor de lucru de sâmbătă și duminică și vom lua colectiv decizii cu privire la ceea ce vom face în următoarele 6 luni. În perioada care urmează, vom transfera energia adunării noastre din Cluj în lumea online.
Solidaritate transfrontalieră pentru locuințe și muncă fără exploatare: sărbătorirea internaționalismului de 1 Mai
14.00-18.00 / Eveniment public (4) / Locație: Piața Unirii/Parcul Central
Credem în puterea solidarității transnaționale! Afirmăm că drepturile la muncă și la locuință trebuie să fie câștigate împreună pentru a asigura un trai adecvat pentru toți. Pentru că munca precară și prost plătită ne limitează accesul la o locuință adecvată. Pentru că lipsa unei locuințe adecvate pune în pericol forța noastră de muncă. Exploatarea forței de muncă a claselor lucrătoarea trebuie să înceteze, împreună cu extragerea profitului din nevoia lor de locuințe. Ziua Internațională a Muncii ne reamintește că luptele noastre locale trebuie să se unească într-o luptă internațională pentru o societate liberă de exploatare și deposedare.
> 14.00-15.30 Adunare și discursuri în Piața Unirii
(despre semnificația Zilei Internaționale a Muncii pentru EAC, problemele interdependente ale muncii/salariilor și costurile locuirii, conexiuni între drepturie muncii și cele ale locuirii, relația dintre munca precară și locuirea inadecvată, posibilități de colaborare între mișcări muncitorești și mișcări locative). Căși sociale ACUM! va lansa nr. 19 al ziarului local pentru dreptate locativă, Cărămida.
Căși sociale ACUM! Cluj, Antieviction Berlin, Aslido Cehia, Bond Precaire Woonvormen Amsterdam, Community Action Tenants Union (CATU) Irlanda, DAL Paris, FCDL București, Habita Lisabona, Habitação Hoje Porto, Halem Franța, Ort Till Ort Suedia, PAH Spania, Syndicat des immenses Bruxels, Sindicat de Llogateres Barcelona, Solidarity Network/Cipru, Stop Evictions/ En Commun Viena, SoWo Leipzig eG, Tenants Initiative Praga, Unitarian Initiative/Atena, ZA Krov nad glavom [The Roof] Belgrad, Pravo na grad [Right to the City] Zagreb
> 15.30-16.30 Marș din Piața Unirii până în Parcul Central al orașului
(cu bannere și slogane care vor fi realizate dimineața)
> 16.30-18.00 Picnic comunitar în Parcul Central
(vino cu coșul tău)