10 days, 120 actions in over 60 cities!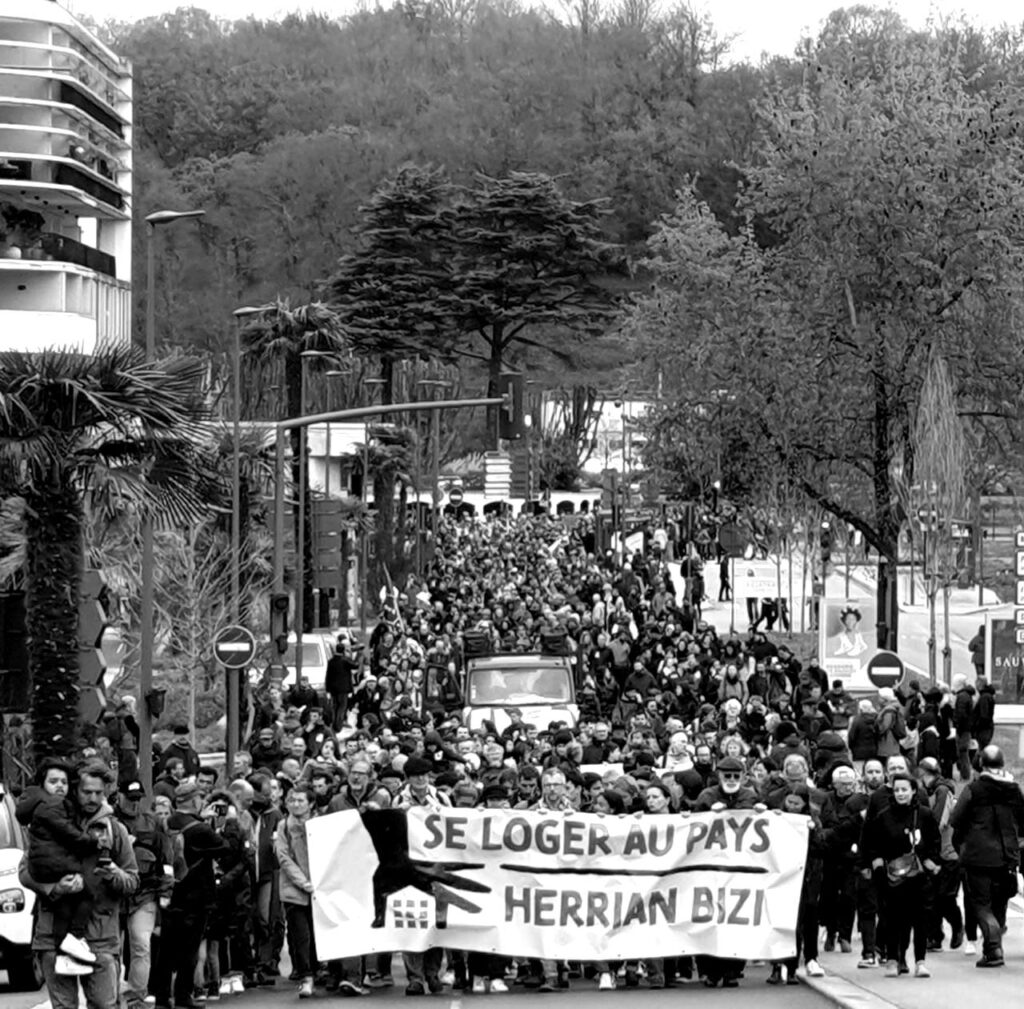 From the 24th of March until the 2nd of April, the European Action Coalition for the right to housing and to the city (EAC) called for actions in the framework of the Housing Action Days 2023 – #HAD2023. For this 5th edition, tens of thousands of people organised demonstrations, talks, performances, gatherings, squat openings and many more actions and events all over Europe. At a time of deepening housing crises, many groups from and outside the Coalition, decided to stand together against the neoliberal institutions and policies that benefit private accumulation instead of the people. Together, we showed our strength to fight back for our rights to housing, to the city and against the illegitimate rising living costs.
Demonstrations took place in Lisbon, Porto and other cities of Portugal, Brussels, Liège and Namur, Berlin, Dublin, London, Stockholm, Athens, Bayonne, Paris and other cities all over Europe. In France, where they struggle against 👉 a criminalizing law attacking squatters and tenants, more than 12 cities organised actions and demonstrations during the HAD2023. There were occupations in Vienna (abandoned building), Brussels (undocumented people's squat) and Dublin (National Department of Housing). There were protests and gatherings, discussions, events, political (self)education talks, movie screenings, banners hanged on bridges, etc… In some cities like Grenoble comrades were organising a whole week of activities. You can see all the 120 actions in the 👉 action map. "We didn't expect this mind-blowing response to our call" said Péter from the communication team of the EAC, "we even got solidarity messages from the Philippines".
"In Lisbon more than 30.000 people joined the biggest housing demonstration in decades! After some difficult years, people took the streets again to express their anger" said Rita from Habita.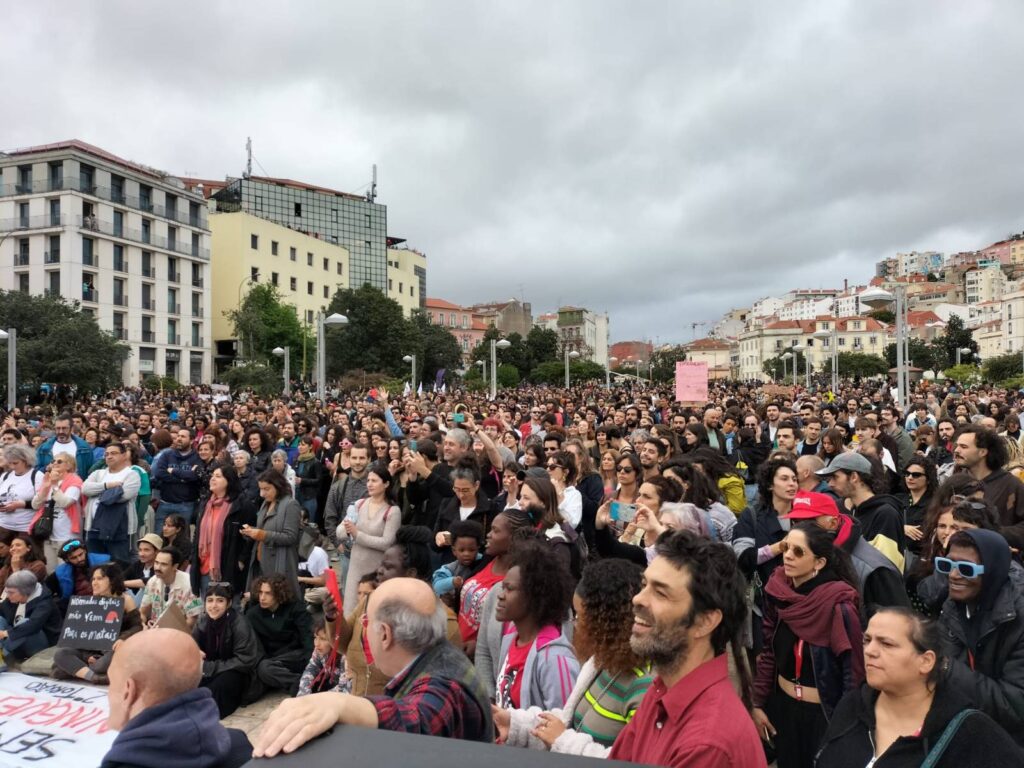 "In Porto we were more than 7.000. As collectives, organisations, unions and individuals affected by the housing crisis and capitalist exploitation we got together to show our strength. It was a historical moment that we will use to keep building this collective fight!" stated members of Habitação Hoje.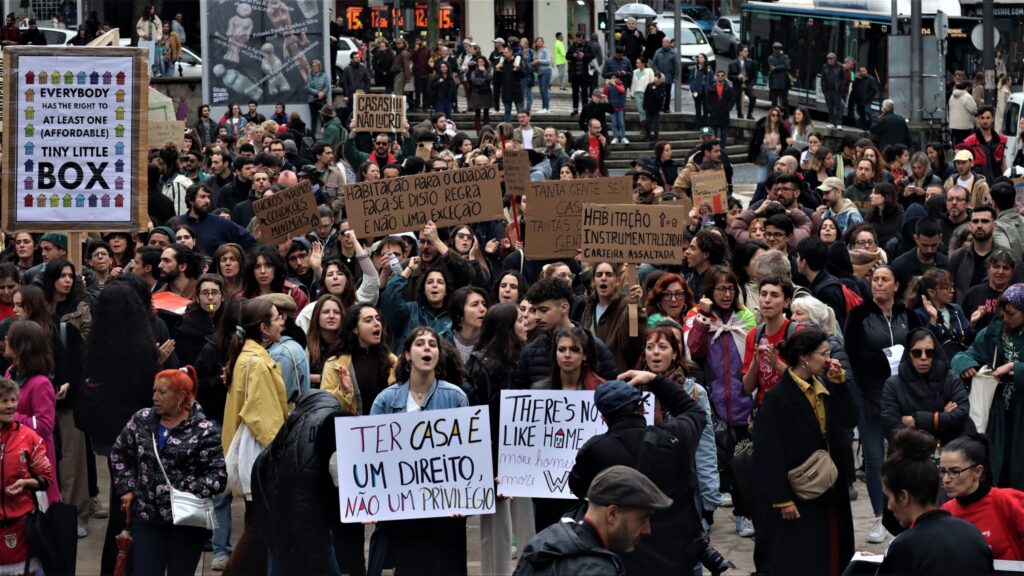 "12 different cities were demonstrating on the same day in France, bringing together different movements with the same claims: decrease of housing rents and energy prices, stop evictions, stop Kasbarian law, increase of public investments for social housing. It is super promising to see how different movements and demands converge in the streets in this moment, while mobilisation against the reform of pensions is growing bigger and radicalizing.Nevertheless, the situation of tenants and homeless people has never been so bad in France. While rents increased by 3.5% and energy bills tripled during the last year, French government just voted a repressive law, hardly penalizing those who can no longer afford to pay a rent and squatters of empty buildings.
In order to be able to face the coming crises we need to be even more numerous and better organized. "explained Stela from Droit Au Logement in Paris.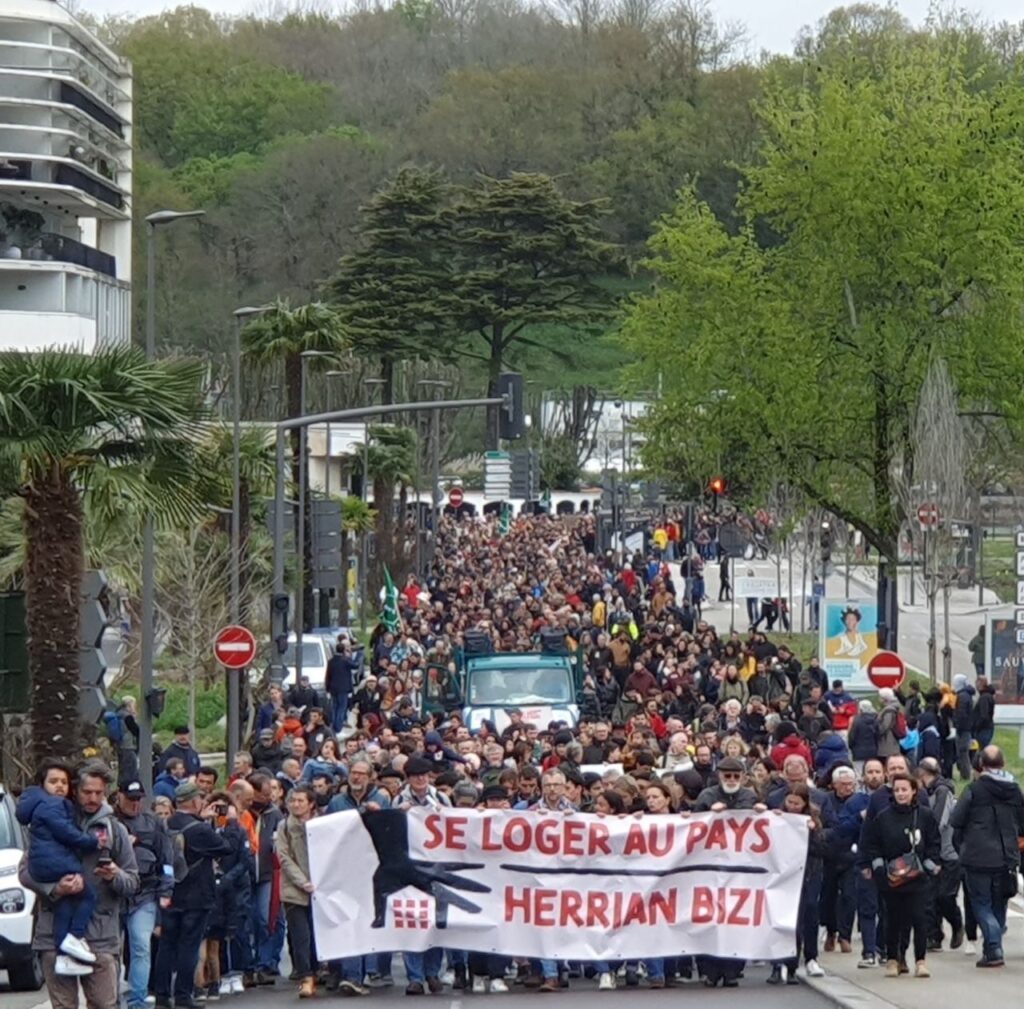 "In Vienna the Housing Action Days took place together with the protests against the European Gas Conference", added Laura from Stop Evictions Vienna, "we had some fruitful discussions with comrades from the climate justice spectrum to reinforce future collaborations of our different movements."
In Athens, where evictions are multiplying and becoming more violent, hundreds of people gathered in front of the Supreme Court to denounce a recent decision favouring funds instead of people. "Even if there are differences between countries, the problems are big and similar concerning housing. In Greece we are often leading the sadest statistics, for example we have the highest housing costs in proportion to the income. This is why we decided also to respond to the call for Housing Action Days" said Tonia from the Unitarian Intitative Against Auctions in Athens.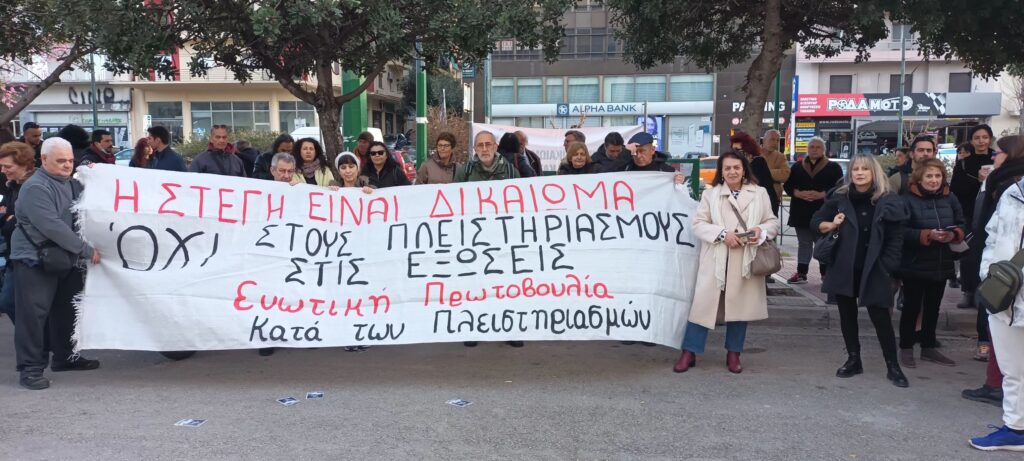 "Originally, the idea of the HAD taking place in the end of March, comes from the fact that, in a few countries, it is the time when the winter-moratorium for evictions is ending. Housing struggles are diverse according to the respective situation in the different countries. This is why actions taking place are diverse too" explained Annie from the EAC. "We can see all over Europe that the atmosphere is explosive in many neighbourhoods. The skyrocketing cost of living, added to the already unbearable housing costs, makes it clear for many people that self-organization from below is necessary to change politics" concluded Yann from the facilitation team of the EAC. "Many people understand that the governmental measures to support the people are not only insufficient but they benefit the energy companies as they ensure their profits. The people also know that at some point the public debts will be followed by cuts in social policies and the private debts will cause evictions. We have learned our lessons from previous crises. The self-delegitimation of state capitalism corresponds to growing social movements". said Eniko from Social Hosuing Now in Cluj, Romania.
Du 24 mars au 2 avril, la Coalition Européenne d'Action pour le droit au logement et à la ville (CEA) a lancé un appel à actions dans le cadre des Journées d'action pour le logement 2023 – #HAD2023. Pour cette 5e édition, des dizaines de milliers de personnes ont organisé des manifestations, des discussions, des performances, des rassemblements, des ouvertures de squats et bien d'autres actions et événements dans toute l'Europe. Alors que la crise du logement s'aggrave, de nombreux groupes, membres ou non de la Coalition, ont exprimé leur opposition aux institutions et politiques néolibérales qui profitent à l'accumulation privée plutôt qu'à la population. Ensemble, nous avons montré notre force pour défendre le droit au logement, le droit à la ville et notre opposition à l'augmentation illégitime du coût de la vie.
Des manifestations ont eu lieu à Lisbonne, Porto et dans d'autres villes du Portugal, à Bruxelles, Liège et Namur, Berlin, Dublin, Londres, Stockholm, Athènes, Bayonne, Paris et dans d'autres villes d'Europe. En France, où ils et elles luttent contre 👉 une loi criminalisant les squatteur·euses et les locataires, plus de 12 villes ont organisé des actions et des manifestations pendant les HAD2023. Des occupations ont eu lieu à Vienne (bâtiment abandonné), à Bruxelles (squat de personnes sans-papiers) et à Dublin (Département national du logement). Il y a eu des manifestations et des rassemblements, des discussions, des événements, des échanges d'(auto-)éducation politique, des projections de films, des bannières accrochées aux ponts, etc… Dans certaines villes comme Grenoble, les camarades ont organisé une semaine entière d'activités. Vous pouvez voir l'ensemble des 120 actions sur la 👉 carte des actions. "Nous ne nous attendions pas à une telle réponse à notre appel", a déclaré Péter, de l'équipe de communication de la CEA, "nous avons même reçu des messages de solidarité des Philippines".
"À Lisbonne, plus de 30 000 personnes se sont jointes à la plus grande manifestation pour le logement depuis des décennies ! Après des années difficiles, les gens sont redescendus dans la rue pour exprimer leur colère", a déclaré Rita du collectif Habita.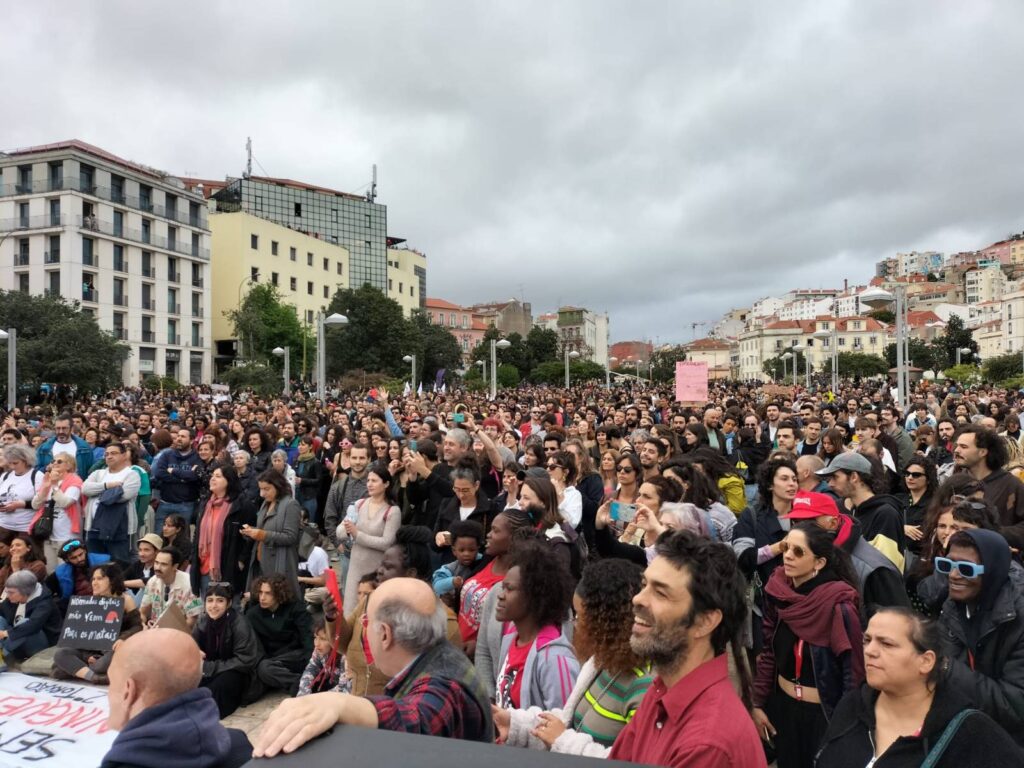 "À Porto, nous étions plus de 7 000. En tant que collectifs, organisations, syndicats et individus affecté.es par la crise du logement et l'exploitation capitaliste, nous nous sommes rassemblé.es pour montrer notre force. C'était un moment historique que nous utiliserons pour continuer à construire cette lutte collective", ont déclaré les membres de Habitação Hoje.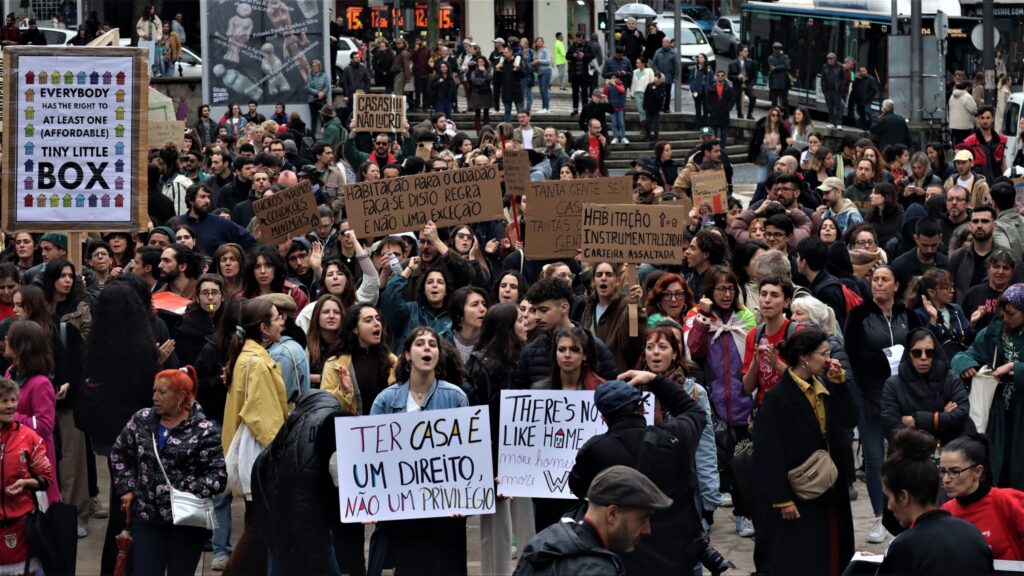 "Douze villes différentes ont manifesté le même jour en France, rassemblant différents mouvements avec les mêmes revendications : baisse des loyers et des prix de l'énergie, arrêt des expulsions, arrêt de la loi Kasbarian-Bergé, augmentation des investissements publics pour le logement social. Il est très prometteur de voir comment différents mouvements et revendications convergent dans les rues en ce moment, alors que la mobilisation contre la réforme des retraites prend de l'ampleur et se radicalise. Néanmoins, la situation des locataires et des personnes sans-abri n'a jamais été aussi dure en France. Alors que les loyers ont augmenté de 3,5% et que les factures d'énergie ont triplé au cours de l'année écoulée, le gouvernement français vient de voter la loi Kasbarian-Bergé, une loi répressive, pénalisant celleux qui n'ont plus les moyens de payer un loyer et les squatteur.euses d'immeubles vides. Pour pouvoir faire face aux crises à venir, nous devons être encore plus nombreux et nombreuses, et mieux organisé.es "explique Stela du Droit Au Logement à Paris.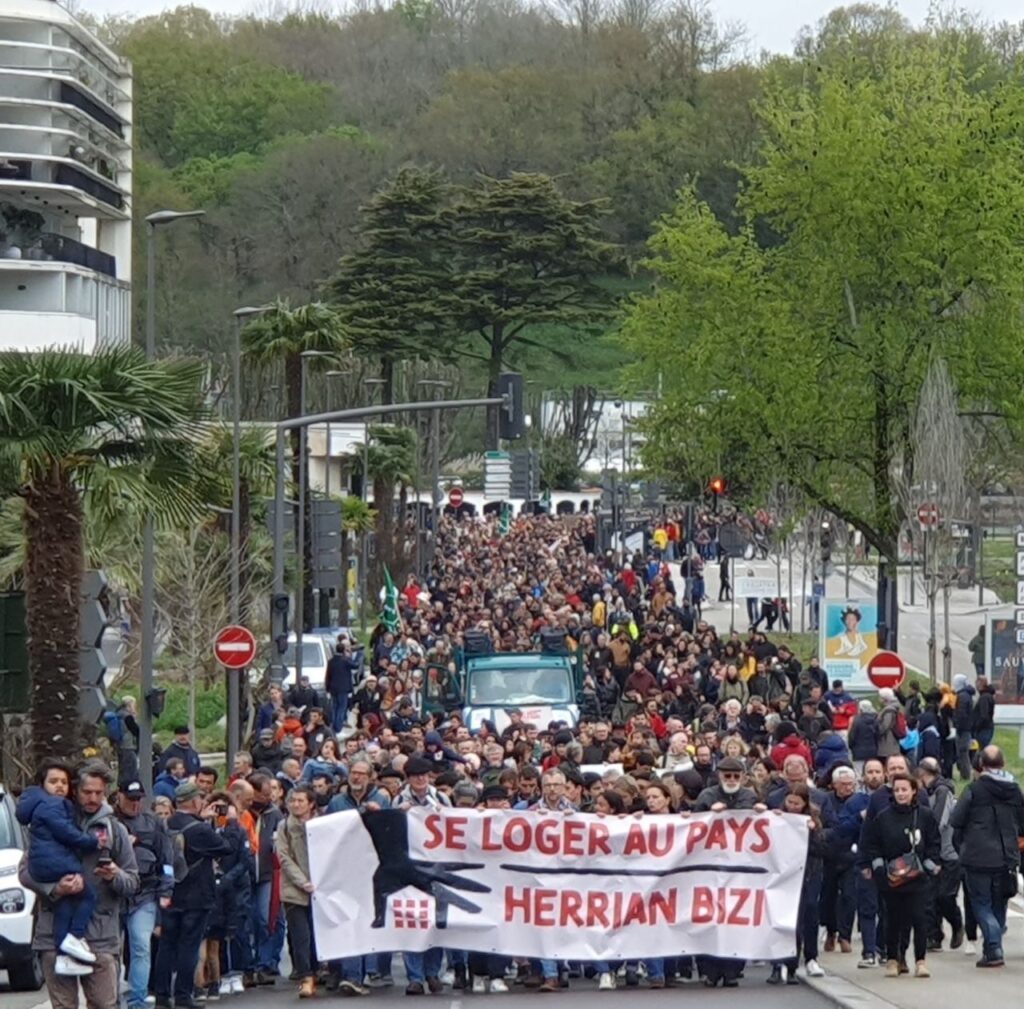 À Vienne, les Journées d'action pour le logement se sont déroulées en même temps que les manifestations contre la Conférence européenne sur le gaz", a ajouté Laura de Stop Evictions Vienna, "nous avons eu des discussions fructueuses avec des camarades du mouvement pour la justice climatique afin de renforcer les collaborations futures entre nos différentes luttes". 
À Athènes, où les expulsions se multiplient et deviennent de plus en plus violentes, des centaines de personnes se sont rassemblées devant la Cour suprême pour dénoncer une récente décision favorisant les fonds d'investissement plutôt que les habitant.es. "Même s'il existe des différences entre les pays, les problèmes sont importants et similaires en ce qui concerne le logement. En Grèce, nous sommes souvent à la tête des statistiques les plus tristes, par exemple nous avons les coûts de logement les plus élevés par rapport aux revenus. C'est pourquoi nous avons décidé de répondre à l'appel à participer aux Housing Action Days", a déclaré Tonia, de l'Initiative unitaire contre les ventes aux enchères à Athènes.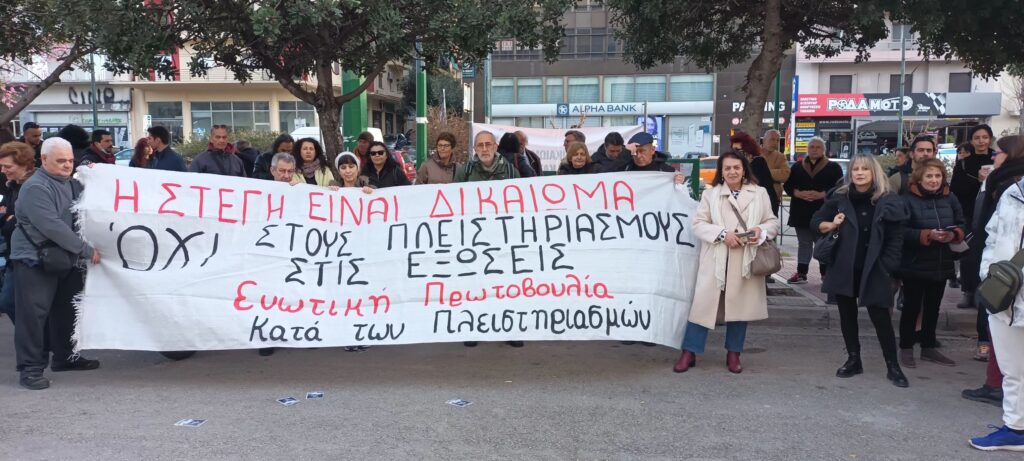 "À l'origine, l'idée que les HAD aient lieu à la fin du mois de mars vient du fait que, dans quelques pays, c'est le moment où la trêve hivernale se termine. Les luttes pour le logement sont diverses en fonction de la situation respective des différents pays. C'est pourquoi les actions menées sont également diverses", explique Annie de la CEA. "Nous pouvons constater partout en Europe que l'atmosphère est explosive dans de nombreux quartiers. La montée en flèche du coût de la vie, ajoutée au coût déjà insupportable du logement, fait comprendre à beaucoup de gens qu'une auto-organisation par le bas est nécessaire pour changer la politique" a conclu Yann de l'équipe de facilitation de la CEA. "Beaucoup de gens comprennent que les mesures gouvernementales de soutien à la population sont non seulement insuffisantes, mais qu'elles profitent aux compagnies d'énergie en leur assurant des bénéfices. Les gens savent aussi qu'à un moment donné, les dettes publiques seront suivies de coupes dans les politiques sociales et que les dettes privées entraîneront des expulsions. Nous avons tiré les leçons des crises précédentes. L'autodélégitimation du capitalisme d'État correspond à la croissance des mouvements sociaux", a déclaré Eniko de Social Housing Now, un collectif basé à Cluj, en Roumanie.