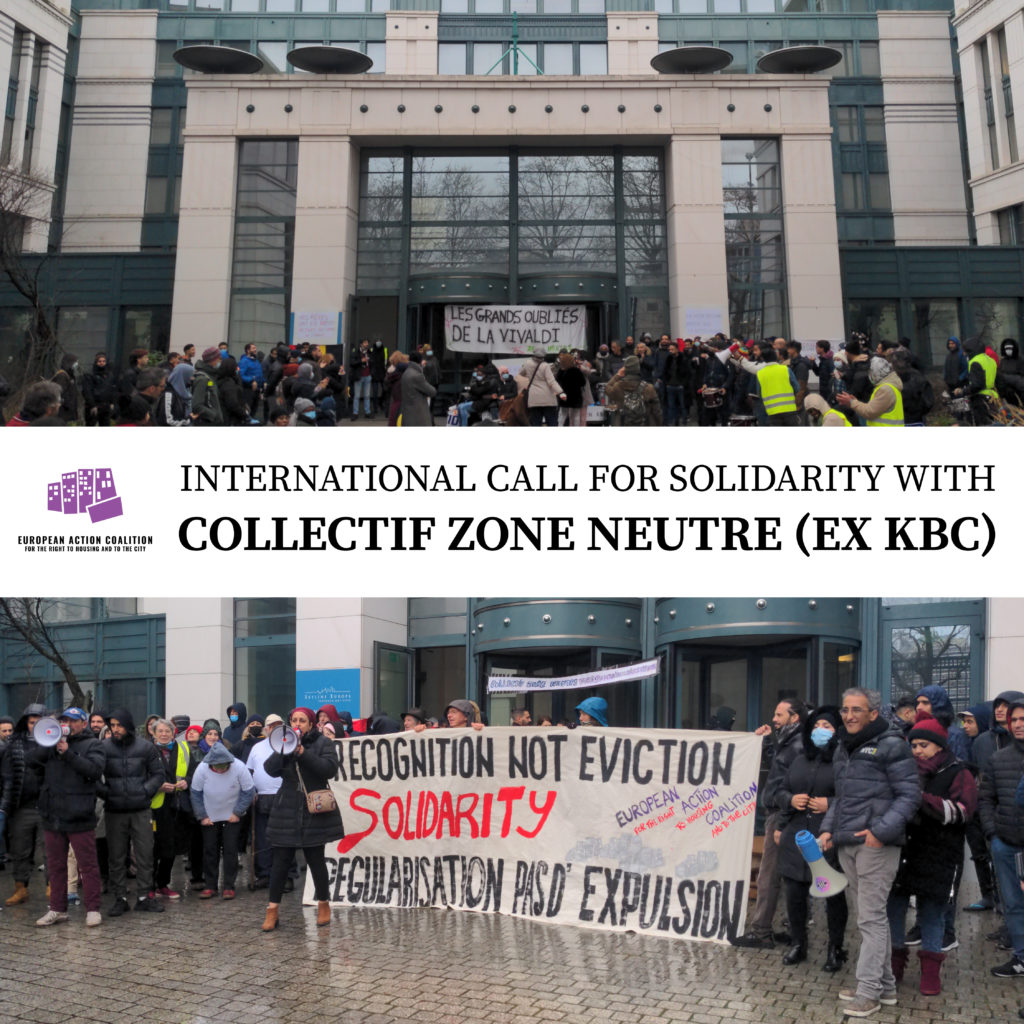 scroll for French / Castellano
en
RECOGNITION NOT EVICTION!
SOLIDARITY WITH THE KBC OCCUPATION IN BRUSSELS.
The European Action Coalition for the right to housing and to the city (EAC) calls for actions in solidarity with the 'Neutral Zone Collective, KBC Occupation' (occupied KBC) in Brussels which is threatened of eviction on the 31st of March.

More than 200 people are now living in the former bank building next to the channel of Brussels, northward the center. A community that is welded together by a long struggle for recognition. Last summer, 450 persons, of which some are now living in occupied KBC, went on a hunger strike for no less than 50 days, asking the government to recognise their right to live in Belgium with papers. Their legitimate demand was ignored but their struggle continues in many occupied buildings as KBC.

The former KBC building occupation started in september 2021. This 30 year old building is meant to be demolished for a new real estate project. The struggle of Neutral Zone Collective illustrates the reality of many other occupations : the profit of real estate developpers is a threat to the right to housing and recognition.

"We are not 'un-documented' people as we are called by politicians. We have documents but the wrong ones. As cheap labor power we're welcome and needed here. But we are deprived from basic social and political rights and this situation has to stop", as a member of the KBC occupation claimed.

Several occupations are constantly threatened by evictions throughout the year. Now the municipality of Molenbeek in Brussels announced it's ambition to evict the KBC occupation on the 31st of March. We are against this decision, and want to raise awareness and support the struggle which the KBC occupation is a part of.

Until the 31st of March we are calling for a solidarity campaign 'RECOGNITION NOT EVICTION'. Banner-drops, information events, visiting embassies of Belgium. We all have the means to make pressure and attack the reputation of those responsible.
Join our international call for solidarity for the Neutral Zone Collective, KBC Occupation !

Organize solidarity actions and events during the Housing Action Day on the 26th and 27th of March!
#HousingActionDay2022 #KBCoccupation #RecognitionNotEviction #Molenbeek #StopEvictions
fr
REGULARISATION PAS D'EXPULSION !
SOLIDARITÉ AVEC L'OCCUPATION KBC À BRUXELLES.
La Coalition Européenne d'Action pour le droit au logement et le droit à la ville (CEA) appelle à des actions de solidarité avec le Collectif Zone Neutre, Occupation KBC à Bruxelles, qui est menacé d'expulsion le 31 mars.

Plus de 200 personnes vivent aujourd'hui dans l'ancien bâtiment de la banque KBC situé à côté du canal de Bruxelles, au Nord. Le Collectif Zone Neutre est soudé par une longue histoire de lutte pour la régularisation. L'été dernier, 450 personnes, dont certaines vivent aujourd'hui dans l'ancien bâtiment KBC, ont participé à une grève de la faim qui a duré 50 jours, exigeant du gouvernement qu'il reconnaisse leur droit de vivre en Belgique avec des papiers. Leur demande légitime a été ignorée mais leur lutte se poursuit dans de nombreux bâtiments occupés comme l'ancien bâtiment KBC.

L'occupation KBC a commencé en septembre 2021. Ce bâtiment vieux d'à peine 30 ans est destiné à être démoli pour un nouveau projet immobilier. La lutte du Collectif Zone Neutre illustre la réalité de nombreuses autres occupations : le profit des promoteurs immobiliers est une menace pour le droit au logement et à la régularisation des personnes sans papiers.

"Nous ne sommes pas des 'sans-papiers' comme le disent les politiciens. Nous avons des documents, mais ce ne sont pas les bons. En tant que main-d'œuvre bon marché, nous sommes les bienvenu.es et on a besoin de nous ici. Nous sommes privé.es de nos droits sociaux et politiques fondamentaux et cette situation doit cesser", a déclaré un membre de l'occupation KBC.

Plusieurs occupations sont constamment menacées d'expulsion tout au long de l'année. Aujourd'hui, la municipalité de Molenbeek à Bruxelles a annoncé son intention d'expulser l'occupation KBC le 31 mars. Nous nous opposons à cette décision, et voulons sensibiliser et soutenir la lutte pour le droit au logement et la régularisation des personnes dites sans-papier dont l'occupation KBC fait partie.

Jusqu'au 31 mars, nous lançons un appel à la campagne de solidarité "REGULARISATION, PAS D'EXPULSION". Création de bannières, événements d'information, visite des ambassades de Belgique, nous avons tous les moyens de faire pression et d'attaquer la réputation des pouvoirs publics.

Rejoignez notre appel international à la solidarité pour le Collectif Zone Neutre, occupation KBC!

Organisez des actions de solidarité et des événements pendant la journée d'action pour le logement les 26 et 27 mars !

La CEA est un réseau de 31 organisations de base et initiatives locales dans 19 pays européens qui a été fondé en 2013. #HousingActionDay2022 #KBCoccupation #RecognitionNotEviction #Molenbeek #StopEvictions
es



REGULARIZACIÓN, NO EXPULSIÓN!
SOLIDARIDAD CON LA OCUPACIÓN DE KBC EN BRUSELAS.

La Coalición Europea de Acción por el Derecho a la Vivienda y el Derecho a la Ciudad (CEA) llama a realizar acciones de solidaridad con el Colectivo Zona Neutral, ocupación de KBC en Bruselas, que está amenazado de desalojo el 31 de marzo.

Más de 200 personas viven ahora en el antiguo edificio del banco KBC, junto al canal de Bruselas, en el norte. El Colectivo de la Zona Neutral tiene una larga historia de lucha por la regularización. El verano pasado, 450 personas, algunas de las cuales viven ahora en el antiguo edificio del KBC, iniciaron una huelga de hambre de 50 días, exigiendo que el gobierno reconociera su derecho a vivir en Bélgica con papeles. Su legítima demanda fue ignorada, pero su lucha continúa en muchos edificios ocupados, como el antiguo edificio del KBC.

La ocupación del KBC comenzó en septiembre de 2021. El edificio, de 30 años de antigüedad, va a ser demolido para construir un nuevo proyecto de viviendas. La lucha del Colectivo Zona Neutral ilustra la realidad de muchas otras ocupaciones: el beneficio de los promotores inmobiliarios es una amenaza para el derecho a la vivienda y para la regularización de lxs indocumentadxs.

"No somos 'indocumentadxs' como dicen los políticos. Tenemos documentos, pero no son los adecuados. Como mano de obra barata, somos bienvenidxs y necesarixs aquí. Estamos privadxs de nuestros derechos sociales y políticos básicos y esta situación debe terminar", dijo un miembro de la ocupación del KBC.

Varias ocupaciones están constantemente amenazadas de desalojo a lo largo del año. Hoy, el ayuntamiento de Molenbeek, en Bruselas, ha anunciado su intención de desalojar la ocupación de KBC el 31 de marzo. Nos oponemos a esta decisión y queremos sensibilizar y apoyar la lucha por el derecho a la vivienda y la regularización de los llamados indocumentados, de la que forma parte la ocupación del KBC.

Hasta el 31 de marzo, convocamos la campaña de solidaridad "REGULARIZACIÓN, NO EXPULSIÓN". Crear pancartas, actos informativos, visitar las embajadas belgas, tenemos todos los medios para presionar y atacar la reputación de los poderes públicos.

¡Únase a nuestro llamamiento de solidaridad internacional para el Colectivo de la Zona Neutral,ocupación KBC!

Organice acciones y actos de solidaridad durante el Día de Acción por la Vivienda, los días 26 y 27 de marzo.
#HousingActionDay2022 #KBCoccupation #RecognitionNotEviction #Molenbeek #StopEvictions