Paris meeting – the program! // Rencontre de Paris – le programme!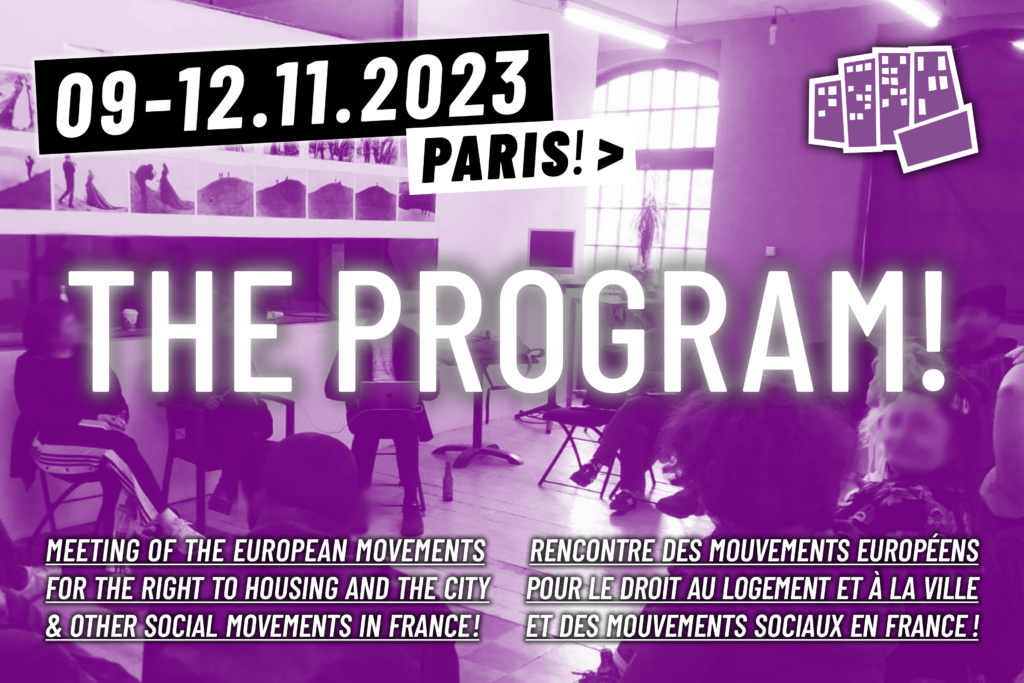 We are pleased to announce the public program of the Coalition's Paris meeting that will take place 9 – 12 November 2023. We welcome all those who are interested!
Thursday 9th November hosted at C.I.C.P (21 ter Rue Voltaire, 75011 Paris)
6:30 pm-8 pm: Open discussion — Awareness work in the EAC
The European Action Coalition for the right to housing and to the city invites you to a discussion with its Awareness Team for a discussion on a potential Awareness Concept. The invitation is open to everyone. We invite all to share their experience and concerns, and give a feedback on the proposed text.
Friday 10th November hosted at C.I.C.P (21 ter Rue Voltaire, 75011 Paris)
3 pm-6 pm: Public workshop 1 — Housing policies, discrimination and repression.
Over the past decade, various European governments have passed increasingly repressive laws criminalising homeless people, occupants of empty buildings that have been requisitioned or squatted, and tenants and owner-occupiers in precarious and indebted situations. In addition to the criminalisation of the most vulnerable, there is also repression of social movements, which are themselves the target of repressive policies. These measures aim to defend the interests of big landlords, property markets and the world of finance by strengthening the right to property at the expense of the right to housing for all.
At the same time, discrimination in access to housing for ethnic minorities, racialised people, gender minorities, refugees and undocumented migrants is recurrent and permanent.
In this workshop, we will discuss these repressive policies and practices, possible forms of resistance and proposals to counter these policies.
Saturday 11th November hosted at A.E.R.I (57 Rue Etienne Marcel, 93100 Montreuil)
10 am-1 pm: Public workshop 2 — Climate change and housing and spatial planning policies. What alliances between movements for climate justice and movements for the right to housing and to the city?
The effects of the climate and environmental crisis are omnipresent, as are its social consequences: natural disasters, destruction of entire neighbourhoods, deterioration of housing conditions, massive displacement of local populations. We have to recognise that current models of development and regional planning have become unsustainable: concrete encroachment on agricultural land, hyper-urban concentration, privatisation of the commons, restriction of access to water, land and food.
Today, movements for social and climate justice are demanding an end to these models and encouraging people to think about alternative ways of living in rural and urban areas, while advocating urgent and concrete measures such as energy-efficient renovation of indecent buildings. The energy renovation of buildings should not be organised for the benefit of companies alone, but in relation to the measures taken by residents themselves to manage their relationship with energy. These measures will obviously vary according to the means available to residents; aid should be provided, but not in the indiscriminate way that is currently the case.
This workshop will look at how climate change, spatial planning and the housing crisis fit together. It will also provide a forum for strategic reflection on possible alliances between climate movements and movements for the right to housing and the city.
1 pm-2.30 pm: Lunch break
3pm-6 pm: Public workshop 3 — Speculation and financialisation. European mobilisations to tackle the housing crisis.

The housing crisis is worsening in all European countries. The issue is occupying an increasingly important place in public and political debate, particularly in the context of the forthcoming European elections. Although the situations differ from one country to another (the proportion of tenants and owners, types of property, etc.), the problems are similar and all threaten the right to live in towns and cities: rising rental prices, rising purchase prices, the increasing cost of mortgage loans, etc. The result is that a growing proportion of the population is living in poverty. As a result, an increasing proportion of household income is being allocated to housing.
While access to decent housing is becoming impossible, and the number of evictions and homeless people is exploding, market players, including financial players, are reaping colossal profits, often with the collusion of European institutions, states, federal and local authorities.
This workshop will look at the impact of the commodification/financialisation of housing and the city, using examples from a number of European countries, and at common ways of countering these processes. We will focus on the EAC's two main campaigns: the anti-MIPIM (Marché International des Professionnels de l'Immobilier) mobilisation, and the Journées d'Action pour le Droit au Logement (HAD) that the EAC has been organising every year for the past 4 years.
6 pm-8 pm: Public meeting — Let's fight together! Let's mobilize for the right to housing and to the city all over Europe!
The housing crisis is in full swing. Tens of thousands of people are mobilizing across Europe, including members of the European Action Coalition for the right to housing and to the city (EAC), a network of 39 grassroots collectives from 20 European countries. During this public evening, the EAC will present its 2 major campaigns: The Housing Action Day (HAD) and the anti-MIPIM campaign (against the biggest international real estate fair).
Tens of thousands of people demonstrated in European cities during the HAD, demanding to stop evictions, lower rents and energy bills, access to decent housing for all, taxation of big real estate profits, as well as an end to AirBnb and tourism which harms local residents.
The anti-MIPIM campaign questions on the one hand elected officials and other public representatives about their presence at MIPIM. On the other hand we try a central intervention in that real estate show of plundering, real estate speculation, the destruction of our neighborhoods and the nature, the sale of public land and the privatization of the commons (water, farmland).
What's our strategy for a successful mobilization in 2024, to make our demands visible and put pressure on European institutions? What alternatives are there to counter these processes?
The evening will close with a festive moment to celebrate the 10th anniversary of the European Action Coalition.
Sunday 12th November hosted at A.E.R.I (57 Rue Etienne Marcel, 93100 Montreuil)
10 am-1 pm: Public workshop 4 — Struggles against big unnecessary projects and touristification in urban and rural areas.
More and more cities (capitals, metropolises, medium-sized towns, tourist towns) are being transformed to meet the challenges of competition and attractiveness rather than the housing needs of their residents.
Major infrastructure projects such as new metro lines, airport extensions and regional trains are speeding up the movement of goods and people, encouraging tourism, gentrification and property speculation. In addition to these projects, major sporting and cultural events act as showcases for the attractiveness of cities. AirBnB offers are multiplying faster than long-term flat rentals, at the same time as video surveillance and policing tools (drones, cameras, facial recognition devices, etc.) are becoming more widespread. At the same time, entire neighbourhoods of working-class housing are being demolished to make way for more upmarket developments.
In this workshop, we'll be discussing the effects of major unnecessary projects, cultural or sporting events such as the Olympic Games, and urban renewal projects that are reshaping our cities without taking account of the general interest and without consulting local residents.
We'll also be talking about sabotage and other forms of resistance, collective mobilisation for democratic regional planning and the right to a city for everyone.
1 pm-2.30 pm: Lunch break
3 pm-6 pm: General closing assembly
In the general closing assembly we will have reports back from the different workshops, and we will re-discuss proposals for next steps regarding our campaigns – especially regarding the coming anti-MIPIM protests and Housing Action Day(s) 2024 – and our efforts to converge with other movements. A moment to recapitulate the results of our meeting, take all the energy and agree on our future program.
Nous avons le plaisir d'annoncer le programme public de la rencontre de la Coalition à Paris qui aura lieu entre le 9 et le 12 novembre 2023. Toutes les personnes intéressées sont les bienvenues !
Jeudi 9 novembre au C.I.C.P (21 ter Rue Voltaire, 75011 Paris)
18h30-20h : Discussion ouverte — Le travail de sensibilisation au sein de la CEA.
La Coalition européenne d'action pour le droit au logement et le droit à la ville vous invite, avec son équipe de sensibilisation (awareness team), à discuter d'une proposition de concept concernant la sensibilisation. L'invitation est ouverte à tous.tes. Nous invitons chacun·e à partager son expérience et ses préoccupations, et à donner son avis sur le texte proposé.
Vendredi 10 novembre au C.I.C.P (21 ter Rue Voltaire, 75011 Paris)
15h-18h : Atelier public 1 — Politiques de logement, discrimination et répression.
Pendant la dernière décennie, des lois de plus en plus répressives ont été votées par différents gouvernements européens criminalisant les personnes sans-abris, les occupants d'immeubles vides réquisitionnés ou squattés, les locataires et propriétaires-occupants précarisés et endettés. A la criminalisation des plus précaires s'ajoute la répression contre les mouvements sociaux qui sont eux-mêmes pris pour cible des politiques répressives. Ces mesures visent à défendre les intérêts grands propriétaires, des marchés immobiliers et du monde de la finance en renforçant le droit à la propriété au détriment du droit au logement pour tou·tes.
En parallèle, les discriminations dans l'accès au logement des minorités ethniques, des personnes racisées, des minorités de genre, des réfugiées, sans-papiers sont récurrentes et permanentes.
Lors de cet atelier, nous discuterons de ces politiques et pratiques répressives, des formes de résistance possibles et des propositions pour contrer ces politiques.
Samedi 11 novembre à l'A.E.R.I (57 Rue Etienne Marcel, 93100 Montreuil)
10h-13h : Atelier public 2 — Dérèglement climatique et politiques du logement et de l'aménagement du territoire. Quelles alliances entre les mouvements pour la justice climatique et les mouvements pour le droit au logement et à la ville ?
Les effets de la crise climatique et environnementale sont omniprésents, ses conséquences sociales aussi : catastrophes naturelles, destruction de quartiers entiers, dégradation des conditions d'habitation, déplacements massifs des populations locales. Force est de constater que les modèles actuels de développement et de l'aménagement du territoire sont devenues insoutenables : bétonisation des terres agricoles, hyper concentration urbaine, privatisant des communs, restriction de l'accès à l'eau, à la terre, à l'alimentation.
Aujourd'hui, les mouvements pour la justice sociale et climatique exigent la fin de ces modèles et incitent à penser des formes alternatives d'habiter les territoires ruraux et urbains, tout en plaidant en faveur de mesures urgentes et concrètes tels que la rénovation énergétique des bâtiments indécents, etc. La rénovation énergétique des bâtiments ne doit pas être organisée au bénéfice des seules entreprises, mais en relation avec les mesures prises par les habitant·es eux-mêmes pour gérer leur rapport à l'énergie. Ces mesures varient évidemment en fonction des moyens dont disposent les habitant·es ; des aides sont à prévoir mais pas de façon aveugle comme actuellement.
Cet atelier propose de penser la façon dont s'articulent dérèglement climatique, aménagement du territoire et crise du logement. Il propose également un espace de réflexion stratégique sur les alliances possibles entre mouvements pour le climat et mouvements pour le droit au logement et à la ville.
13h-14h30 : Déjeuner
15h-18h : Atelier public 3 — Spéculation, financiarisation. Les mobilisations européennes face à la crise du logement.

La crise du logement s'aggrave dans l'ensemble des pays européens. Le sujet occupe une place toujours plus importante dans le débat public et politique notamment dans le contexte des élections européennes qui approchent. Bien que les situations diffèrent d'un pays à l'autre (la part de locataires et de propriétaires, les types de propriété, etc) les problèmes sont similaires et menacent tous le droit d'habiter les villes et les territoires : la hausse des prix de loyers, l'augmentation des prix à l'achat, le coût croissant des emprunts hypothécaires, etc. Résultat, une part de plus en plus grande du revenu des ménages est alloué au logement.
Tandis que l'accès à un logement décent devient impossible, que le nombre d'expulsions et de sans-abris explose, les acteurs du marché, dont les acteurs financiers, en tirent des bénéfices colossaux avec souvent la collusion des institutions européennes, des États, des autorités fédérales et locales.
Lors de cet atelier, il s'agit d'une part de réfléchir sur les impacts de la marchandisation/ financiarisation de l'habitat, du logement et de la ville au travers d'exemples venant de différents pays européens, et d'autre part, sur les moyens d'actions communs pour contrer ces processus. Nous mettrons l'accent sur les deux campagnes principales de l'EAC : la mobilisation anti-MIPIM (Marché International des Professionnels de l'Immobilier), et les Journées d'Action pour le Droit au Logement (HAD) que la CEA organise chaque année depuis 4 ans.
18h-20h : Soirée publique : Luttons ensemble ! Mobilisons-nous pour le droit au logement et à la ville partout en Europe !
La crise du logement bat son plein. Des dizaines de milliers de personnes se mobilisent partout en Europe dont les membres de la CEA, un réseau de 39 mouvements de base venant de 20 différentes villes européennes. Lors de cette soirée publique, la CEA présentera ses 2 campagnes principales : la Housing Action Day (Journée Européenne pour le Droit au Logement) et la campagne anti-MIPIM (le plus grand marché immobilier international).
Cette année, des dizaines de milliers de personnes ont manifesté dans les villes européennes lors de la HAD, pour demander l'arrêt des expulsions, la baisse des loyers et des charges, l'accès à un logement décents pour toustes, la taxation des grands profits immobilières, la fin de l'AirBnb et du tourisme au détriment des habitant·es.
La campagne anti-MIPIM a rassemblé des dizaines d'initiatives décentralisées pour interpeller les élus et d'autres représentants publiques sur leur présence au MIPIM, ce grand salon de la prédation immobilière où se décident la spéculation immobilière, la destruction de nos quartiers populaires, la vente du foncier public, la privatisation des communs (l'eau, les terres agricoles), la destruction de la nature…
Quelle stratégie pour réussir ces journées de mobilisation en 2024, pour rendre visibles nos revendications et faire pression sur les institutions européennes ? Quelles alternatives pour contrer ces processus ?
La soirée se clôturera par un moment festif pour fêter les 10 ans de la CEA !
Dimanche 12 novembre à l'A.E.R.I (57 Rue Etienne Marcel, 93100 Montreuil)
10h-13h : Atelier public 4 — Touristification, gentrification, grands projets inutiles, événements sportifs ou culturels: ça suffit.

De plus en plus de villes (capitales, métropoles, villes moyennes, villes touristiques) se transforment pour répondre aux enjeux de la concurrence et de l'attractivité plutôt qu'aux besoins de se loger des habitant·es.
Des grands projets d'infrastructure tels que les nouvelles lignes de métro, les extensions d'aéroports, les trains régionaux permettent d'accélérer la circulation des biens et des personnes favorisant le tourisme, la gentrification et la spéculation immobilière. A ces projets s'ajoutent  les grands événements sportifs ou culturels qui servent de vitrines d'attractivité des villes. Les offres airBnB se multiplient plus vite que les locations d'appartements à long terme, en même temps que se généralisent les outils de vidéosurveillance et de maintien de l'ordre (drones, caméras, dispositifs de reconnaissance faciale, etc). En parallèle, des quartiers entiers d'habitat populaire sont démolis pour faire place à des projets immobiliers de plus haut de gamme.
Dans cet atelier, nous discuterons des effets des grands projets inutiles, des événements culturels ou sportifs tels que les Jeux Olympiques, des projets de rénovation urbaine qui remodèlent nos villes sans tenir compte de l'intérêt général et sans consultation des habitantes. Nous parlerons également de sabotage et d'autres formes de résistances, des mobilisations collectives pour un aménagent démocratique du territoire et le droit à la ville pour tou·tes.
13h-14h30 : Déjeuner
15h-18h : Assemblée générale de clôture

Lors de l'assemblée, nous ferons un retour des ateliers, nous discuterons des propositions pour les prochaines étapes concernant nos campagnes et nos efforts pour converger avec d'autres mouvements. Un moment pour récapituler les résultats de notre rencontre, prendre toute l'énergie dont on a besoin en 2024 et se mettre d'accord sur notre programme futur.