France: Solidarité avec les expulsé·es du 93!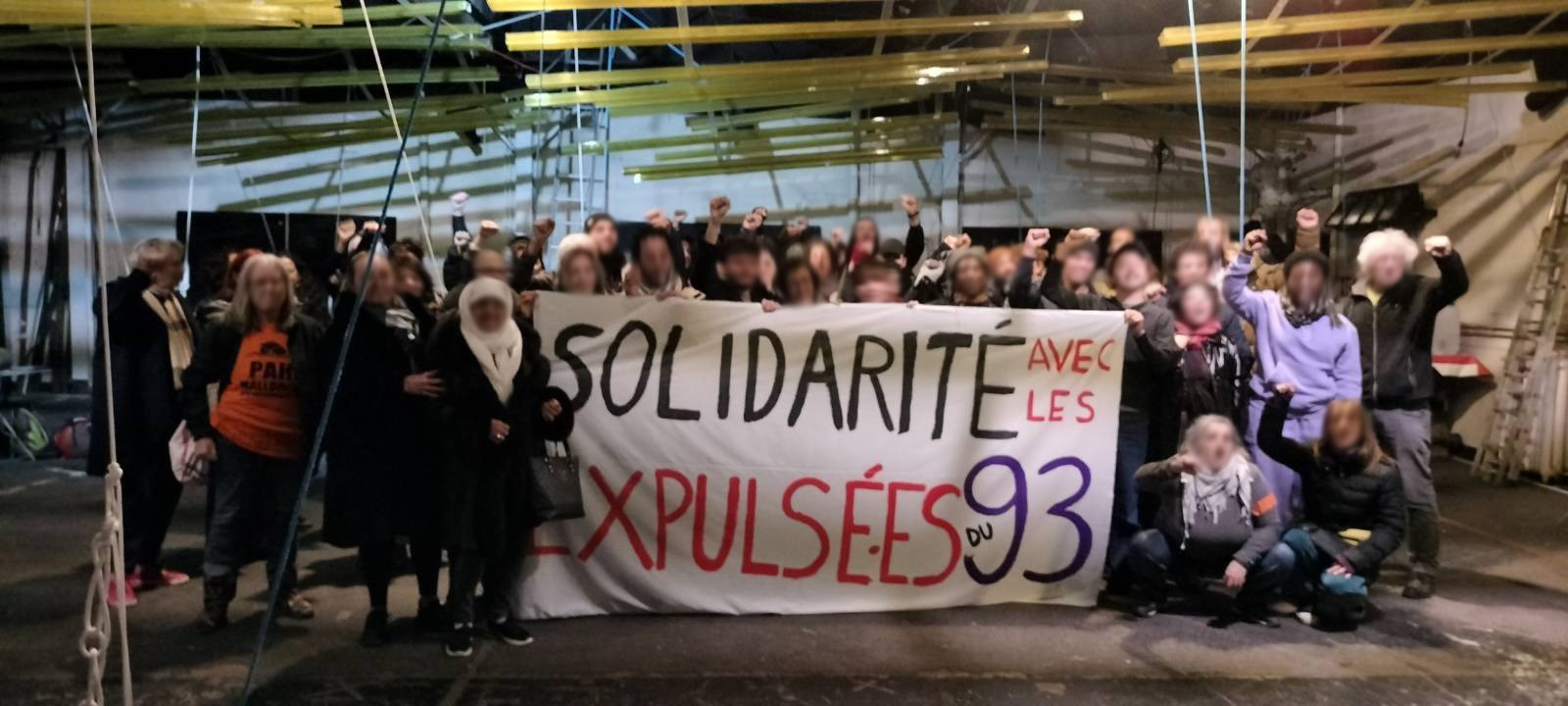 📣 Solidarity with the people being evicted in Seine-Saint-Denis! ✊
We, the members of the European Action Coalition for the Right to Housing and to the City from 17 european countries, meeting today in Montreuil, offer our solidarity and full determined support to the residents and their collectives (in Montreuil, Seine Saint-Denis and Île-de-France), fighting for the right to housing and to the city, in particular :
To the squatters of Montreuil, who have been evicted and thrown out on the street without trial since the Kasbarian law came into force, and some of whom have been prosecuted and threatened with criminal conviction for having sought accommodation in the ever-increasing number of unoccupied offices;
To the movements denouncing the impact of the Rugby World Cup and the Olympic Games on their lives and their city: accelerated property speculation, eviction of the working classes and the homeless, reinforcement of mass surveillance and control technologies, investments generating a disproportionate public deficit in the absence of any democratic debate;
To residents and their movements fighting against reno-viction (renovation-eviction) programs targeting older working-class neighborhoods, social housing neighborhoods and migrant workers' foyers;
The Coalition denounces the deleterious social and environmental impact of these policies, supported and even driven by the European Union, which sees housing as profitable capital to the detriment of the environment.
✍️ Montreuil, 12.11.2023
—
#stopevictions #renovictions #stopexpulsions #saccage2024 #stopkasbarianlaw
📣 Solidarité avec les expulsé·es du 93! ✊
Nous, membres de la Coalition Européenne d'Action pour le droit au logement et à la ville, de 17 pays européens, réunis en Assemblée, ce jour, à Montreuil, apportons notre solidarité et notre soutien entier et déterminé, aux habitant·es et leurs collectifs (à Montreuil, en Seine Saint-Denis et Île-de-France), en lutte pour le droit au logement et à la ville, en particulier :
Aux habitant·es squatters de Montreuil, expulsé·es et jeté·es à la rue sans jugement depuis l'entrée en vigueur de la loi Kasbarian, et pour certain·es, poursuivi·es par la justice, et menacé·es de condamnation pénales, pour avoir cherché à se loger dans des locaux inoccupés toujours plus nombreux ;
Aux mouvements qui dénoncent l'impact de la coupe du monde de Rugby et des JOP, sur leur vie et leur ville : accélération de la spéculation immobilière, éviction des classes populaires et des sans-abris, renforcement des technologies de surveillance et de contrôle de masse, investissements engendrant un déficit public démesuré en l'absence de tout débat démocratique ;
Aux habitant·es et leurs mouvements en lutte contre les programmes de réno-viction (rénovation-éviction) visant les quartiers populaires anciens, les quartiers d'habitat social, les foyers de travailleur·es migrant·es ;
La Coalition dénonce l'impact délétère au plan social et environnemental de ces politiques soutenues voire impulsées par l'Union Européenne qui conçoit le logement comme un capital rentable au détriment du droit au logement, dont dépend la vie de millions d'habitant·es et de non-habitant·es.
✍️ Montreuil, 12.11.2023
—
#stopevictions #renovictions #stopexpulsions #saccage2024 #stopkasbarianlaw