Festival HabitACTION!
September 2019 Manifesto: HabitAction! We are home, neighborhood, city!
Because they want to expel us from the houses and neighborhoods we live in, because they exclude us from the city: HabitAction!
We rise up to say that we do not accept the logic of the city-profit, the neighbourhood-vitrine and the house-investment. This is the logic of speculative investors, who try to convince us that profit is more important than our lives, and of our rulers, who are hostages of private interests, and tell us that there are no alternatives. Cities are being built for the rich, while thousands of people are being forced to abandon their homes, their streets, their livelihoods and their affective networks. We rise up to say that it cannot be their laws, the laws of the market, that tell us how and where we can live. We want houses that serve to live, neighborhoods where we can build our lives, and cities managed by those who live in them. They want to expel us. We resist and we stay! We stand up to them and decide our future collectively.
In September we take to the streets, we occupy the public space, we build solidarity networks and we create a movement. We want to live in our neighborhoods: we demand an end to evictions and we unite for a more just and fair city. We challenge the capitalist system, which destroys our planet and expels us from the spaces we inhabit. Our lives are more important than profit.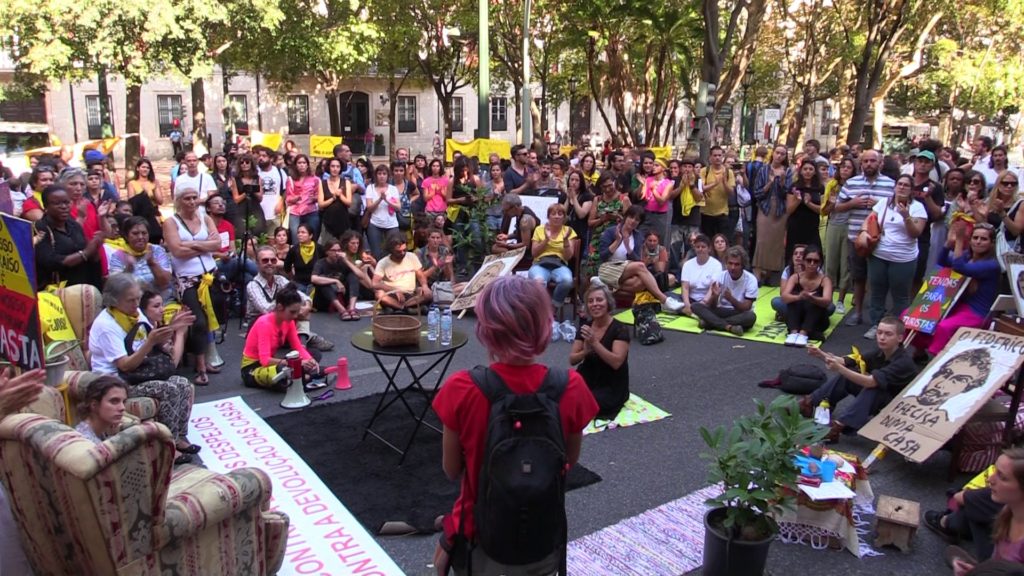 WE ARE HOME, NEIGHBORHOOD, CITY!
We want:
1. The end of evictions and demolitions without giving alternative
There are evictions because the lease was not renewed, there are evictions because the government decided to demolish our houses, there are evictions because we can't afford to pay such high rents, there are evictions because we can't pay the house to the bank… And there are no alternatives. We want to end this violence. We demand that there should be no more eviction without an alternative of decent housing.
2. The regulation of rents
Rents are outrageous and wages are minimal. We want maximum rent ceilings and propose the indexation of the value of the rents to the national minimum wage. If we have a minimum wage, why not a maximum rent?
3. More quality public housing
The European countries that are better protected against property crises are the ones with the most public housing. Examples are the Netherlands, where 34% of housing is social, Austria, with 26%, and France, with 19%. In Portugal we have less than 3%. We want housing policies that reduce social inequalities and prevent ethnic-racial segregation. We know that it is possible to have more and better public housing for everyone.
4. Take advantage of public space and social spaces
There are squares, parks and avenues that are abandoned and many are left to private concessions. Associations and communities are being evicted from social spaces to make way for luxury hotels and residences. Local commerce is disappearing. We have the right to enjoy public space and we need social spaces where we can meet, build, and discuss our lives collectively. We want public space that is truly public, cared for and not commodified, and an end to the evictions of collective spaces and small businesses.
5. A radical change in the model of governance and development of cities
Cities have been planned and built for profit and not for the people who live there. We claim the city! We propose the effective decrease in the number of tourist apartments, the expropriation of real estate monsters such as Apollo, and the end of the Gold Visas and tax benefits for speculators and for luxury. No more empty houses for no reason! Our cities are not for sale!
This is a call.
We are people and collectives struggling for the right to use the spaces in which we live and we call everyone to action, participation, protest. What happens is not inevitable, it is the result of policies promoted by the few who have a lot.
We are more than them. We must unite to claim the right to the spaces we live in, to decide together on the city we want. We can and must dream of other models for the city.
For an end to speculation, gentrification, touristification, demolition and expulsion. For a city for and of everyone: HabitAction!
Visit to know more ↓
Website: https://habitaccaofestival.tumblr.com/
Facebook: https://www.facebook.com/habitaccao/
Instagram: https://www.instagram.com/festivalhabitaccao/
Twitter: https://twitter.com/habitaccao
With the support of: Guerrilla Foundation
See the full calendar of events and pictures ↓