Another illegal eviction with police complicity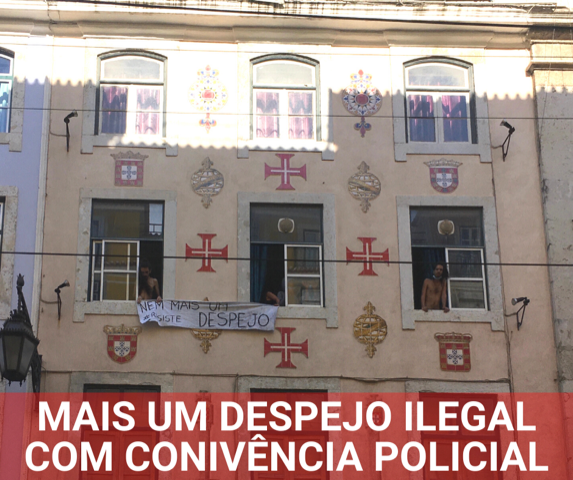 Lisbon, September 4th: another illegal and forced eviction by an unscrupulous and greedy landlord who gave an eight-day period for tenants to vacant the house, without giving any reason, and did not return the due security deposit of 800 euros!

Despite the numerous structural problems of the house (lack of maintenance, infiltrations, etc) that were never solved the tenants paid a high rent.Besides the lack of alternative housing, residents refused to leave due to various illegalities on the part of the landlord, who presented a false name, and who did not give the necessary formal notice of vacancy of the house, did not return the security deposit, and did not give receipts for the rents paid therefore evading tax payments.Throughout the process, dialogue was requested with the landlord in order to find an adequate and fair solution but the landlord denied it and, realizing that people refused to leave trampled, moved to intimidation: he threatened and physically and psychologically assaulted those who lived there, invaded the house several times, then cut off water, gas and electricity and finally locked the door of the building without handing over a new key to the tenants, leaving them hostage, locked with him inside the building for long hours.The police were on the scene several times: complaints were filed at the police station over time due to threats, assaults, and finally, the incarceration of people inside the building. The police only took care of the occurrence, ambivalent about what was happening there, not considering that what was being done was the attempt of an illegal and violent eviction despite the absence of a judicial eviction order. The criminal eviction was finally consummated, before the eyes of the police there. Exhausted from the pressure that lasted days and nights, tenants left without even seeing their security deposit returned.They resisted valiantly to threats and aggressions, they stayed in the house as long as they could, they left with all the greatness and dignity of those who fight. They were also promptly supported by several dozen people who gathered inside and outside the house in solidarity to protest, support and defend the victims. It was a day of denunciation, protest and important resistance, in which new people joined in and magnified this struggle.Despite being suspended by law, evictions continue to happen illegally and unpunished even in front of the police. Faced with the enormous social and economic crisis, many people are unable – and will be unable – to pay their rent or eat.

Evictions cannot be resumed and illegal evictions must be combated. If the state is not up to the task of defending the people, we must organise ourselves and prevent unscrupulous and greedy owners from doing so.Let us organize ourselves! Join the fight!
See original post at: https://habita.info/mais-um-despejo-ilegal-com-conivencia-policial/