Against State Repression and the Violence of Capital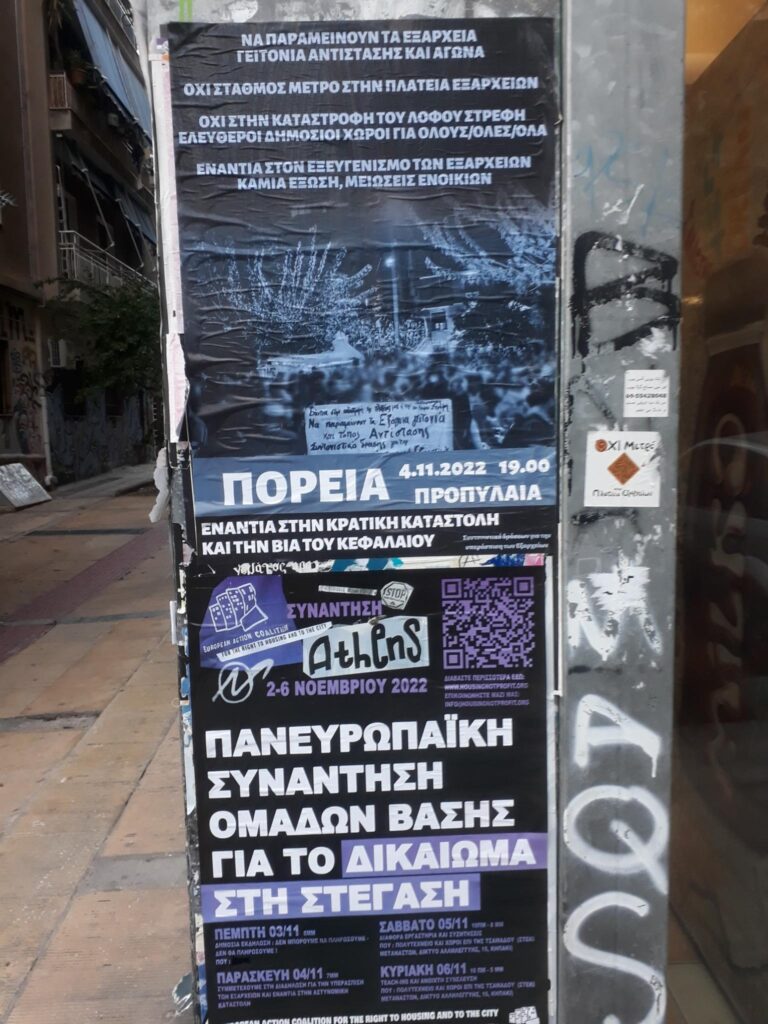 JOIN THE DEMONSTRATION:
AGAINST STATE REPRESSION AND THE VIOLENCE OF CAPITAL
EXARCHEIA REMAINS A NEIGHBORHOOD OF RESISTANCE AND STRUGGLE
Friday // 4th of November // 7 p.m. // Propeilaia (Metro Panepestimiou)
ALL EYES ON EXARCHEIA
Exarcheia is one of the famous territories of resistance in Europe. It is filled with traces of past and ongoing struggles, a living historical space and a point of reference for social movements all over the world.
In the past years, Exarcheia has faced unprecedented attacks adressed both against the structures of the movement and against the neighborhood at large. Several squats that were created in solidarity with people-on-the-move who came by hundreds of thousands from 2015 have been evicted. Check-points of riot cops and moped-gang units show an alarming state of police occupation. The commodification of houses through airBNB and the aggressive acceleration of the so-called real-estate-market's speculations grow everyday. In the last months, the main public spaces of Exarcheia were taken by force from their residents: the central square was transformed into a bunkerised construction site with the aim to build a metro-station,and parts of Strefi Hill were fenced for a project that will benefit only private companies. Both these emblematic public spaces are monitored 24/7 by massive police forces and the daily use of intimidation and violence encouraged by boundless impunity.
From all over Europe, militants and movements are watching the development of Exarcheia and are sending repeatedly their solidarity messages. All of us are to some extent in similar struggles against gentrification, police violence, and repression of our struggles.
Our movements and the local context may differ, but we are in this all together. And this time we will join the demonstration collectively!
AGAINST THE TOURISTIFICATION OF OUR NEIGHBORHOODS!
AGAINST THE COMMODIFICATION OF OUR HOUSES AND PUBLIC SPACES!
AGAINST AUTHORITARIAN CAPITALISM AND STATE FASCIZATION!
AGAINST COP CULTURE, RAPE CULTURE AND PATRIARCHY IN ITS ENTIRETY!
On the 4th of November, a demonstration will take place in the center of Athens for the defense of Exarcheia neighborhood and to protest against state and capitalist violence. The European Action Coalition for the right to housing and to the city (EAC) will take part to this demonstration and is calling all people of struggle to join it.
The EAC is a network of 35 grassroots movements from 20 different countries that will meet from the 2nd to the 6th of November in Exarcheia. You can join our various events, workshops and open assembly. See the program on housingnotprofit.org
SOLIDARITY WITH EXARCHEIA!
ONE STRUGGLE BEYOND BORDERS!