News
10 Sep - 14:14
(English below)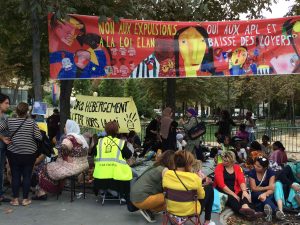 COMMUNIQUÉ
Paris le 10 septembre 2018
Les "Oubliés du logement" ont passé une 1ère nuit "sur les Champs"
Le collectif de 250 familles mal logées, sans logis, ou menacées d'expulsion
s'installe du 9 au 14 septembre, place Clémenceau, sur les Champs-Élysées :
POUR LEUR RELOGEMENT DÉCENT
CONTRE LA LOI ELAN et ses MESURES ANTI PAUVRES
POUR que le PLAN de lutte contre la PAUVRETÉ s'occupe des sans abris, des mal logés, des personnes menacées d'expulsion sans relogement


Nous sommes demandeurs d'un HLM, prioritaires DALO, nous vivons des conditions de logement dures et nous avons décidé de nous installer près du palais de l'Élysée, pour rappeler au Président MACRON ses promesses sur les sans abris et la situation des mal logés et des sans logis que nous sommes.

Avant la présentation du plan pauvreté le 13 septembre, nous voulons la prise en compte des mal logés, des locataires et habitants menacés d'expulsion, des enfants qui accumulent des retard à l'école à cause de leurs conditions dégradées de logement, des prioritaires DALO en attente d'un logement social depuis des années, des hébergés précaires, des otages et victimes de marchands de sommeil ...

Nous demandons aussi le retrait de la loi ELAN à cause des mesures anti-pauvres contenues dans ce projet de loi dont celles adoptées par le Sénat, comme par exemple :
· La pénalisation et l'expulsion sans jugement en 48h des occupants sans titre (squatters, sous locataires, victimes de marchands de sommeil …).
· Le détricotage de la loi SRU qui oblige chaque commune à réaliser 25% de HLM d'ici 2025
· La division par 2 des délais à l'expulsion, le retour des pénalités de retard et autres
· Le bail de 1 à 8 mois dans le privé et le bail HLM de 3 ans de fait
· La vente des HLM à des bailleurs privés ou des sociétés lucratives …
· La quasi suppression des normes d'accessibilité pour les handicapés dans les logements neufs …

Après l'amputation des APL la loi ELAN vient aider les plus riches et les groupes financiers à gagner plus d'argent sur notre dos, spéculer dans nos quartier, privatiser les HLM, exiger des loyers indécents ...

Nous nous mobilisons 24h/24h jusqu'à vendredi pour que chacun et chacune d'entre nous obtienne un relogement stable, décent, de bonne qualité, adapté à nos ressources et au handicap, respectueux de l'environnement, proche de notre quartier, pour vivre dignement, que nous soyons de Paris ou de banlieue ...
Rassemblement de soutien tous les soirs 18h
Sortie du Métro Champs-Élysée - Clémenceau
Un toit c'est un droit !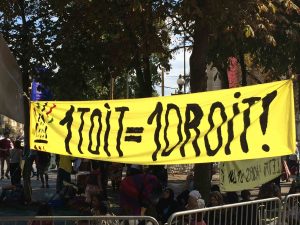 ---
Those Forgotten from Housing policy are on the Champs-Elysées,
A collective composed of 250 poorly housed families, homeless or families threatened with eviction
sets up a camp from the 9th to the 14th September, place Clémenceau, on the Champs-Élysées :
FOR THEIR DECENT REHOUSING
AGAINST THE ELAN BILL and the MEASURES TAGETING POOR PEOPLE it contains
FOR the POVERTY PLAN to deal with homeless people, poorly housed people, people threatened with eviction without rehousing
We have applied for social housing, we have been accorded priority by the Prefecture, we live in difficult housing conditions and we have decided to set up a camp next to the Elysée palace, to remind President MACRON of the promises he made about the situation of the poorly housed and homeless people such as us.
Before the presentation of the government's poverty plan on September 13, we want the government to take into account the poorly housed, tenants and inhabitants threatened with eviction, the children who are falling behind in school because of their degraded housing conditions, the people who have been accorded priority by the Prefecture (DALO law) and waiting for social housing for years, the precarious residents, the hostages and victims of slumlords, …
We also demand the withdrawal of the proposed ELAN law because of the anti-poor measures this bill contains, including those passed by the Senate, such as for example:
The criminalization and eviction without trial within 48 hours of occupants with no lease (squatters, sub-lessee, victims of slumlords ...)
The unravelling of the SRU Law, according to which each municipality has the obligation to provide 25% of social housing by 2025
The reduction by half of the deadline before an eviction, the return of the late payment penalties,and more
The proposed 1 to 8 month short-term lease in the private sector and the 3-year social housing lease
The sale of social housing units to private landlords or profit-making companies ...
The virtual elimination of accessibility standards for the disabled in new housing units ...
After the cuts in the personalised housing allowance (APL), the ELAN bill, if passedwill help financial groups and the richest in society to make more money at our expense, speculate in our neighborhoods, privatize social housing, demand excessive rents ...
We are mobilized 24 hours a day until Friday so that each and every one of us can obtain a stable, decent, good quality housing, adapted to our resources and our handicaps, respectful of the environment, close to our neighborhood, in order to live with dignity, whether we are from Paris or from the suburbs ...
Support rally every evening at 6 PM
At the exit of the Métro Champs-Élysée - Clémenceau
Un toit c'est un droit !
share